Hockey is a difficult sport to predict.
Underdogs typically have a better chance of an upset in hockey than in basketball, for instance, for an array of reasons. The lower scores means any given goal — whether a gorgeous end-to-end rush or a lucky bounce off a defenceman's butt — means more in hockey than in a higher-scoring game like basketball.
It's not just the results of games, however, that are hard to predict. Individual performances can seem like a crap shoot. A player that excels one season might crash and burn the next, while a struggling player could suddenly breakout for a huge jump in points.
A struggling player could be dealing with nagging injuries — not enough to keep them out of the lineup but enough for them to perform just a little bit worse. They could be dealing with confidence or are distracted by off-ice issues.
Likewise, a player could have a career year because something just clicks with a particular set of linemates, they get more ice time on the power play, or get a loop of luck and confidence constantly reinforcing each other — the puck keeps going in, so they believe in themselves more and keep shooting and trying things they would otherwise lack the confidence to try.
Consider Corey Perry with the Anaheim Ducks, who racked up 50 goals and 98 points in 82 games in the 2010-11 season, stealing the Hart Trophy from Daniel Sedin. That was a big jump in goals and points for Perry, one that few saw coming. With that in mind, perhaps his next season should have been less surprising — he still scored 37 goals, but only managed 60 points in 80 games.
Or consider the oddsmakers who gave Braden Holtby better odds to win the Vezina Trophy with the Vancouver Canucks than Jacob Markstrom with the Calgary Flames in the 2020-21 season. Holtby only started 21 games and his .889 save percentage was the worst of his career, while Markstrom — well, he had struggles, but he finished as runner-up for the Vezina the following year.
All that is to say, it's hard to predict how a player is going to perform in any given year. But people try anyway.
So, how many points can you expect the individual players on the Vancouver Canucks to score? I looked at five different fantasy hockey point projections to find out: ESPN, CBS Sports, NHL.com, the Elite Prospects fantasy guide, and Dom Luszczyszyn and Shayna Goldman's projections for The Athletic.
Let's start with the forwards.
Canucks forwards point projections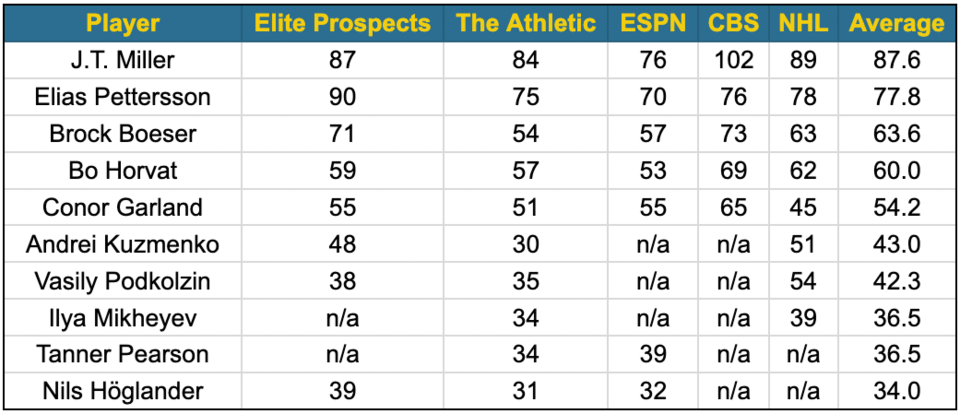 It's interesting to see some of the differences in projections.
For instance, the general consensus is that J.T. Miller won't repeat his 99-point season but there's one exception — CBS Sports thinks he'll better it with 102 points. Meanwhile, ESPN has him dropping to below a point per game with 76 points.
With Elias Pettersson, there's again a general consensus of him scoring a bit below a point-per-game with most projection him to get between 70 and 78 points. But then there's Elite Prospects predicting a breakout 90-point season — they also have him scoring 38 goals this season.
Both Elite Prospects and CBS Sports are higher on Brock Boeser than the others, betting on a bounceback season, and CBS is also bullish on Bo Horvat and Conor Garland.
"With a new three-year contract under his belt and entering into his prime age seasons, there's reason to believe we see a much better version of Boeser this season," said Elite Prospects. "We'll be looking for him to hit his first 30-plus goal campaign and reestablish himself as a front-line producer."
Not every projection ventured a guess on Andrei Kuzmenko, who is the real wild card on the Canucks roster. Elite Prospects and NHL.com are both pretty high on him, suggesting around 50 points for the Russian winger, while The Athletic is far more cool at just 30 points.
Then there's Vasily Podkolzin, who had 26 points in his rookie year. Elite Prospects and The Athletic project a modest improvement, but NHL.com is predicting he'll more than double his point total to 54. The canucks would be thrilled with that result.
Canucks defenceman point projections

Just three defencemen received enough point projections from the fantasy hockey prognosticators, which makes sense — most of the Canucks' defencemen don't put up enough points to be at all relevant in fantasy hockey, unless your league counts hits and you want to grab Luke Schenn with a late-round pick.
Quinn Hughes set a Canucks franchise record with 68 points last season and the general consensus is that he'll score around the same number again — perhaps slightly higher.
CBS Sports, however, is predicting a big bump up to 80 points — over a point per game, as they have him projected to play 79 games. Is that big a jump a possibility for Hughes? Elite Prospects doesn't rule it out.
"There's little reason to doubt that a 70-plus point season is in the cards if he can remain healthy," said Elite Prospects. "And if the Canucks try to score their way out of trouble again, he could even push a point-per-game. We like Quinn Hughes."
The question is whether anyone else on the Canucks defence will put up points. Oliver Ekman-Larsson had 29 points last season — the lowest scoring rate of his career since his rookie year — and the projections predict a small improvement. The same is true for Tyler Myers, who had just 18 points last season despite playing all 82 games.
The wild card on defence for the Canucks is Jack Rathbone. If he can make the team and if he can establish himself as a regular in the lineup and if he can get ice time on the second power play unit and if the second power play unit can actually contribute this season…
Okay, that's a lot of ifs, but if all of those things happen, Rathbone could provide a little more offence from the Canucks blue line. Among defencemen that played at least 30 games in the AHL last season, Rathbone was second in points-per-game, with 10 goals and 40 points in 39 games.
Not a single one of the five fantasy sites, however, gave Rathbone a projection.
Canucks goaltending win projections

Goaltending projections are always a little odd with fantasy hockey because they typically overvalue wins, which are a team statistic, not an individual one.
Thatcher Demko had 33 wins in 61 starts last season and the average projection predicts the same number of wins in the coming season. In order to improve on the Canucks' 40 wins as a team last season, they'll need to get some quality backup goaltending.
Either that or the projections are wrong and Demko will win more games.
---
What do you think? Which point projections make sense and which ones are way off base? Who do you see having a better season than projected and who will perform worse?