The Vancouver Canucks didn't make as many changes during the 2022 offseason as some expected. But that doesn't mean they're the same team.
It's easy to get caught up in what the Canucks didn't do, so let's just look at what the Canucks did do: they made a few minor subtractions and replaced them with some significant additions. There's an argument to be made that the Canucks upgraded at forward, defence, and goaltender.
Let's make some one-to-one comparisons: the players the Canucks added and who they're replacing in the lineup. For a more holistic approach, I've included a couple of changes that general manager Patrik Allvin made during last season.
Canucks forwards: upgraded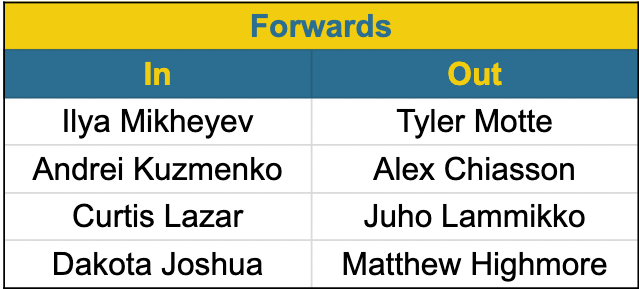 The area where the Canucks made the biggest changes this offseason was at forward, as they signed several players in free agency that should be significant upgrades on who they lost.
This does not include players who left in free agency but played a limited role like Brad Richardson and Nic Petan. When it comes to depth forwards, it's safe to assume that additions like Nils Åman, Linus Karlsson, and Arshdeep Bains are roughly equivalent to those let go, like Sheldon Rempal and Justin Bailey.
At the NHL level, the upgrades seem clear.
Ilya Mikheyev is a clear upgrade on Tyler Motte, who was traded at last season's trade deadline. They're similar in that they're both speedy, hard-working, defensively-responsible wingers with utility on the penalty kill, but Mikheyev is faster and far more offensively capable.
Mikheyev had 21 goals in 53 games last season and even if he can't repeat that scoring rate — he had a career-high 14.3% shooting percentage, up from 6.5% the previous season — he's still a play-driving winger that pushes the puck into the offensive zone far better than Motte.
Andrei Kuzmenko is probably an upgrade on Alex Chiasson, though they may end up playing a similar role — a power play specialist with limited time at 5-on-5.
Really, it's unclear what to expect from Kuzmenko. He's exceptionally skilled but the transition to the NHL isn't always easy for KHL stars. Vadim Shipachyov, who lasted just three games in the NHL with the Vegas Golden Knights in 2017-18, finished first in the KHL in scoring last season, 14 points ahead of Kuzmenko.
That said, Kuzmenko is coming into a great situation in Vancouver, with two other Russian teammates who can help him make the transition, and three different offensive-minded centres in J.T. Miller, Elias Pettersson, and Bo Horvat with whom he might find chemistry. At the very least, he should be better than Chiasson.
The fourth line also received an upgrade. Curtis Lazar is better defensively than Juho Lammikko and has a better track record on the penalty kill. When healthy, Lazar has been able to chip in a little bit of depth offence too, with 8 goals last season and 7 the year before.
Dakota Joshua is likely an upgrade on Matthew Highmore, though that's not a high bar to clear. Joshua is bigger and faster than Highmore and has some exceptional underlying numbers, albeit in a small sample size.
Joshua was pretty sheltered with the St. Louis Blues last season and is untested on the penalty kill in the NHL, so there's still some uncertainty about how he might perform in the coming season. Still, it seems safe to say he's an upgrade on Highmore.
If not, the Canucks also have Will Lockwood waiting in the wings.
Canucks defence: upgraded?

Okay, this is pushing it a bit with the "additions." Travis Dermott joined the Canucks at last season's trade deadline, with Travis Hamonic traded away around the same time. Jack Rathbone isn't a new addition — he was already with the Canucks — but he's far more likely to get NHL ice time this season.
Dermott is a clear upgrade on Hamonic, which seemed readily apparent last season. There are two questions for Dermott: can he be more than just a third-pairing defenceman and will he play on the right side?
If Quinn Hughes and Oliver Ekman-Larsson end up playing together on the top pairing with one of them on their off-side, that puts the pressure on Dermott to step up into a top-four role on the second pairing with Tyler Myers. If neither Hughes nor Ekman-Larsson can effectively play on the right side, Dermott might need to slide over to the right instead.
Rathbone should be an upgrade on Hunt, but it's far from a sure thing.
Hunt was a reliable seventh defenceman, the type of player that can step into the lineup at a moment's notice but probably shouldn't be in your lineup every game. Rathbone, after racking up 40 points in 39 AHL games last season, should be a third-pairing defenceman this year, particularly since he's already 23.
The problem is that Rathbone has yet to prove he can be an everyday NHLer and that can be a hard transition to make. He's had some defensive issues in his few games with the Canucks — if those continue, it'll be hard to keep him in the lineup, even if he does bring an offensive spark.
We'll call this one undecided.
Canucks goalies: who knows?

Jaroslav Halak wasn't great last season, with a .903 save percentage borne out of getting blown up a few too many times. It wasn't entirely his fault that the Canucks struggled to win when he was in net, going 4-7-2, but sometimes, frankly, it was.
That was a problem because the Canucks badly needed a reliable backup goaltender so that they didn't wear out their star starter, Thatcher Demko. There were a couple of games where Demko was supposed to get rest but had to come into the game in relief of Halak and maybe he wouldn't have had to play in 64 games last season and get worn out if a better backup had been available.
Is Spencer Martin that reliable, better backup? Who knows.
Martin was fantastic last season, with a .950 save percentage in six starts, earning at least a point in all six of those games with a 3-0-3 record. But it was also only six games.
Prior to last season, Martin bounced between the AHL and ECHL and had a save percentage below .900 in two of his last three seasons. Working with Canucks goaltending coaches Ian Clark and Curtis Sanford, however, seemed to transform his game and he took over the number one job in Abbotsford with a .914 save percentage.
Maybe Clark and Sanford turned Martin into a legitimate NHL goaltender and there's nothing to worry about but it's notoriously difficult to predict how a goaltender will perform. There have been dozens of flash-in-the-pan goaltenders that put together a string of fantastic play then faded into obscurity.
Martin doesn't have to be the lights-out, .950-save-percentage goaltender that he was last season to be an upgrade on Halak. He just has to be reliable enough to win a few games and give Demko the rest he needs. But even that isn't a sure thing.
Canucks: upgraded
Overall, the Canucks should be a better team than last season when looking at their additions and subtractions. Their forward group has a bit more offensive firepower and is stronger defensively, a full season of Dermott will help the defence, and Martin is probably going to be fine.
There will be plenty of other factors, of course, that go into whether this coming season will be better or worse. Will Elias Pettersson and Brock Boeser bounce back from last season? Will J.T. Miller regress from his 99 points? Can Ekman-Larsson and Myers avoid the scourges of old age and prevent themselves from crumbling into dust like Walter Donovan in Indiana Jones and the Last Crusade?
Then there's the biggest question of all: even if improved, are the Canucks good enough to make the playoffs and contend for the Stanley Cup?