Troy Gamble played just 72 games in the NHL, all of them with the Vancouver Canucks. He was a decent enough goaltender for his era — you have to be to get to the NHL in the first place — but he's not exactly a player whose hockey card you'd be excited to get in a pack.
Unless you're Ken Reid.
Reid is familiar to sports fans across Canada as the co-anchor of Sportsnet Central but he's also an avid hockey card collector and has even written two books where he interviews players about the stories behind their cards. His extensive collection includes some cards that would be the envy of any collector, including a Wayne Gretzky rookie card, even if it's not in the best condition.
A hometown hero
Perhaps the most unusual corner of his collection, however, is devoted to a relatively unknown Canucks backup goaltender from the early nineties.
"O-Pee-Chee Premier Troy Gamble rookie cards," says Reid, hoisting up a fistful of the cards in protective sleeves to show the camera — just a selection of the over 50 copies of the exact same card that he owns.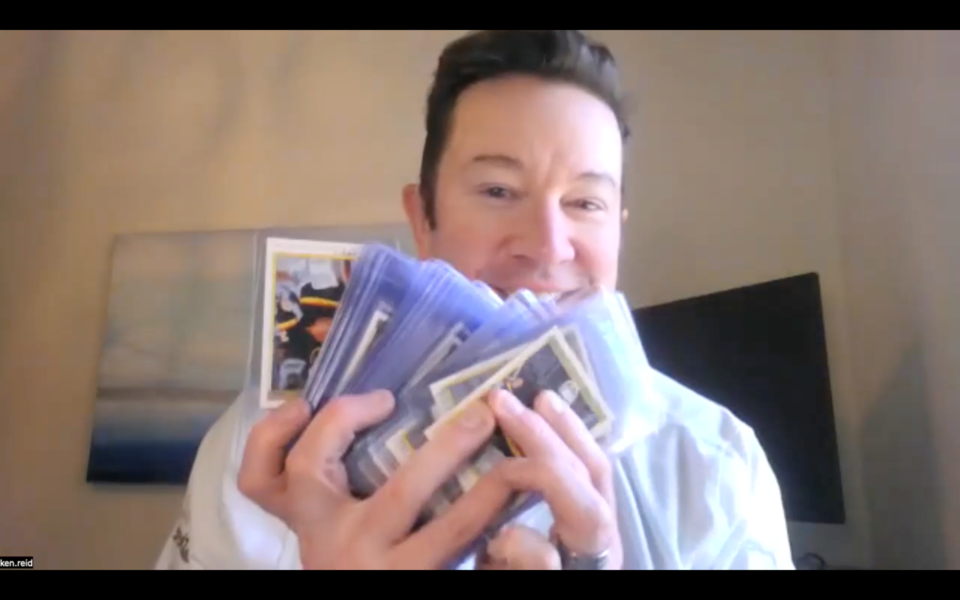 It's an unusual card for a collector to obsess over but it holds a special place in Reid's heart.
"He's from my neck of the woods in Nova Scotia. When we were kids, nobody from my town played in the NHL," says Reid. "Troy was a guy from Pictou County who left to play in Medicine Hat and ended up getting drafted in '85 by the Canucks. He instructed at my local hockey school — I still have my certificate in my closet with his signature on it."
Gamble was a star for the Medicine Hat Tigers, winning the WHL's Top Goaltender award in his draft year and a First-Team All-Star. Heading into the 1985 draft, NHL Central Scouting rated Gamble as the best goaltender available, ahead of Mike Richter, Bill Ranford, and Sean Burke, so the Canucks were thrilled to select him in the second round.
Back in Nova Scotia, Reid and his friends were keeping a close eye on the hometown hero, hoping he would someday make the NHL. They didn't have to wait long.
Gamble made his NHL debut at just 19 years old, making him the youngest goaltender in Canucks history. He was an emergency call-up after Richard Brodeur sprained his knee and the Canucks' AHL goaltender, Frank Caprice, couldn't make it to the game in time. Gamble was thrown into action against the Great One himself, Wayne Gretzky, who promptly scored career goals 498 and 499 against the fresh-faced kid from New Glasgow.
Gretzky completed the hattrick for his 500th career goal but Gamble wasn't in net for that one. Head coach Tom Watt had pulled Gamble for the extra attacker, so number 500 went into an empty net.
"I didn't want my claim to fame to be Gretzky's 500th goal," said Gamble at the time. "I didn't have any idea until it went up on the scoreboard and they came flying off the bench."
"It was probably going for five or ten bucks in our neighbourhood"
It wasn't until four years later in 1990 that Gamble got his first-ever NHL hockey card. His rookie card became a hot commodity in Pictou County.
"O-Pee-Chee Premier was the hottest set going and you could not find it — it was scarce," says Reid. "It was probably going for five or ten bucks in our neighbourhood."
Although Gamble's run in the NHL was short-lived, his rookie card stuck in Reid's memory. When he grew nostalgic for his childhood hobby and started taking card collecting more seriously, it was only natural that he looked for that scarce Troy Gamble card. Only, it wasn't quite as scarce — or expensive — as when he was a kid.
"I'm pretty sure I probably paid like a quarter or 50 cents for each of these," says Reid. "It's funny, as a kid you want these so bad but you can't find them. As an adult, they're very plentiful and, the next thing you know, you've got tons of them."
It wasn't enough to just buy one Troy Gamble card or even just two for safety. Soon, Reid had dozens of them, even getting his most pristine card professionally graded by PSA as a perfect 10.
Reid can't quite fully explain why he kept buying Troy Gamble rookie cards but at least it was a relatively inexpensive way to fuel his nostalgia.
"It's just a way to maybe do something you always wanted to do as a kid, to get that Troy Gamble card that you never had," said Reid. "And now I've got 50 copies of it — why I got 50, I don't know, but why not, right?
"It's an odd flex. I might be the only guy with over 50 Troy Gambles on the face of the earth."
For Reid and many other collectors, that's what hockey cards are all about: capturing an element of their youth. It can be all too easy to become jaded and lose the love you have for sports and athletes, especially for someone who has made his career in sports broadcasting. When sport becomes a job, that innocent element of being a fan can be lost.
"It's remaining a kid at heart and trying to love the game in the same way that you did when you were 10 years old," said Reid. "When I was a kid, if you threw 50 Troy Gambles in front of me, I'd be in heaven.
"If I've got the ability to make my inner 10 or 15-year-old very happy, why not do it at a quarter or 50 cents a card?"