The first offseason for Vancouver Canucks general manager Patrik Allvin will be a crucial one.
So far, Allvin hasn't made many major moves. The few trades he has made have been positive but not exactly earth-shaking.
Getting a third-round pick for Travis Hamonic, then trading a third-round pick for Travis Dermott was a savvy sequence that made the defence younger, cheaper, and better. Getting a draft pick for Tyler Motte instead of letting him go for nothing in free agency was the right call, even if a fourth-round pick felt like an underpayment for such an impactful player.
The offseason, however, could call for some major moves. The team needs to hit home runs at the draft to restock the prospect cupboard, re-sign Brock Boeser to a deal that doesn't break the bank, figure out what to do with J.T. Miller as he heads into the final year of his contract, pitch undrafted free agents out of Europe and the NCAA on joining the team, and do something about the team's defence.
That's a lot and really, it's only scratching the surface. This will be Allvin's first opportunity to truly put his own stamp on the team he took over four months ago.
Before the offseason begins in earnest, let's take stock of the Canucks roster to see where the team's biggest needs are, whether on the roster or in the prospect pool.
Forwards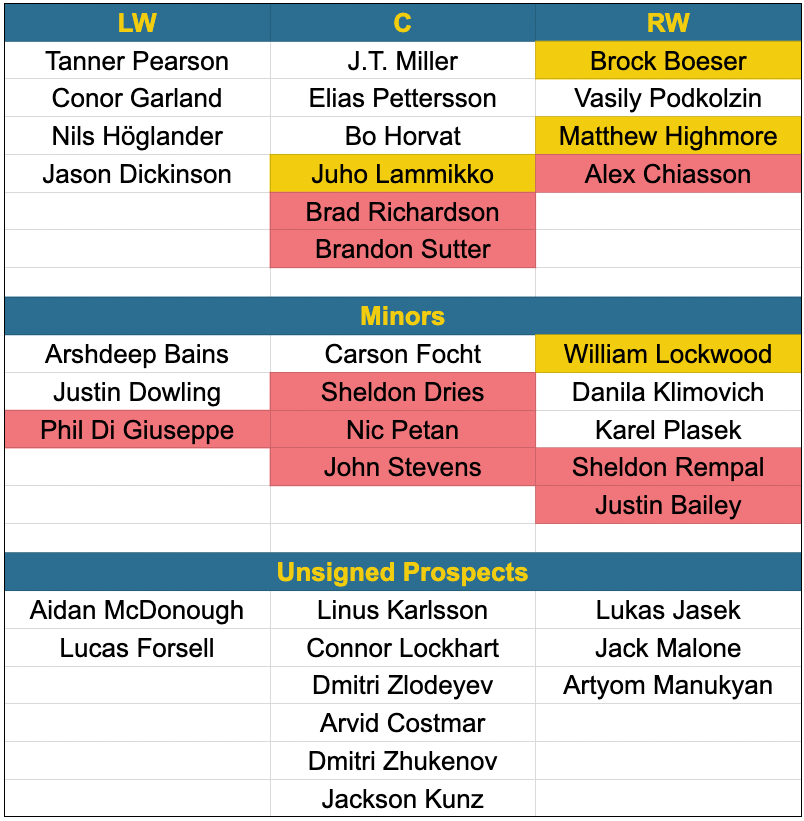 Highlighted players do not have a contract for next season — a gold highlight indicates a restricted free agent, whose exclusive negotiating rights are held by the Canucks, while the red highlight indicates an unrestricted free agent, who will hit the market when free agency opens on July 13.
The Canucks don't have many players heading to unrestricted free agency this offseason. The only three UFA forwards on their NHL roster are Alex Chiasson, Brad Richardson, and Brandon Sutter, whose future is up in the air after missing the entire season dealing with long COVID symptoms.
In the AHL, the Canucks' six leading scorers at forward are all pending UFAs, four of whom spent a bit of time in the NHL this season: Sheldon Rempal, Sheldon Dries, John Stevens, Phil Di Giuseppe, and Justin Bailey. That's some important depth that will need to be re-signed or replaced.
Centre
Looking at their depth, the Canucks look solid at centre in the NHL but shaky elsewhere in the system. J.T. Miller, Elias Pettersson, and Bo Horvat are an excellent 1-2-3 punch up the middle and RFA Juho Lammikko is a decent enough fourth-line centre, with Jason Dickinson available as well.
That centre depth could change in a hurry if the Canucks make a drastic move and trade Miller, of course. For now, it's a strength of their NHL roster.
In terms of prospects, however, things are a little bit questionable. Linus Karlsson is the team's top centre prospect after his rookie-of-the-year season in the SHL and has the best shot of becoming an NHL contributor but there might not be another NHL centre in the system.
Dmitri Zlodeyev has some potential after dominating the MHL, Russia's junior league, for Spartak Moskva, putting up 17 goals and 34 points in 18 games. Points have been harder to come by above the junior level, however.
Connor Lockhart is worth keeping an eye on, even if he didn't excel in his first post-draft season. It's been a bit of a weird couple of years for Lockhart after his draft year in the OHL was cancelled due to COVID-19.
Left Wing
Left and right wing can be somewhat interchangeable, with many wingers able to comfortably swap sides but let's take a look at the depth separately.
In the NHL, left wing is fairly strong, with Tanner Pearson, Conor Garland, and Nils Höglander, with Dickinson available on the left side as well. None of the top three is a true star on the left wing but all three are capable of bumping up and down the lineup depending on chemistry.
In the prospect ranks, Aidan McDonough has been a beast for Northeastern University, with 25 goals and 39 points in 38 games this past season. He's already 22 and heading back for one more year at Northeastern, but should sign with the Canucks after his senior year.
Arshdeep Bains led the WHL in scoring this past season as an overager with 43 goals and 112 points in 68 games, which is impressive. The question is if he'll be able to translate that to the pro ranks. There are plenty of examples of players that haven't been able to but there are also exceptions like Tyler Johnson.
Finally, there's Lucas Forsell, who won't turn 19 until September but spent 30 games in the SHL this past season, putting up 6 points in 30 games, to go with some excellent play in the Under-20 Nationell league. Forsell will likely spend a lot more time in the SHL next season and will be one to watch. As a gamble in the 7th round, Forsell has some intriguing potential.
That's three decent prospects at left wing, even if none of them are blue-chippers.
Right Wing
The story at right wing is very different than left wing for the Canucks. They have excellent top-level talent in Brock Boeser and Vasily Podkolzin, even if Boeser needs a new contract as a pending RFA. After those two, there's a lot more uncertainty.
Matthew Highmore is also an RFA and needs a new contract but is a fourth-liner. Alex Chiasson might be gone in free agency but maybe the Canucks offer him another one-year deal after scoring 13 goals.
Will Lockwood will likely be on the NHL roster next season with a new contract — the Canucks have repeatedly said they want more speed in the lineup — but can he be an everyday third-line winger in the NHL?
Danila Klimovich had an up-and-down season with the Abbotsford Canucks but 18 points in 62 games isn't bad for an 18-year-old in the AHL. It's concerning that he was a healthy scratch for both of their playoff games, however, and video reveals plenty of raw areas in his game that he'll need to develop before he's ready for the NHL.
Karel Plasek was injured for most of the season. Jack Malone was merely okay in the NCAA. Lukas Jasek had a fantastic season in the Finnish Liiga, with 51 points in 54 games, but that bridge might be burned already.
Defence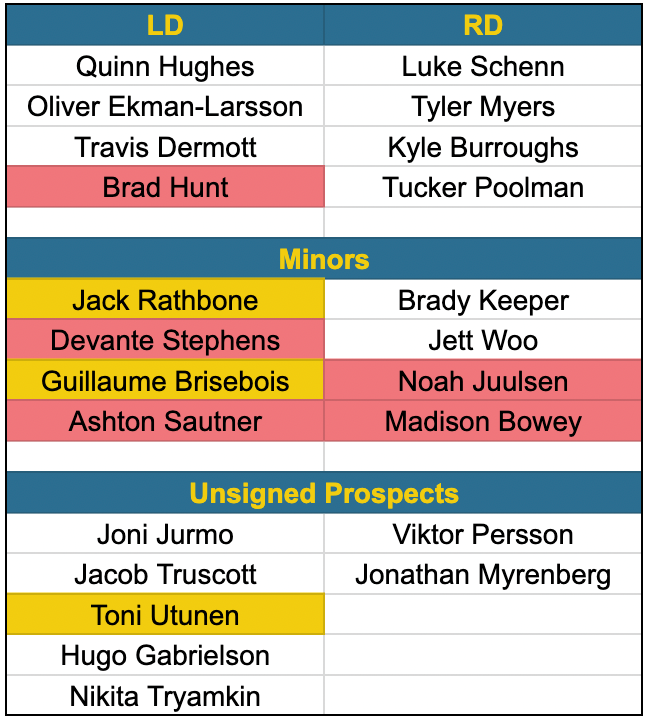 The Canucks have a lot of defencemen under contract at the NHL level, with only Brad Hunt needing a new contract as a pending UFA. Hunt was serviceable depth for the Canucks and head coach Bruch Boudreau likes him, so it's conceivable that he could return.
In the AHL, the Canucks have a lot of pending free agents.
Jack Rathbone is already an RFA or, more accurately, a 10.2(c) player, which means he's ineligible for an offer sheet. Guillaume Brisebois is also an RFA, which seems wild since it feels like he's been in the Canucks' system for a decade or more.
The Abbotsford Canucks have four pending UFAs as well, with Devante Stephens, Ashton Sautner, Noah Juulsen, and Madison Bowey in need of new contracts. Stephens and Bowey played big minutes in Abbotsford — arguably too many minutes considering they played more than Rathbone — so they seem likely to get new deals.
I also highlighted Toni Utunen, who needs to be signed before June 1 if the Canucks want to keep his rights.
Left Defence
The Canucks' depth on the left side of their defence is a positive and a negative. Quinn Hughes, Oliver Ekman-Larsson, and Travis Dermott are pretty solid at the NHL level. If Hunt returns, he's a credible NHL defenceman too.
The trouble is that depth could potentially keep Rathbone out of the lineup and he seems ready for the NHL after putting up 40 points in 39 AHL games and playing in every situation for Abbotsford.
After Rathbone, the Canucks' prospect depth on the left side is a major question mark.
Joni Jurmo has big-league size at 6'4" but needs to take a big step to prove himself. Jacob Truscott hasn't done enough in the NCAA. Hugo Gabrielson was invisible in the Allsvenskan. Utunen might be out of the system in a couple of weeks. Nikita Tryamkin is only still in the system on a technicality.
The Canucks' prospect pool on defence could definitely use a little more depth on the left.
Right Defence
The right side is the opposite from the left side and I don't mean that as a truism. The Canucks lack top-end talent on the right side in both the NHL and in their prospect pool.
Luke Schenn fit well alongside Hughes on the top pairing but it's not exactly ideal that a 32-year-old journeyman is the team's best option to play with Hughes. Finding a long-term partner for Hughes needs to be a priority but there's not really anyone already in the system that could potentially fit the bill.
Tyler Myers had a bit of a bounceback season in the unusual role as a shutdown defenceman but, again, it's not ideal that Myers is the team's best option to play a match-up role and he's a really poor fit on the penalty kill.
Kyle Burroughs played some solid minutes on the third pairing and brings some grit and edge to his game that the Canucks like but he's an offensive black hole. And Tucker Poolman's future is up in the air after he wasn't able to return to the Canucks lineup this season with recurring migraine headaches. Even if he does return, he's also best suited to third-pairing duty.
Prospect-wise, the Canucks don't have any sure things. Jett Woo's development has derailed a bit as he couldn't crack the Abbotsford Canucks' lineup on defence and spent a lot of time as a bottom-six forward in the back half of the season.
Brady Keeper was impressive at Canucks training camp in September before he broke his leg in a freak accident when his skate caught a rut in the ice. Keeper is back skating again and could provide some depth for the Canucks next season.
Viktor Persson had a decent first season in North America but had to play the part of a conservative, stay-at-home partner for the younger Mats Lindgren, expected to be a second-round pick at the draft this year. That limited Persson to just 29 points in 65 games but there's still some upside there that could come out.
Finally, Jonathan Myrenberg had a strong season in the under-20 Nationell league in Sweden with 31 points in 35 games but needs to prove he can play at the SHL level next season.
The Canucks could really, really use a blue-chip prospect at right defence but there's unlikely to be one that makes sense to take 15th overall with their first-round pick. Honestly, finding a partner for Hughes might not be an issue that can be solved this off-season.
Goaltenders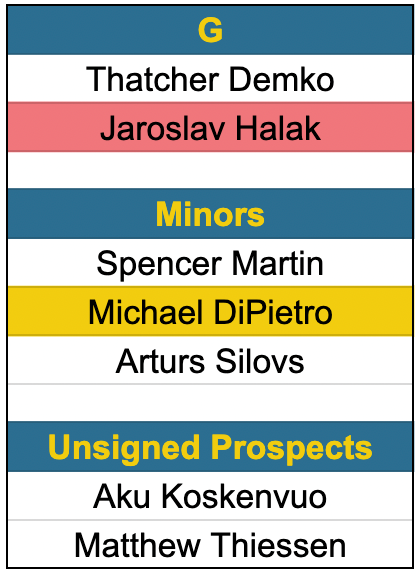 Thatcher Demko will be the Canucks' number one goaltender for years to come. Jaroslav Halak is heading to free agency.
Currently, Spencer Martin is the odds-on favourite to replace Halak as Demko's backup but Michael DiPietro will surely head into training camp looking to take that job for himself — after he gets a new contract as an RFA, of course.
Arturs Silovs needs to get some more games in the AHL and will likely split starts with DiPietro — or Martin! — next season.
Aku Koskenvuo is heading to Harvard next season after COVID-19 derailed his plans to go last season. He had an .897 save percentage in Finland's junior league this past season, which isn't great, but he has great size and a lot of raw talent. The college route might be the best option for him to develop that talent.
The college route hasn't been great for Matthew Thiessen, however. He had an .888 save percentage as a backup for the University of Maine. He's transferring schools for the fall and heading to the University of Minnesota-Duluth.
The Canucks could use another goaltender in the system. Goaltending development can be such a crapshoot that you need as many rolls of the dice as you can get.