The Vancouver Canucks are still below .500 on the season but there's no denying that they've been playing better in recent weeks than how they started the season.
There are a number of reasons for the improvement but one of the biggest was a change in the team's top-six forwards. Instead of deploying J.T. Miller as the team's number-one centre, he was moved to the wing with Bo Horvat.
It's not a move that either Miller or Bruce Boudreau wanted. After a few games with Miller on Horvat's wing, he was put back at centre in early November.
"That's where he belongs," said Boudreau at the time, noting that Miller wanted to play centre. "Initially, he just wanted to get his game going because he didn't think he was skating well enough and now he thinks he's where he should be.
"Get him back in the middle where I want him. You don't have as many responsibilities on the wing. At centre, you're all over over the ice. It's why they're so valuable and why when we talk of having our three centres going, we're pretty deep."
That lasted just three games before Miller was moved back to the wing with Horvat. It seemed like centre wasn't where he belonged after all.
At this point, the change should be permanent. As much as Boudreau and Miller might want him to be a centre and as much as Canucks management paid him like a top-tier centre to extend his contract, Miller has been significantly better on the wing.
Miller's underlying numbers at centre and on the wing are stunning
Using his ice time with and without Bo Horvat as a proxy for Miller's time on the wing and at centre, we can see pretty clearly the difference in his performance at 5-on-5.

This is Miller's corsi (shot attempts) for and against, expected goals for and against, and actual goals for and against both with and without Horvat. The numbers are presented as rates per 60 minutes of ice time and are all gathered from the indispensable Natural Stat Trick. Here are the same numbers in chart form, in case the visual is more clear than the numbers.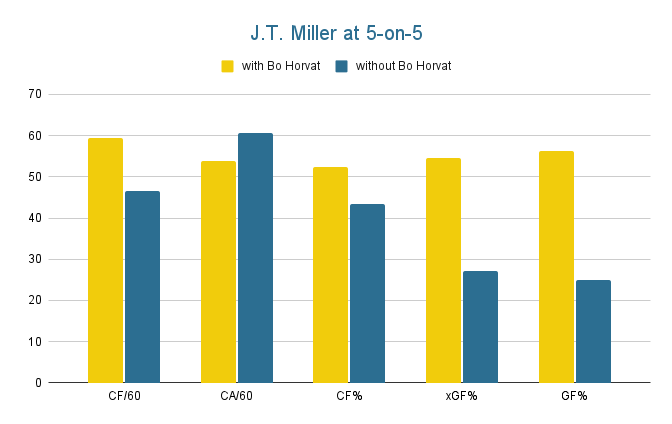 It's astonishing how immense the difference is in every area. When Miller has played with Horvat at 5-on-5, the Canucks create more shot attempts and scoring chances and allow significantly fewer shot attempts and scoring chances for the opposition.
It's important to note that there's a similar improvement for Horvat when he's had Miller on his wing, though the Canucks have out-scored their opposition with Horvat on the ice without Miller at 5-on-5 this season.
Miller's numbers at centre this season have been astonishingly bad. It's not just that he's been on the ice for a lot of goals against — it's that he's deserved to be on the ice for that many goals against. His expected goals against and actual goals against are essentially identical.
On the wing with less defensive responsibility and a strong centre in Horvat, Miller's numbers are massively better. This is most clear in the defensive zone, where the Canucks have stopped bleeding high-danger chances against when Miller is on the ice.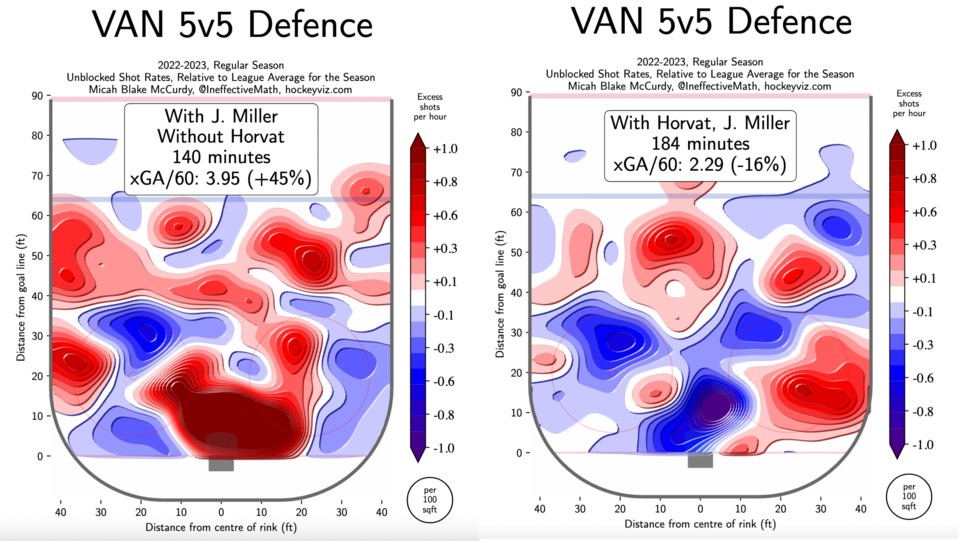 The above heatmaps from HockeyViz show the unblocked shot attempts against the Canucks when Miller is on the ice without Horvat on the left and with Horvat on the right. The Overlook Hotel elevator's worth of red in front of the net when Miller is on the ice without Horvat tells you everything you need to know.
Again, there has been an improvement for Horvat as well. On his own, Horvat has struggled defensively, though not to the same degree as Miller. Putting the two defensively-questionable centres together on the same line, however, has seemingly fixed the problem for both of them.
The move to wing has also boosted Miller's offensive production. Away from Horvat, Miller has just one 5-on-5 point this season, a goal. With Horvat, Miller has three goals and five assists at 5-on-5.
So, it's not just that the Canucks give up fewer chances with Miller on the ice but that they create more offence as well.
Canucks' centre depth suffers with Miller on the wing
Moving Miller to the wing has given the Canucks two excellent top-six lines. Horvat and Miller can partner with the likes of Conor Garland, Brock Boeser, or Nils Höglander for a strong second line, while Elias Pettersson, Andrei Kuzmenko, and Ilya Mikheyev are looking more and more like a legitimate high-end first line.
Stylistically, it might make more sense to put Mikheyev and his north-south speed game with Horvat and Miller long-term but with the way the Pettersson line is rolling right now, the Canucks are unlikely to change it.
The trouble for the Canucks, however, is that they are constructed for a one-two-three punch up the middle with Miller, Pettersson, and Horvat. With Miller rightfully on the wing instead, the Canucks don't really have a third-line centre.
The Canucks' bottom six is a bit of a muddle. The fourth line of Nils Åman centring Curtis Lazar and Dakota Joshua has played some strong minutes for the Canucks, getting in on the forecheck and grinding along the boards, but the third line is centred by Sheldon Dries, who is a gamer but is overmatched at centre in the NHL and likely also belongs on the wing.
Instead of being able to roll three offensively-dangerous forward lines, then a grinding fourth line, the Canucks have instead relied heavily on their top two lines and their fourth line, while using their third line more sparingly to shelter Dries from tough competition.
That also limits the impact of the wingers that have been matched with Dries, primarily Boeser and Garland.
It's not an ideal situation but it's preferable to the Canucks putting Miller on the ice at centre for 20 minutes per game and getting destroyed in puck possession and goals against. At this point, keeping Miller on the wing is the only option.