Some NHL teams have one player who is obviously their best.
The Edmonton Oilers have Connor McDavid, the Toronto Maple Leafs have Auston Matthews, and the Columbus Blue Jackets have Johnny Gaudreau. These are the superstars they can build around and someday they might even make it to the Stanley Cup Final with them.
For other teams, it's not quite so clearcut who their best player is. That's where the Canucks are right now — they have several top-tier players at multiple positions but no obvious superstar that rises above the rest.
So, who is the Canucks' best player?
To be clear, this is a purely academic discussion. The players on the Canucks are not in competition with each other, apart from the friendly competition of challenging each other to be better. But part of the fun of sports is these types of questions, same as comic book fans wondering who would win in a fight between Batman and Captain America.
Let's take a look at the candidates.
J.T. Miller
The Canucks' leading scorer from last season tallied 99 points, the most by a Canuck since Daniel Sedin reached 104 points in 2011. It's not just last season either — J.T. Miller has 217 points in 202 games in his three seasons with the Canucks.
Miller is elite on the power play and exceptionally good at creating opportunities for his linemates. On top of that, he plays in every situation for the Canucks, including on the penalty kill. He's also one of the best faceoff men in the entire league.
Miller also has the vote of the Canucks' general manager. After signing him to a seven-year contract extension, Patrik Allvin said, "J.T. was our best player last year and he's a super competitive player…I think he could dictate an outcome of every single game that we played last year just based on his performance."
Allvin has been consistent in calling Miller the team's best player and suggested that Miller could get even better next season.
"I still think we could or need to manage his ice time better," said Allvin. "I think the second half there, I think his minutes were a little bit too high. I think he has the potential to be even better here coming down a little bit. I think he played about 24 minutes and that's really hard when you're a centre. If we can help him and spread out the ice time a little bit better, I think he will help this team even more."
After his rookie season, Vasily Podkolzin poured some praise on Miller as well.
"Despite the fact that we have Elias Pettersson on our team and Bo Horvat — J.T. Miller was one of the best strikers of last season," said Podkolzin. "He took on a very difficult role as a leader and justified it one hundred percent."
"He's obviously been one of our best, if not our best, player this year," said Horvat towards the end of the season.
So, if Miller has the vote of management and of the players, he must obviously be the team's best player, right? Well, Canucks fans don't seem convinced. At least, the 2500 fans who responded to this informal poll on Twitter.
Despite leading the Canucks in scoring last season while playing over 21 minutes per night, Miller finished fourth in votes in the poll, which is a very interesting result. To be fair, Allvin, Podkolzin, and Horvat were all talking about Miller being the team's best player last year, while the poll is a more general question.
One of the knocks against Miller is his defensive game, something with which he is well aware and is committing to improving.
"I look at some of my favorite players around the league and they play in their own end first and 200-foot all the time and are very hard to play against," said Miller. "I want to excel to that level in my own end — be equally as hard to play against in my own end as I am on the offensive end and I don't feel like it is right now, so that's something I'm really going to be working for."
If Miller can address his defensive deficiencies — turning over the puck less and being more diligent on the backcheck — and still produce offensively, maybe a larger percentage of Canucks fans will see him as the team's best player overall.
Who else could be the Canucks' best player?
Elias Pettersson
After Pettersson's struggles last season, some Canucks fans might take issue with suggesting Pettersson is the Canucks' best player. Prior to last season, however, he had a very strong case.
Just ask J.T. Miller.
"I obviously enjoy playing with him and he's a big part of our team as our best player," said Miller at last year's training camp.
Pettersson had 31 fewer points than Miller last season, scoring 32 goals and 68 points in 80 games. Those limited point totals are largely due to a very slow start to the season, which could be attributed to any number of factors — a lingering wrist injury, missing training camp due to contract talks, or pure bad luck.
Once Pettersson got going in the back half of the season, he was lights out. From mid-January on, Pettersson had 26 goals and 51 points in 43 games, a 97-point pace. He also added penalty killing to his repertoire and excelled, which makes sense given his strong defensive game overall.
That's the argument for Pettersson over Miller — Pettersson is the better two-way player. Pettersson also has the potential to be an even more dynamic offensive player even if he hasn't quite hit those heights over the course of a full season in his career.
There's a reason why Pettersson finished second in the fan poll — Canucks fans still believe that he can be that elite, franchise forward that leads the team out of the darkness.
Just a couple of years ago, there were analytical arguments to be made that Pettersson wasn't just the best player on the Canucks but one of the best forwards in the entire NHL. It's up to Pettersson now to prove that he can, indeed, be more than just a great player but be a true superstar.
There's an argument to be made, however, that the Canucks already have a true superstar, just not at forward.
Quinn Hughes
While Hughes finished third in the fan poll above, there's a strong argument to be made that he's the Canucks' most important player, if not their best.
Hughes is undoubtedly the most talented defenceman the Canucks have ever had on their roster, with sublime skating and superb passing ability. He's one of the league's elite at setting up teammates in the offensive zone and he's a vital component of the power play at the point.
His 68 points in 76 games set a franchise record for points by a Canucks defenceman and tied him for sixth in scoring among NHL defencemen last season. Beyond the points, however, Hughes developed the defensive side of his game, becoming more reliable in his own end of the ice and adding effective penalty killing to his curriculum vitae.
It's tough to compare forwards to defencemen but it could be argued that Hughes ranks higher among the league's defencemen than either Miller or Pettersson rank among the league's forwards.
The simple truth is that without Hughes's ability to break the puck out of the defensive zone, the Canucks as a team would be completely lost.
About to turn 23, Hughes has room to improve too. Hughes is a player that is rarely satisfied with his game and constantly seeks to get better. Perhaps this is the season where he breaks out and challenges for the Norris Trophy.
But we still haven't gotten to the winner of the fan poll, the player who won the Cyclone Taylor Trophy as the team's most valuable player last season.
Thatcher Demko
If comparing forwards to defencemen is like comparing apples to oranges, then comparing skaters to goaltenders is like comparing apples to manatees.
The position of goaltender is so different from the skaters that they are almost playing an entirely different game. But there's a very strong case to be made that Demko is the Canucks' best player. Just ask Bruce Boudreau.
"Demko, obviously, when you look at it, is our best player overall," said Boudreau during last season, a sentiment that was echoed repeatedly by Demko's teammates game after game. If you're "our best player tonight," in almost every game, does that not make you the team's best player overall?
Demko finished 7th in Vezina voting, higher in the votes than any other Canuck for any other award last season. To be fair, he's competing against fewer players as a goaltender, but still — he was one of the best goaltenders in the NHL.
By any number of advanced metrics, Demko was right near the top of the heap among NHL goaltenders. At 5-on-5, Demko was third in the NHL in save percentage at .932, just behind Ilya Sorokin and Igor Shesterkin. Take away the penalty kill, which was far from Demko's fault, and he's truly elite.
The Canucks had the second lowest rate of goals against at 5-on-5 and that was with a pretty questionable defence corps and a struggling backup goaltender in Jaroslav Halak.
Demko has a pretty strong case.
But what about a wild card?
Conor Garland
Okay, okay, hear me out. This one's an analytics argument, so feel free to tune out the following paragraphs if you're not interested in analytics and just cast your vote for one of the above candidates.
At 5-on-5, Garland had a +22 goal differential — easily the best on the Canucks — and it wasn't a fluke. He also had the best expected goal percentage on the Canucks at 54.52%. In other words, when Garland was on the ice at 5-on-5, the Canucks significantly out-chanced and out-scored their opposition, which is kind of the point of hockey.
Garland was significantly less productive on the power play, only managing three power play points, but a big part of that was the struggles of the second power play unit as a whole and their limited ice time. He also didn't play on the penalty kill.
Even without special teams, however, Garland's 5-on-5 play was good enough that he led the Canucks in Evolving-Hockey's Goals Above Replacement (GAR) statistic at 18.0, ahead of Miller's 16.4. Garland was a stronger puck possession player than Miller and, as a result, had significantly better defensive results.
Garland's isolated impact map from HockeyViz illustrates his excellence very effectively.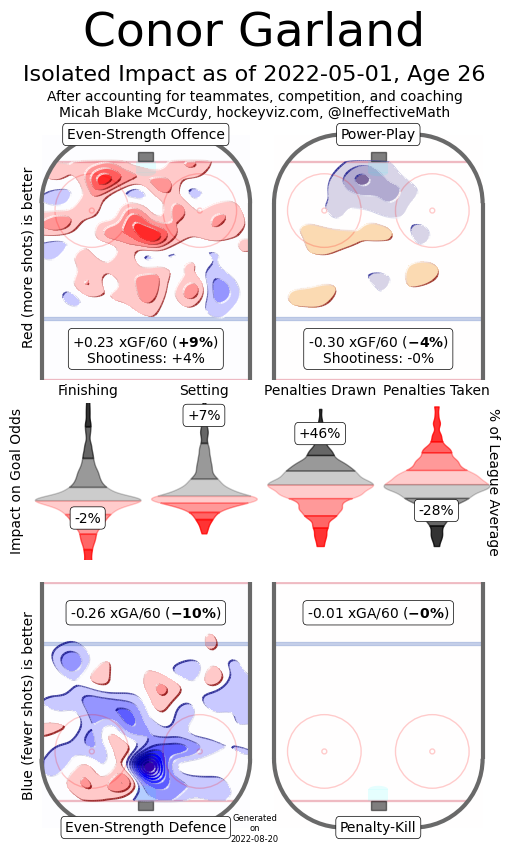 When Garland is on the ice, opponents' shots are 10% less dangerous than the league average. Conversely, the Canucks' shots when Garland is on the ice are 9% more dangerous.
Garland's combined isolated impact of 19% at 5-on-5 is the highest on the Canucks. In fact, no one else really comes close.
Does that make Garland the Canucks' best player?
Well, maybe not. Garland is excellent at setting up teammates for chances, but struggles to finish, which limits the overall impact of his puck possession game. His limited influence on special teams is also an issue — if he could be a catalyst for the second power play unit or work his way onto the first unit and pile up points, then he would have a case.
But perhaps we could at least say that Conor Garland is the Canucks' best player at 5-on-5 — non-goaltender edition.
---
What do you think? Who is the Canucks' best player? Is it Miller, Pettersson, Hughes, or Demko, or would you pick a wild card like Garland? Take our V.I.A. poll.