That the Vancouver Canucks didn't have the worst penalty kill in the entire NHL by the end of last season seems like some sort of miracle.
One month into the season, after a string of 10-straight games with at least one powerplay goal against, the Canucks penalty kill was dead last in the NHL with a dreadful 60.3% success rate. While the penalty kill showed some improvement in December, both before and after the team's coaching change, it didn't last — ugly runs in January and February saw the Canucks still last in the NHL at 69.1% in late February.
Only a strong performance over the last 30 games of the season rescued the penalty kill from last place, finishing 30th at 74.9%.
The team's penalty-killing struggles early in the season played a large role in the Canucks' dreadful start, with numerous winnable games turning into losses as soon as their opponents got a power play.
If the Canucks want to avoid a similarly dreadful start to this coming season, getting the penalty kill on the right track is imperative. If they want to be a playoff team, let alone a Cup contender, then the penalty kill needs to become a strength. Fortunately, there are reasons to be optimistic.
A full season of Pettersson and Hughes on the PK
A big reason why the Canucks' penalty kill was more successful late in the season is that two of the team's young offensive stars got involved: Elias Pettersson and Quinn Hughes.
Whether measured by shots against or goals against, Pettersson and Hughes were the Canucks' two best penalty killers last season. Pettersson was particularly effective at breaking up plays in the neutral zone with his anticipation and quick stick, resulting in a rate of unblocked shots against when he was on the ice that was well below the NHL average.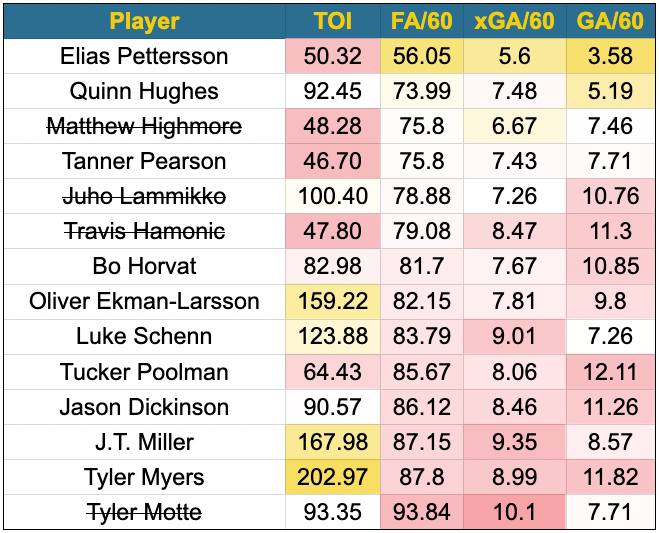 The above chart shows the Canucks' main penalty killers from last season, the time they spent on the penalty kill, and the rate of unblocked shots, expected goals, and goals against.
Pettersson helped make other penalty killers better as well. Bo Horvat, who has struggled on the penalty kill in past seasons, thrived when partnered with Pettersson. When he was with Pettersson on the penalty kill, opponents fired 54.4 unblocked shots per 60 minutes. When Horvat was with Jason Dickinson, that ballooned up to 82.58.
"I loved killing with Petey," said Horvat. "I don't know how much Petey's done in the past but he did a great job last year and I loved penalty killing with him. He's easy to read off of, he makes smart reads — his speed and his mind is a big benefit."
Hughes reads the game similarly well and used his superb skating to win races to loose pucks, then evade and escape forecheckers to prevent long shifts stuck in the defensive zone while killing penalties.
"There's not too many better people in the league where if the puck's on his stick, he's going to be able to get it out and the quickness of getting into corners and retrieving pucks," said head coach Bruce Boudreau about Hughes after the team practiced the penalty kill on Wednesday.
While Hughes's rate of unblocked shots against was only a bit better than NHL average compared to Pettersson, he was still significantly better than every other Canucks defenceman last season. Like Pettersson, he made his primary penalty-killing partner better — when Luke Schenn wasn't with Hughes, he was mainly with Tyler Myers and they allowed 128.87 unblocked shots against per 60 minutes compared to 75.37 with Hughes.
Adding Mikheyev and Lazar
The Canucks also added a couple of new faces with penalty-killing experience in Ilya Mikheyev and Curtis Lazar.
While it's difficult to separate an individual's performance from that of his team and say how a player will perform in a new environment, both Mikheyev and Lazar put up better-than-average numbers on the penalty kill last season.

The Toronto Maple Leafs had a top-10 penalty kill last season and Mikheyev was generally on the second unit alongside Alex Kerfoot. Mikheyev was on the ice for the third-lowest rate of unblocked shots against among Leafs forwards and the second-lowest rate of goals against.
With his speed, Mikheyev also provides an offensive threat to the power play. Mikheyev had four shorthanded goals last season, forcing teams to be a bit more careful to avoid giving up a breakaway to the fleet-footed winger.
"When he's out there, it puts the PP on the defensive," said Bruce Boudreau. "I would venture to guess, every pre-scout, they're sitting there talking about the power play — 'We can't cheat on it because if they get possession and can hit him with a pass, he's going to have a breakaway.' That's always a positive thing."
Lazar played a significant role on the Boston Bruins' ninth-ranked penalty kill, with the third-most ice time behind Charlie Coyle and Patrice Bergeron, generally playing with Tomas Nosek. Lazar's numbers were slightly better than the NHL average and around average compared to his Bruins teammates.
"He's not a kid. He's experienced at doing it. Teams he's been on, whether it be Calgary or Boston, both have good penalty kills and he's been part of it," said Boudreau. "I thought he looked like a real professional out there today. I thought he was one of the few guys that I could sit there and go, 'Man, he's going to be good in that spot.'"
Where Lazar will really help is that he's a right-handed centre — something the Canucks were missing last season with Brandon Sutter out with long COVID. That means Lazar can be sent out to take faceoffs on his strong side — the right side of the ice — rather than the Canucks having to always use a left-handed centre for those draws.
That plan, however, raises one red flag.
Causes for concern?
While Lazar is a right-handed centre, the truth is that he wasn't particularly good on shorthanded faceoffs last season. He won just 37.8% of his faceoffs while on the penalty kill last season and it's not been an area of strength at any point, with a career 36.1% faceoff percentage while shorthanded.
Perhaps if he's paired with a left-handed centre and the two can focus entirely on taking faceoffs on their strong side, then Lazar can improve his percentage this season.
There are some other areas of the penalty kill that are concerning. One is that they seem intent on using Dakota Joshua on the penalty kill, something he hasn't done at the NHL level. He played just over one minute total on the penalty kill with the St. Louis Blues last season. Perhaps he'll thrive in the role, but he's currently an unknown quantity.
Another is that J.T. Miller is set to once again play a significant role on the penalty kill and he had some significant struggles last season. He and Tyler Motte were almost shockingly bad on the penalty kill last season, particularly given both of their reputations.
Hopefully, with Miller's emphasis on improving defensively, this will apply to the penalty kill as well.
Likewise, Tyler Myers led the Canucks in ice time on the penalty kill last season and, by the numbers, he was the team's worst penalty killer among the team's defencemen. If he's going to once again play a major role on the penalty kill, that's worrying.
A few penalty-killing wild cards
The Canucks will be trying a few other players on the penalty kill in the preseason. At Wednesday's practice, in preparation of Thursday's game against the Seattle Kraken, the team focused on penalty killing with a few other faces taking reps.
Boudreau noted that Horvat was missing from the penalty kill simply because he's not going to be in the lineup on Thursday. The same is likely true for Myers, while Mikheyev is out with a lower-body injury.
The combinations of the penalty-killing units are interesting. Miller and Tanner Pearson have played a lot together at 5-on-5 but not as much on the penalty kill. Jason Dickinson provides the left-handed centre for Lazar but it should be noted that his shorthanded faceoff percentage is even worse at 30.5%.
Joshua lining up with Pettersson suggests he might just be a placeholder for Horvat and might not be expected to be a regular on the penalty kill.
The other two forwards who took reps were Phil Di Giuseppe and Nils Åman. The two forwards could be battling for a spot as the team's 13th forward out of camp. Proving they can contribute on the penalty kill would help both of their cases.
Di Giuseppe has gotten a lot of praise from the Canucks' coaching staff at camp and arguably should have been in the NHL more last season.
"I thought he was good in Carolina and in New York when I'd watch him from afar," said Boudreau. "He can skate, he's big, and he doesn't mind playing physical…Especially with a couple guys hurt, he's going to get every chance to show how good he can be."
Åman has the advantage of being able to play at centre or on the wing. That versatility can be a big benefit in a 13th forward and he has a mature defensive game and played a bit on the penalty kill in the SHL last season.
As for the defencemen, Tucker Poolman had his struggles on the penalty kill last season but perhaps could find new life alongside Hughes.
Kyle Burroughs didn't get enough ice time on the penalty kill to be included in the chart above but was reasonably effective, with a similar rate of unblocked shots and expected goals against to Hughes.
Then there's the wild card of Danny DeKeyser, who is with the Canucks on a professional tryout (PTO). If he's going to earn an NHL deal, it will likely be on the strength of his penalty killing, where he is still fairly effective, even as his five-on-five game has deteriorated.