J.T. Miller is thriving under new Vancouver Canucks head coach Rick Tocchet.
Since Tocchet took over, Miller has 28 points in 23 games, buoyed by five goals and three assists while shorthanded. While Miller has still been outscored 14-to-11 at 5-on-5 in that time, he has the second-highest corsi percentage among Canucks forwards, behind only Andrei Kuzmenko.
Something else happened since Tocchet took over: Miller turned 30.
It's a notable number because NHL players typically see a drop-off in performance after the age of thirty. With Miller's new seven-year contract worth $8 million per year not kicking in until next season, the Canucks cannot afford for Miller to follow that trajectory of declining play.
It's a trajectory that Tocchet knows all too well.
As a player, Tocchet piled up points in his mid-twenties, culminating in a 48-goal, 109-point season with the Pittsburgh Penguins at the age of 28. From that peak, his scoring gradually declined. Tocchet still had four more seasons with 20+ goals and managed to play until the age of 37, but he became more of a depth player over time.
If you look at the last four years for Miller, it's somewhat astonishing how much it mirrors Tocchet at the same age. Here are their points-per-game charted out by age.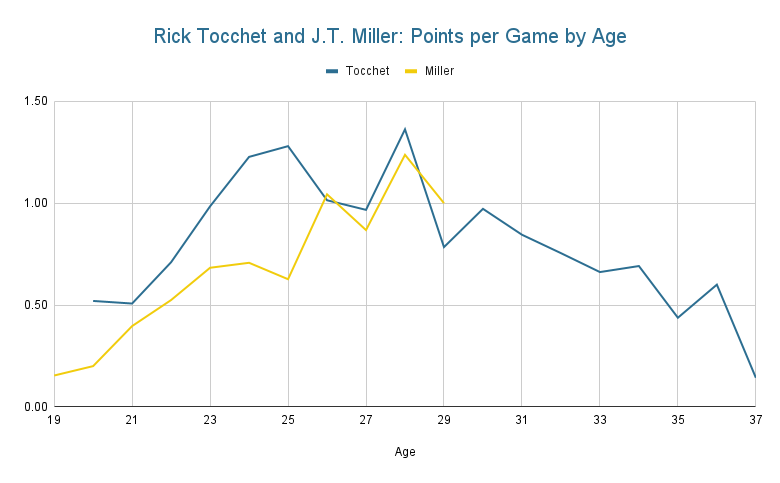 At 26, 27, 28, and now 29, Miller and Tocchet scored at a similar rate, with a nearly-identical spike in points at 28. Certainly, the two players played in different eras and different contexts — Tocchet got to play with Mario Lemieux, which certainly helped — but it's still an interesting comparison.
Tocchet himself has acknowledged the similarities between himself and Miller, specifically noting that he was also an emotional player. So, I showed Tocchet the above chart and asked him about those similarities and how Miller can perhaps avoid the downward slope after the age of 30.
"Whoa. It's interesting to see that," said Tocchet, but chuckled as he said, "I think Millsy has a little bit more talent than I had; I had to do other things to get my points. I think Millsy is a very smart hockey player. But I see similarities, for sure. He wears his heart on his sleeve."
"He can play four, five, six strong years."
Tocchet does think that Miller can avoid a similar decline in the coming years primarily because of his health.
"Mine was more my back issues," said Tocchet, who at one point had to undergo back surgery. "He doesn't have major problems, which makes me excited because he can play four, five, six strong years because he's that type."
One thing that players do have to face as they grow older is changing how they train. For some players, training becomes a lot more about maintenance and staying at the same level than taking steps forward, and it can be a challenge figuring out what your body needs to stay at peak fitness.
"Training for him, he's probably going to have to go about it differently," said Tocchet. "He's still young at 30 years old but he's probably going to have to train a little different. The best example is Sidney Crosby: he trains differently every year as he gets older and he's still one of the best players in the league. I think Millsy can have a long run if he takes care of his body.
"You have to stay on top of it. How do I continue to have my quick bursts? If I'm going to continue to play 18-20 minutes a night or whatever he's going to play, is it sustainable? It's his aerobic base — he's got the shot, he's got the hockey IQ, so it's a matter of him sticking with it."
The Canucks have to hope that what they're seeing from Miller under Tocchet is a sign of what's to come in his new contract. As they attempt a quick retool to get back into playoff contention in the coming year, the Canucks need Miller to be at the top of his game.