Earlier this year, we asked Vancouver transit users to tell us about the most awesome bus driver in the city. The responses were tremendous, covering commutes from the slippery snow-covered North Shore mountain roads to community shuttles in Langley.
We heard about bus drivers showing extraordinary acts of kindness arising out of unique circumstances, and those who seem to make it a point to be extraordinarily kind every day. Some submissions were detailed narratives (with photos!), while others were quick shout-outs.
While we wanted to spotlight all the city's awesome bus drivers, that proved to be a logistical challenge. So we turned to one of the drivers who was described in unmistakeable detail and singled out over and over in our mounds of submissions. He also happened to be someone V.I.A. reporter Elana Shepert thought was absolutely top-notch.
In the coming weeks and months, we hope to continue to share with you more awesome stories about Vancouver's transit workers. But for now, please meet the Vancouver's Most Awesome Bus Driver: Paul Harwood.
  ­- V.I.A. Managing Editor, Lindsay William-Ross
Paul Harwood is Vancouver's most awesome bus driver.
With a cheerful disposition that can turn a gloomy transit experience into a jubilant affair, he has gained numerous fans in the Lower Mainland.
Hailing from the seaside town of Paignton, Devon in the United Kingdom, Paul greets each passenger warmly as they board the bus, and he never forgets his smile — or his bow tie.
"99 per cent is of it is about your smile, the rest is dressing smart."
Vancouver Is Awesome sat down with the popular driver at the Vancouver Transit Centre in the Marpole neighbourhood to talk about why he decided to become a driver, as well as how he maintains his radiant positivity.
Outside of the Transit Centre, rows upon rows of buses sat motionless under a dreary, grey sky. Paul was waiting in a large conference room for the interview, but was dressed for his next TransLink shift, donning his characteristic bow tie. Quick to smile, he stood up to greet me as I walked through door, extending his hand and bubbling with warmth.
With jovial candour, Paul described how he has fallen in love with Vancouver — and especially with its people.
"That is one of the things I love most about the city — how multicultural it is. You can learn something from everyone. Everyone has a story," he says with a smile.
"This is the best job I've ever had."
As for his impeccable manners and dashing style, Paul says his grandmother had a profound influence on his etiquette, as well as his refined attire.
"She was born in 1900 and was influenced by the Edwardian era. She wore long lace gloves and took manners very seriously," he recalls. "She was such a lovely woman."
Of course, Paul's trademark bow tie isn't part of the TransLink uniform, but the transit authority made an exception for him.
"I can't wear just any colour of bow tie, though. They have to work with the TransLink colours, which are yellow and blue."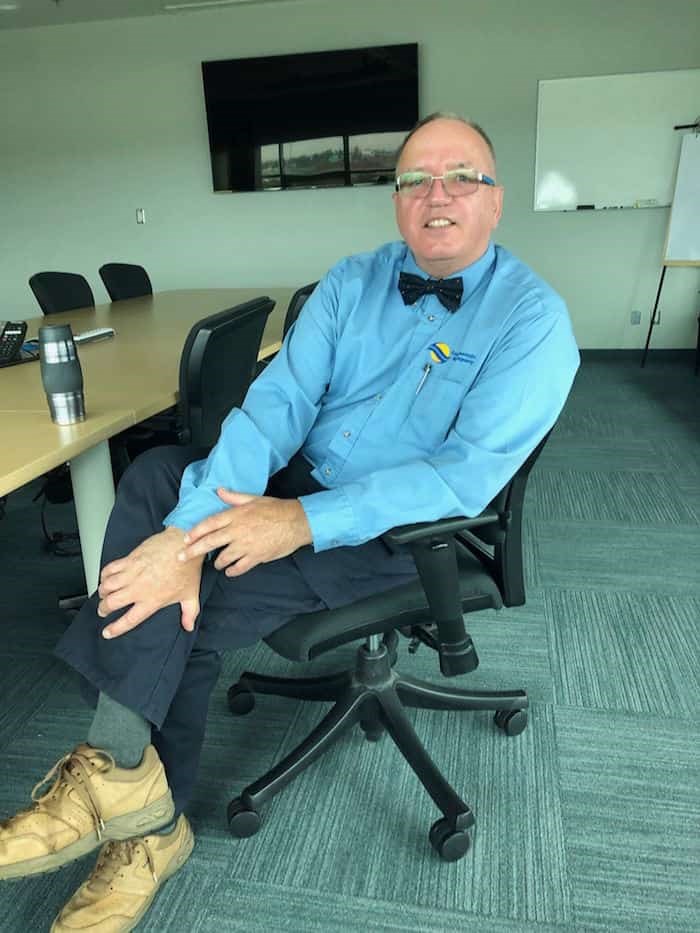 Paul says that he alternates between six different bowties that range in a variety of styles. For the interview, he wore an elegant navy-blue one with gold dots. All of them are clip-ons.
Once he became known for wearing them, however, he started a trend among some of the drivers. In fact, five of them now regularly rock bow ties à la Paul Harwood.
Aside from his debonair style, Paul is also celebrated for his positivity. When asked how he keeps his cool in tense situations, he says its all about finding his happy place. For him, that's in song.
"If you sing a song in your head, when you feel anger or anxiety, you will start to feel much calmer," he explains. "When you are driving the bus, you are the captain of the ship. You have got to set the tone for the passengers. If you seem upset then the rest of the bus will feed off that."
"Staying positive changes everything."
And while he might seem like a well-seasoned driver behind the wheel, Paul's only been driving buses in Vancouver for the past few years. Prior to that he ran a couple of Italian bread and cheese shops. He says he decided to become a driver because it offered the opportunity to interact with so many different people, as well as clock out at the end of the day.
Some of the highlights of Paul's day include making riders smile and laugh, and sometimes he even creates quizzes for them.
"I'll teach them a little bit of history about the street names, and I love helping tourists. It's great to be able to give them advice about what they can see and do, and to see how excited they are about everything. I love that."
Paul adds that in some instances, he may be the only person a rider speaks to that day. As a result, he makes sure it's a good experience.
"You really can make a difference. It isn't as hard as you might think."