"What is he building in there?"
That's the title of a cryptic spoken word piece by Tom Waits, from his classic 1999 album Mule Variations.
I've asked myself that very question every time I cycled past a mysterious, post-apocalyptic-like workshop studio in Railtown.
Located in the eastern block of Alexander Street, a ramshackle wooden structure sits on a unique, isosceles triangle-shaped lot, buttressed directly against the railway tracks. At any given time, hammering, drilling and scraping can be heard from within its confines, along with the high-pitched whine of saws and other machinery. Clouds of white dust sometimes billow over the back wall. A chain link fence topped with coiled razor wire surrounds the entire property.
Every few weeks, some giant, outrageous stone sculpture briefly appears in the driveway. I rarely ever saw anyone around, but promised myself when I did I would stop and find out — who are they and what are they building in there?
Finally, I spotted a tall figure emerging from the garage door adorned with a STOP sign. The person's face was obscured with a mask, and his clothes were covered in grey dust. I stopped my bike and gingerly called to him through the fence. He slowly turned towards me and removed the mask.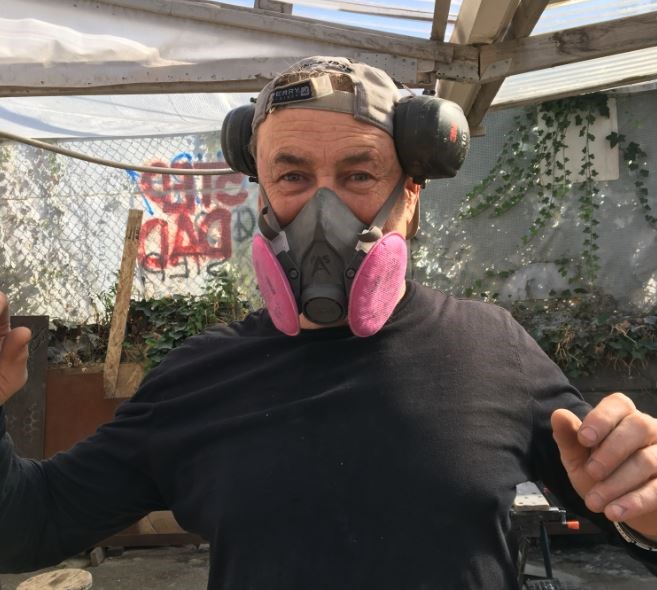 "Hi. So, uh… what are you building in there?"
After explaining my intentions for this column, the man smiled, unlocked the front gate, and invited me to "come in and find out." Little did I know I was entering the domain of two of Canada's great sculptors: Paul Slipper and Mary-Ann Liu.
Their endangered Vancouver space is called Slipper Liu Studio. Between their current studio and a previous location "down the tracks," they've worked in Railtown for decades.
"We've been around for so long this area wasn't even called Railtown," recalled Slipper. "Yeah, I think it was just called Skid Row," added Liu.
Slipper and Liu share the space with another Vancouver sculptor. Slipper works with stone, while Liu specializes in casting bronze and other metals. It looked like they'd been occupying their shed for decades. Curled photos, notes and souvenirs covered the walls, and tables and work areas were filled with stone and metal objects and artifacts.
You might not know it, but you've probably seen Slipper and Liu's work. Permanent art pieces exist throughout the Lower Mainland and beyond. Most notably, in 2000, Liu created and sculpted The Tomb of the Unknown Soldier in Ottawa.
And if you've ever looked up while walking around Chinatown, you've no doubt noticed one of the beautiful dragon lantern streetlights. There are more than 350 of them. I always assumed they had been there for a century. Wrong. Liu designed and sculpted those dragons, which were installed in 1992.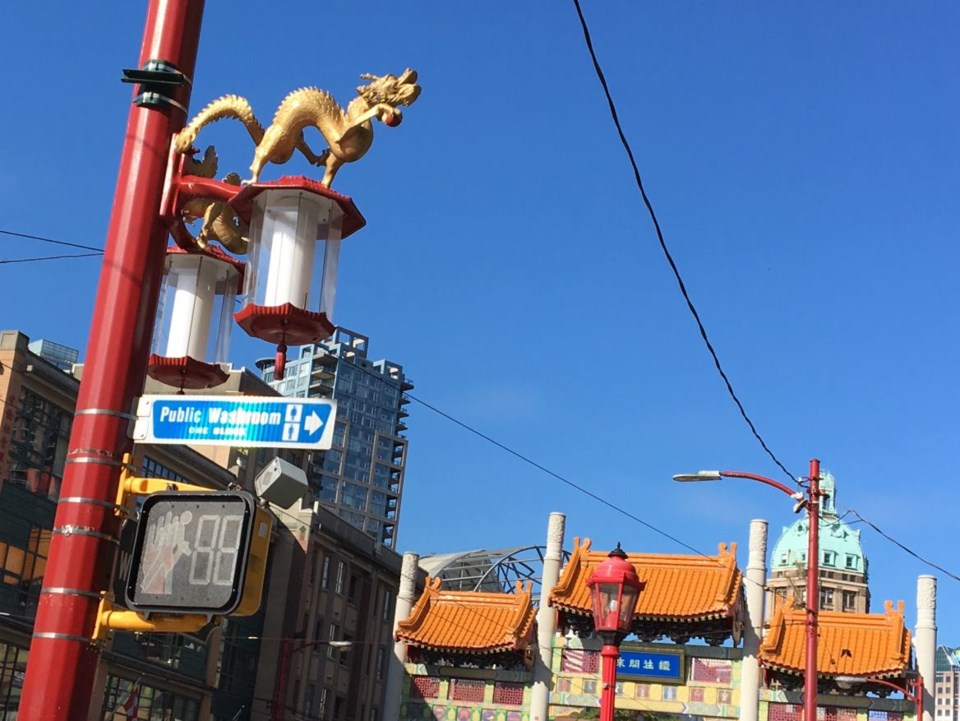 Based on the Vancouver installation, another 60 of Liu's dragons were commissioned for the streets of Chicago.
Slipper and Liu also have permanent public art on display at places like the Coquitlam Skytrain Station, the Lynn Valley Centre and along the Mount Seymour Parkway. And that sculpture of stone luggage at the Vancouver International Airport? That's Slipper's work.
When I visited their crammed studio, the front yard was filled with a gaggle of Canada goose sculptures, each created from huge, 1,000-pound granite boulders plucked from the Cheakamus River. The geese were bound for a park in Red Deer, Alta.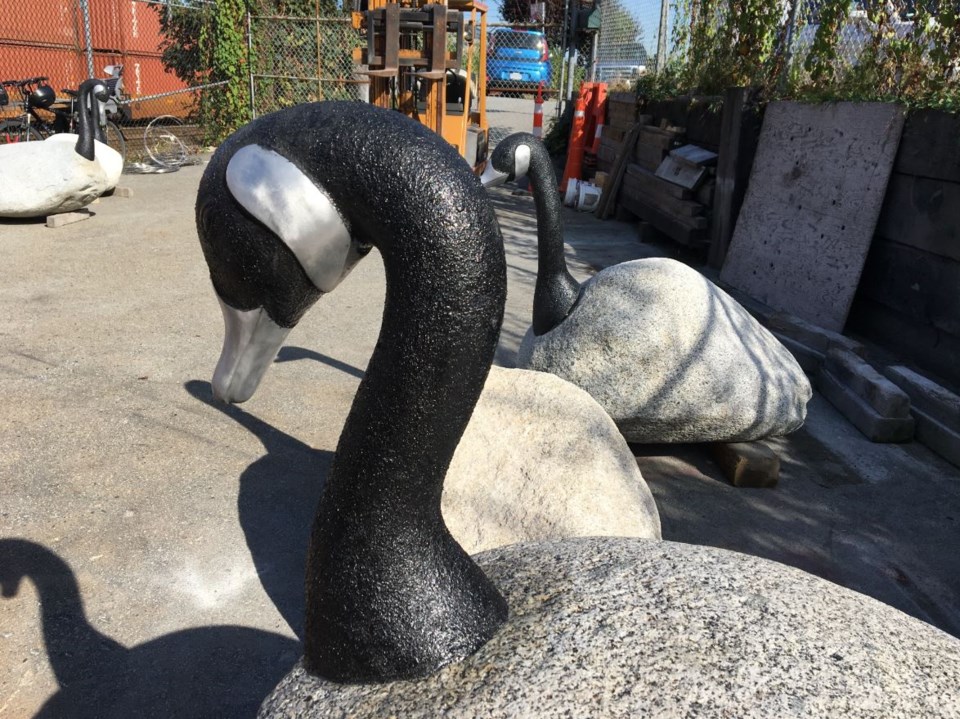 Also in the front yard was a giant stone replica of a classic tree air freshener that used to hang from your car's rear view mirror. It's 10 feet tall, weighs 500 pounds and can be yours for $28,000.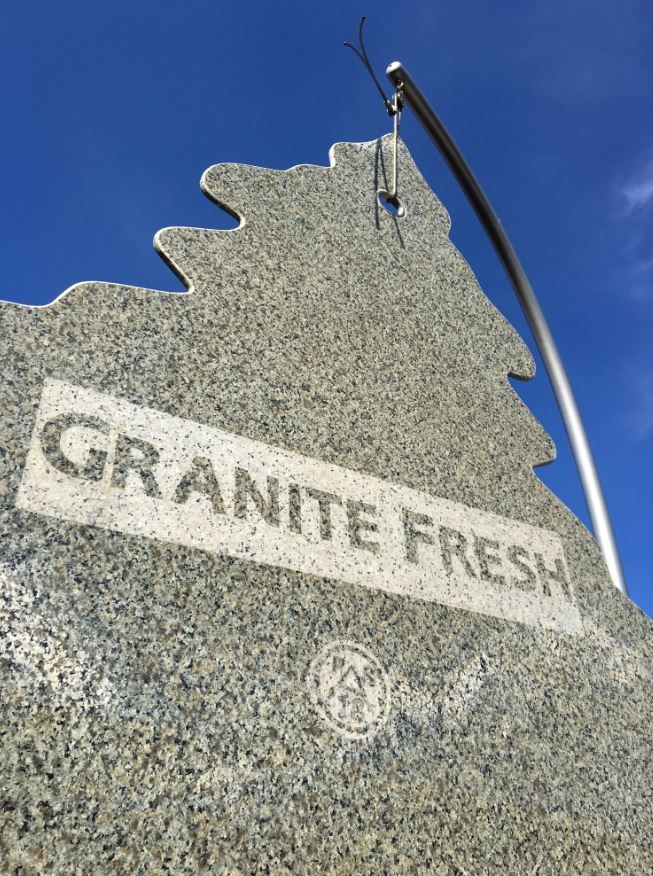 And even though Liu and Slipper's art pieces are often extremely heavy, they've both managed to avoid any sort of serious injury — not even a broken toe between them. The only major occupational threat is silicosis, known as the "stone lung disease," which can impact anyone exposed to rock dust for a long period of time. If you're a sculptor, the disease can effectively turn your lungs into your medium. Slipper and Liu are extremely careful with their safety gear.
Unfortunately, neither of them owns that special little slice of industrial land their studio sits on. The property has been sold and is of course slated for development. Slipper and Liu don't know how much time they have left on Alexander Street. "This place is like a second home, and we'll ride it out for as long as we can," Slipper told me.
"And even though this land has been sold," Liu added, "we're not panicking. Yet."
Before I left, I asked Liu how it felt to be the creator of something as emblematic as the Tomb of the Unknown Soldier.
"I feel really privileged to be chosen for that," she mused. "It's my little bit of immortality, but as artists, we can never rest on our laurels. There's always a new challenge for us around the corner."
What are they building in that shack down on Alexander Street? Now you know: iconic Canadian art.
grantlawrence12@gmail.com