Paul Leahy's musical lineage is such that he rubbed elbows with D.O.A.s' Joe Keithley and Chi Pig of SNFU before most of western Canada even knew what punk rock was.
He helped fuse glam rock with attitude and chutzpah during the 1970s, while eschewing the notoriety, attention and excess that many of his contemporaries obsessively sought.
The quiet, unassuming guy in the background, Leahy's four-decade legacy in the Vancouver music scene will be celebrated with a benefit show Jan. 27 at the Rickshaw Theatre.
As is the case whenever terms like "legacy" and "benefit" get thrown around, Leahy's health is wavering.
At 58, he's in a palliative care hospice in Surrey, beset by inoperable cancer in his throat and jaw. Show organizers planned to live stream the show to his hospice room, but one week out from the performance date, it's unclear whether Leahy will be alive to realize one final gig.
As such, the show may turn out to be part wake, part fundraiser for Leahy's wife and son, Finn. 
"Either way, it is a celebration of one of Vancouver's greatest rockers ever," said Northern Electric Records owner Richard Chapman. "Paul's departure from here is going to hit a lot of people really hard, I think. So this is a healing [event] for a lot of people too."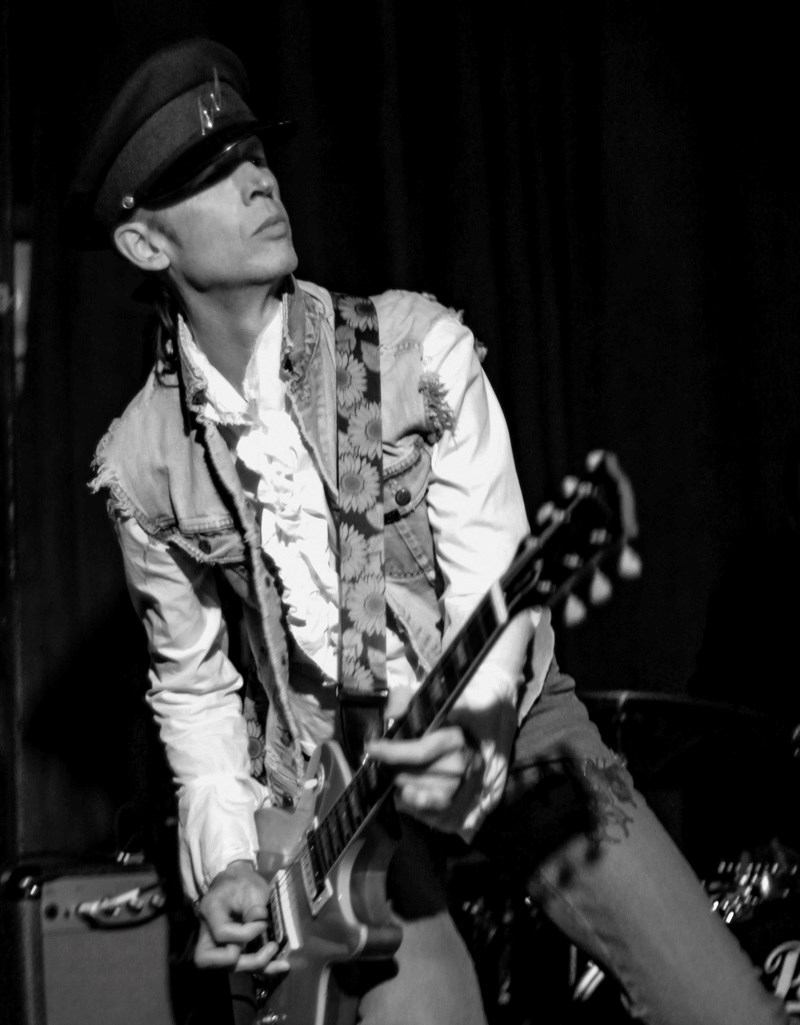 Chapman's label took on Leahy's most recent band, Polly, five years ago. Their roots together go back 34 years to the seminal Surrey punk band No Fun.
"When I was a kid, his band No Fun was my favourite band," Chapman said. "My girlfriend at the time took me to see them for my 19th birthday. I looked up to him and I remember nervously talking to him at the end of the show. There are not many musicians around Vancouver that I would get so excited about meeting."
Leahy emerged on the Vancouver music scene in the mid-1970s — at the height of glam rock — with his first band, the Toys. Glam gave way to punk in 1980 when he joined the two-piece known as No Fun. They were at the forefront of the first wave of B.C. punk alongside D.O.A., SNFU, the Dayglo Abortions and the Pointed Sticks. Leahy reportedly last performed with No Fun in 2006. The decades that followed saw Leahy head up such bands as the Tranvestimentals and Pleasure Suit.
Polly was his last musical pursuit. On the 2012 album All Messed Up, Leahy played every instrument and sang every note on the album.  It was around this time that complications arose in his throat.
He underwent an operation and had to re-train his voice to be able to sing again.
His current cancer battle emerged in October, and by December he was in palliative care. He's lost his voice but was still communicating with Chapman via hand gestures as recently as last week.
"He's basically knocking on heaven's door but he's still got it," Chapman said. "If I'd say something funny, he'd still give me the thumbs up. Paul has always been a mild mannered, quieter guy."
The bands selected for the Jan. 27 fundraiser are all bands Leahy has played with, alongside or are considered his contemporaries. Dubbed "The Super Duper Show," the gig will feature performances by the Pointed Sticks, the Furniture, Polly Suit, Swank and a performance by Leahy's son, Finn.
Tickets cost $15 and are available online via ticketfly.com or at Red Cat, Zulu, Highlife and Neptoon.