Hands up if you remember the abysmal mid-'90s trend of dessert-focused restaurants that featured sky-high dry cakes swaddled in too many layers of saccharine frosting, drizzled with banal sauce from a tub and buried under whipped cream from an aerosol can. Thankfully, there are better options for late-night desserts — and you can even grab a drink while you're at it.

Mosquito
Newest to the late-night dessert scene is Gastown's Mosquito. Owners Johan Friedrich and Alice Wu wanted to create a space where dessert was as appreciated as the rest of the meal. So while the menu includes savouries, the focus is dessert.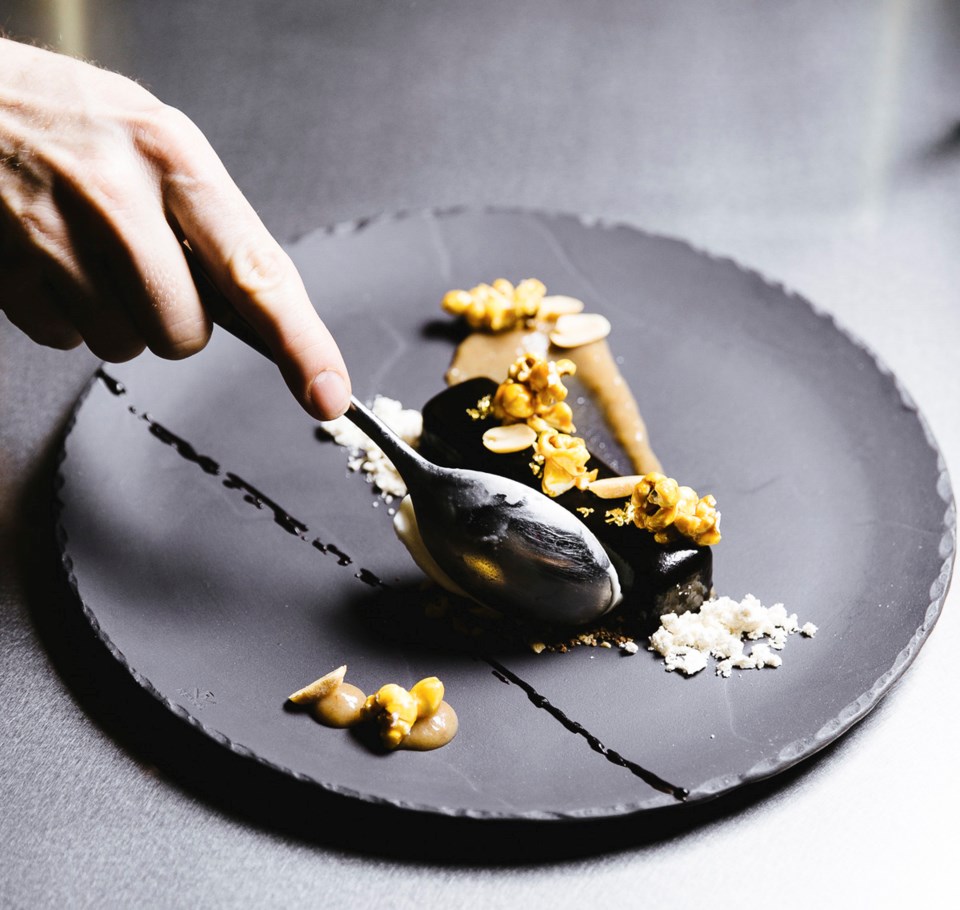 Witness my peanut butter dessert, which arrives on a slate plaque. There's a chocolate-glazed log of peanut butter cream with a crispy feuillantine layer, and caramel popcorn and popcorn gelato for a pop of crunch and cool. It's well executed, even if I find the popcorn gelato too restrained, and the smear of caramelized banana jam that garnishes the plate still pulses in my taste memory.
Truthfully, the menu almost takes a back seat to the stylized, sexy room with its cozy corners for clandestine conversations. The bathroom features black wallpapered walls, a learn-to-speak-French soundtrack and a sink faucet that looks like a black epiglottis dangling from the ceiling.
The space isn't for everyone — I struggled to hear my husband over a soundtrack of retro-slow-jam-meets-Euro-dance-party and needed my phone's flashlight app to read the menu and see my food. But based on the happy chatter around us, there are plenty of people for whom that's part of the appeal.
Mosquito (32 Water St., 604-398-3188, mosquitodessert.com).Open until midnight Wednesday through Saturday, and until 11 p.m. on Sunday.

Thierry
When Thierry Busset opened his eponymous café in August 2011, he didn't think it would be busy late at night. But right from opening day, nights and evenings were booked solid — and no wonder, given Busset's deft touch with classic French patisserie.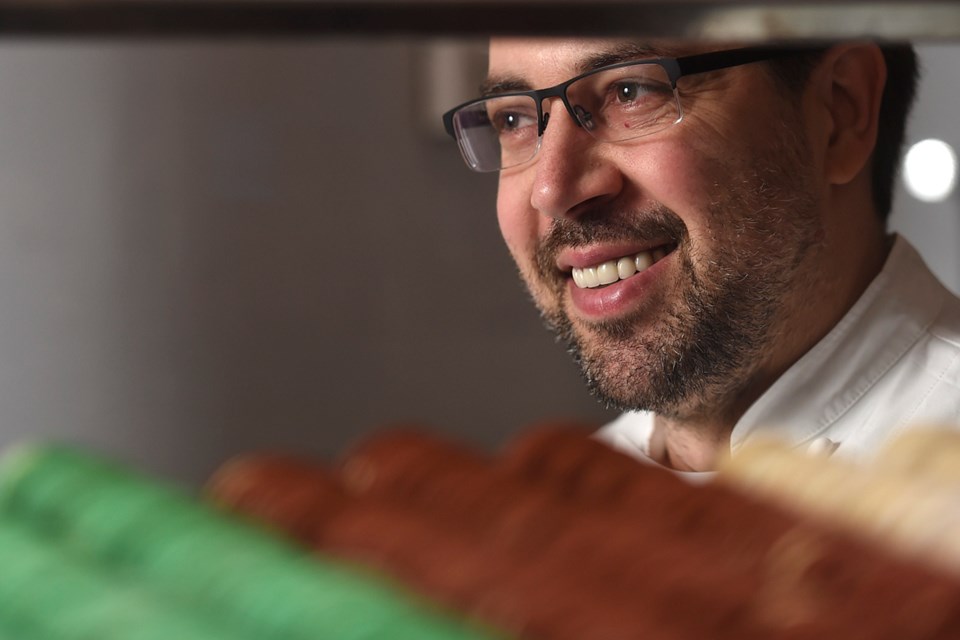 Not surprisingly, chocolate's a big seller, with the chocolate trio (dark, milk and white chocolate mousses on chocolate sponge) and the chocolate marquise (chocolate, hazelnuts and caramel) especially popular. I'm always drawn to the humble savarin, a yeasted cake doused in rum, then topped with fresh fruit and whipped cream.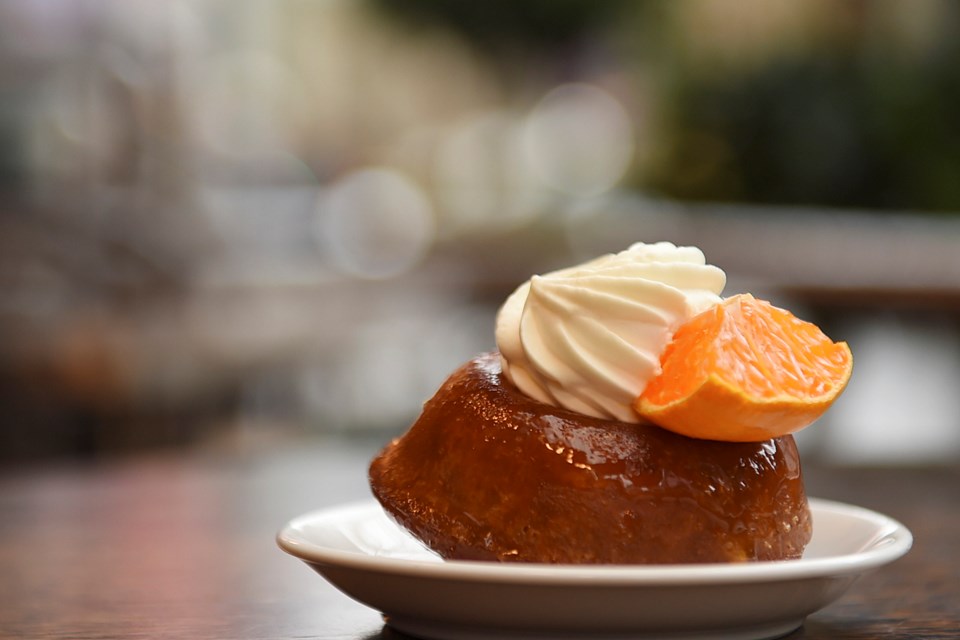 Cake not your thing? There are macarons, less sweet than most and with a surprise inside: fresh fruit. Not to mention chocolates (the cognac one is delightfully boozy), pitch-perfect butter sables and adorable madeleines. In the works are holiday buches de noel, for which advance orders are highly recommended.
Thierry (1059 Alberni St., 604-608-6870, thierrychocolates.com). Open until midnight, seven days a week.

Bella Gelateria
Winter is the best time for gelato because you don't have to worry about it melting as quickly as in summer. And in the case of Bella Gelateria, you can enjoy your gelato without the insane waits.
Though even if there is a lineup, it'll be worth it. Bella Gelateria still reigns as the city's best gelato, with the international awards to back it up. Maestro James Coleridge uses local products wherever possible and looks to Vancouver's diverse appetite for inspiration — serving up classics such as coffee and chocolate alongside Persian-inspired Akbar Mashti (rosewater, pistachio and saffron) and almost-savoury matcha green tea gelato.
Coleridge has several seasonal flavours on offer, such as sugar pumpkin pie gelato or the intoxicating-sounding vanilla whiskey fudge. If you'd like to gild the lily, there are also gelato cookie sandwiches available, as well as proper desserts such as tiramisu, chocolate budino and panna cotta — most served with, you guessed it, gelato.
Bella Gelateria (1089 Marinaside Crescent, 778-737-7890, bellagelateria.com).Open until 11 p.m., seven days a week.
@eagranieyuh