At Faubourg's Hornby Street location, Franck Point holds a salted caramel macaron up to the light of one of his café's slick chandeliers.

Point, who owns Faubourg's three locations, is explaining his criteria for the perfect macaron.

First, the shell. Point looks for a perfectly round shell, and that the two halves of the macaron match exactly. Second, colour. "This caramel macaron, if you leave it in the oven another 20 seconds, it goes from light beige to dark beige," he says. (Clearly, dark beige is not acceptable.)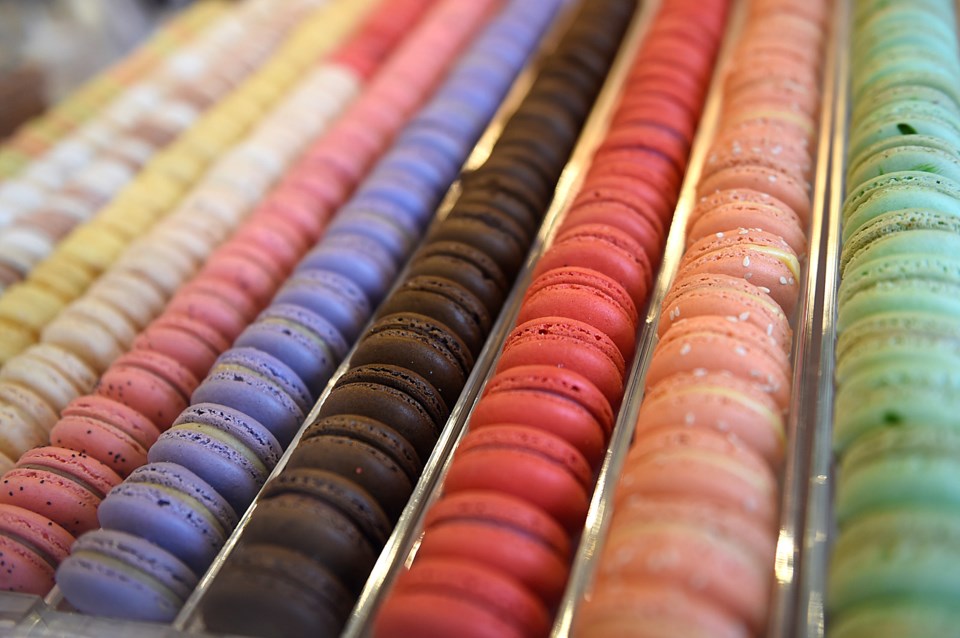 Next, Point explains that macarons should have a sheen on top, which indicates the correct proportion of sugar and technique. Fourth, he looks for a slight dome on each cookie; they shouldn't be too flat. Finally, the foot — the bubbly-looking base of each macaron — should be uniformly even.

Juliette Piat, Faubourg's online marketing manager, adds, "And it should have the perfect chewiness inside, with a perfectly crisp shell."
If that sounds awfully persnickety for a French sandwich cookie, consider that Faubourg tosses anything that doesn't meet those criteria. When they first started, that was as much as half of each batch — these days, it's closer to 10 per cent.

"For people to pay $2 [each], it must be a perfect macaron," says Point. "It isn't a big deal if you eat one that's not perfect, but I can't sell it in my store."

Faubourg's macarons are undeniably beautiful, and they taste as good as they look. Standouts include the jasmine, which nails the floral flavour without tasting soapy, and the Faubourg signature, with its punchy passionfruit filling. March also brings the macaron of the month: baguette-flavoured, made with the bakery's own bread.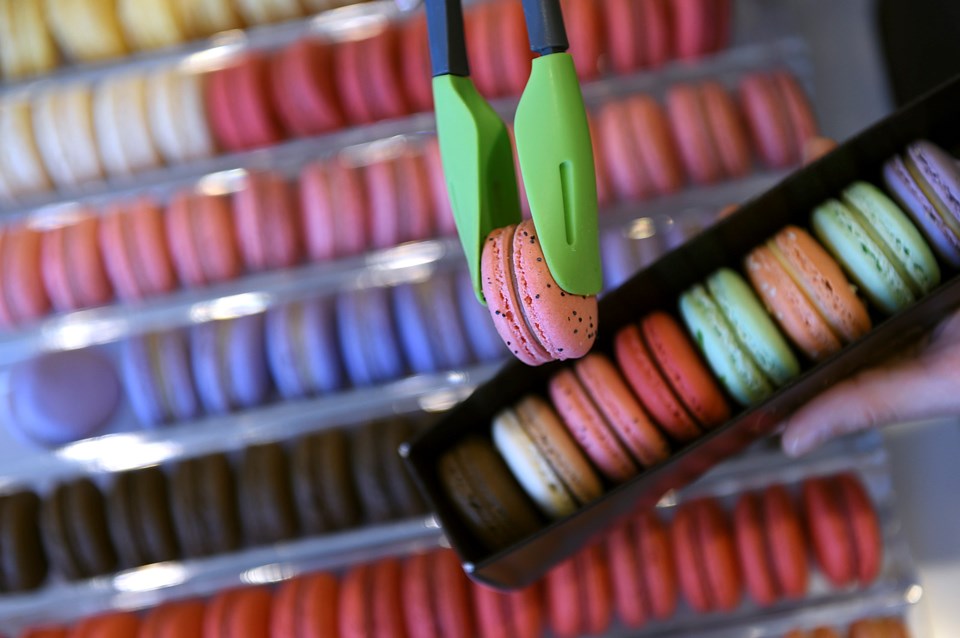 On March 20, you can taste that attention to detail for yourself. It marks the fifth annual Macaron Day in Vancouver, a tradition started by the macaron king himself, Paris's Pierre Herme. On that day only, Faubourg's macarons will be available for $1 each. The business will match each donation until they're sold out, and all proceeds will go to the BC Cancer Foundation.

A word of warning: last year, Faubourg was out of macarons by early afternoon. If that happens again, don't worry. There's plenty of consolation in a puckery lemon tart, flaky millefeuille or buttery croissant.

Faubourg: Kerrisdale (2156 West 41st Ave), downtown (769 Hornby St), West Vancouver (792 Main St, Park Royal South), faubourg.com.

'Little bit of sacrilege'

Also participating in Macaron Day is Mount Pleasant's French Made Baking. Catherine and David Introligator have grown the business from a farmer's market stall to their cozy café, which now includes a small tearoom.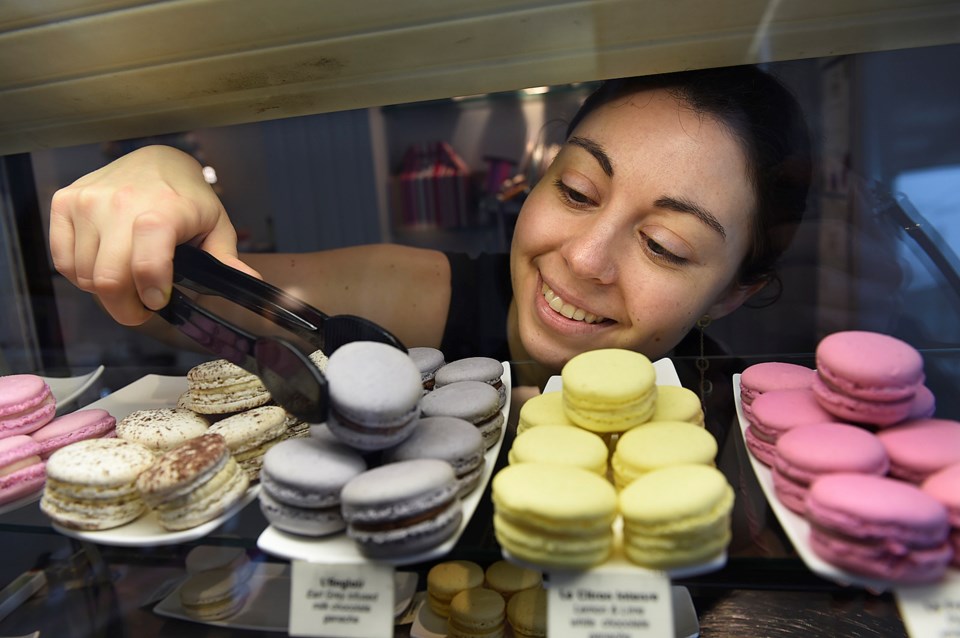 French Made Baking was one of the first in town to participate in Macaron Day, in 2011. On March 20, French Made Baking will donate 15 per cent of their macaron sales to the BC Children's Hospital Foundation. They'll also have a donation jar in the café, and each customer that day will receive a miniature macaron.

French Made Baking has a dozen flavours in regular rotation, including the lovely and traditional pistachio, and a vanilla macaron flecked with black seeds without being cloyingly sweet. And there's a new macaron in town: a vegan macaron.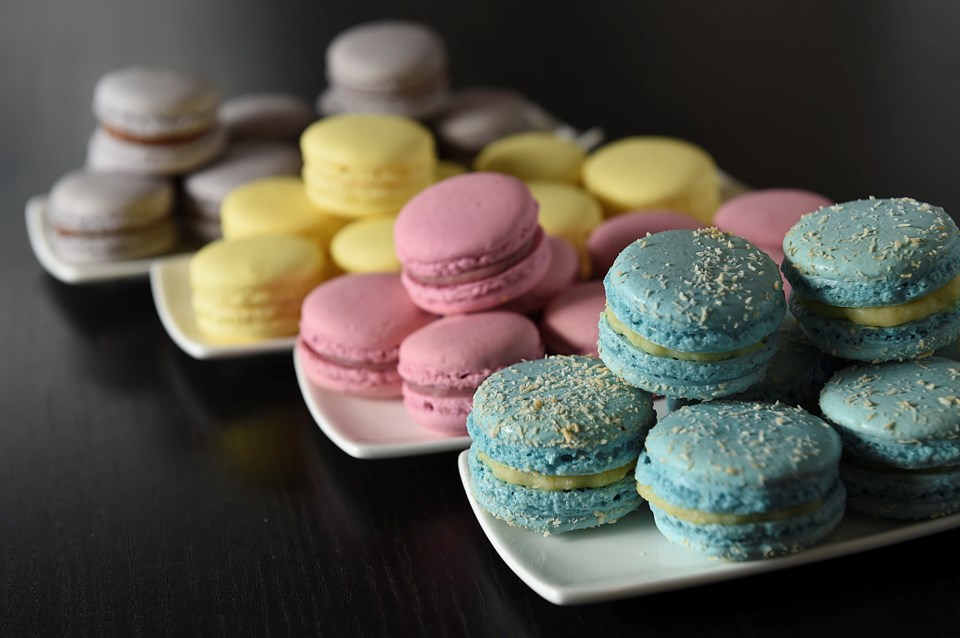 The vegan macaron shells are made with a plant-based egg white substitute, while the filling uses date-almond milk from local company Nuez. "It's a little bit of sacrilege," Catherine admits, her French accent adding a certain gravitas. "But it's pretty similar to the original recipe. I think it's a nice evolution for the macaron, not treason."

And how does it taste? Not bad. It's not quite the same as a traditional macaron —slightly softer and just a touch grainy — but as far as sacrilege goes,

I'll take it.

French Made Baking, 81 Kingsway, frenchmadebaking.com.

@eagranieyuh