Christopher Gaze, it turns out, is not only a supremely gifted actor and theatre director. He's also immensely talented at making people fall in love with who he is as a person.
Jayne Seagrave was 40 interviews into research for a book about Bard on the Beach when she realized no one had said anything bad about the Shakespearian theatre festival's founder and artistic director. Surely Gaze couldn't be that perfect, she thought to herself.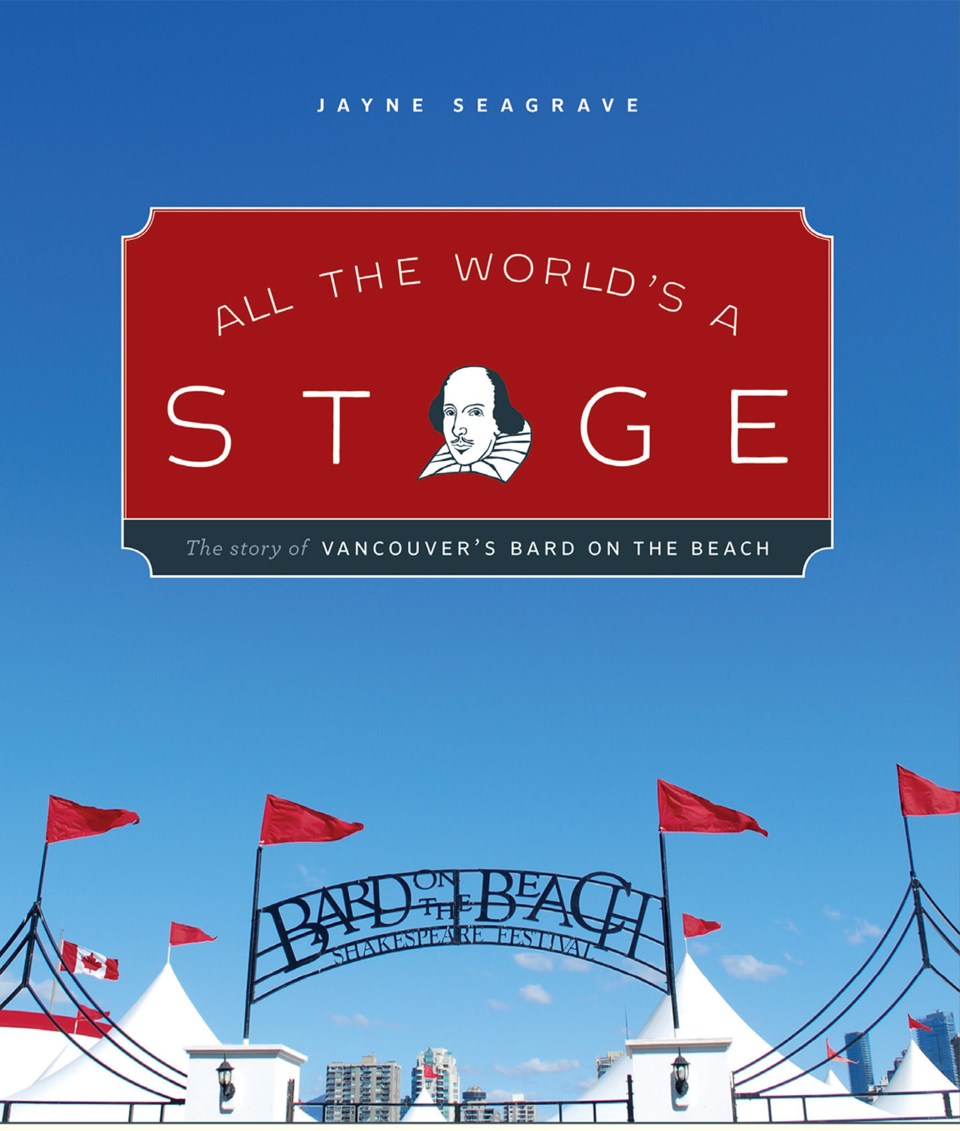 Seagrave decided the book needed some balance to all the glowing testimonials.
"I tried to find someone to say something derogatory about Christopher," says the author of All the World's a Stage: The story of Vancouver's Bard on the Beach. "At the end of the day, I couldn't."
It's not that she didn't try. Seagrave asked the actors Gaze has worked with, behind-the-scenes staffers, board members and even his wife Jennifer to dish the dirt.
Seagrave says the worst that Jennifer Gaze could come up with is that if she, Jennifer, were ever to write a book it would be called Waiting for Gazey. (Jennifer's one of the few people who can call him anything other than Christopher or Mr. Gaze.)
"Christopher always thinks he has more time than he does, so he's rushing out at the last minute to get to something he's supposed to get to. So if there is a flaw, it's managing his time," she told Seagrave.
Note the "if there is a flaw…"
After initially being stumped by Seagrave's question, a board member rushed to tell her, "I've thought of something wrong about Christopher!"
Ah, finally, the big reveal.
"He cheats at golf," the board member gushed, pleased with finally having come up with an answer.  
"But everyone cheats at golf," Seagrave replied.
Over and over again, people involved with Bard on the Beach kept telling Seagrave how much they admired and respected Gaze. The one defining feature was his willingness to let the talents of others shine as brightly as his.
"He is not frightened at all at giving major decisions and responsibilities to people he believes he can trust," a board member tells Seagrave. "This empowers them. So you think, 'Gee, if you have this confidence in me that you think I could do this, then I'm going to do a good job and I'm going to give that extra little bit,' and that's what he gets out of people over and over again."
This talent extends to everyone who works with Bard. Gaze is not the stereotypical impresario whose mercurial ego needs constant nourishment. For a man who "is the Bard and the Bard is him," he knows that while he's instrumental in the success of Canada's ninth largest private theatre company, it takes a cast of hundreds to pull off such a gigantic feat summer after summer. He learns everyone's names and lets them know, with genuine intent, that each of them plays an important role.
This capacity of Gaze to manage and lead is what sets him apart from many other actors who say, "I'd like to form a theatre company," Seagrave says.
Gaze had studied theatre companies that had failed and knew that Bard needed a management structure and board from the get go. Without his business acumen, she's convinced the festival would not have grown from its first season in 1990 with 6,000 attendees to its current $6-million budget and annual audience of 100,000.
Gaze moved to Canada at the prompting of Douglas Campbell. Campbell, one of the original Stratford Festival actors, had hired Gaze for his theatre company in England. He sent him on his way with "six letters of introduction on blue airmail paper to six influential individuals he knew in Canada who would help his prodigy build a career."
The letters were helpful but official paperwork turned out to be more of a requisite. To work, Gaze needed landed immigrant status. To get status, he had to leave the country. A friend offered him an unpaid job as a ranch hand in Montana, providing Gaze with one of the most improbable starts to his new life in North America. The strategy, however, worked and Gaze arrived in Vancouver in October 1975 with $60 in his pocket and a job offer from Vancouver Playhouse.
Seagrave has a very pleasant and engaging writing style that takes the reader through the next 42-plus years with an entertaining ease that offers insight without all the academic language that belies her SFU PhD in criminology. It actually helps that, apart from being a huge Bard fan since she arrived from England in 1991, she knows relatively little about Shakespearian theatre. She has sat under the Vanier Park tent, sometimes bewildered by the play's plot lines, and let her mind take in lushness of her surroundings instead — the costumes, the sets, the trees billowing in the background. All the questions she's asked herself in her 26 years of watching the festival grow and adapt guide her way through the book's 192 pages (many of which are adorned with photos).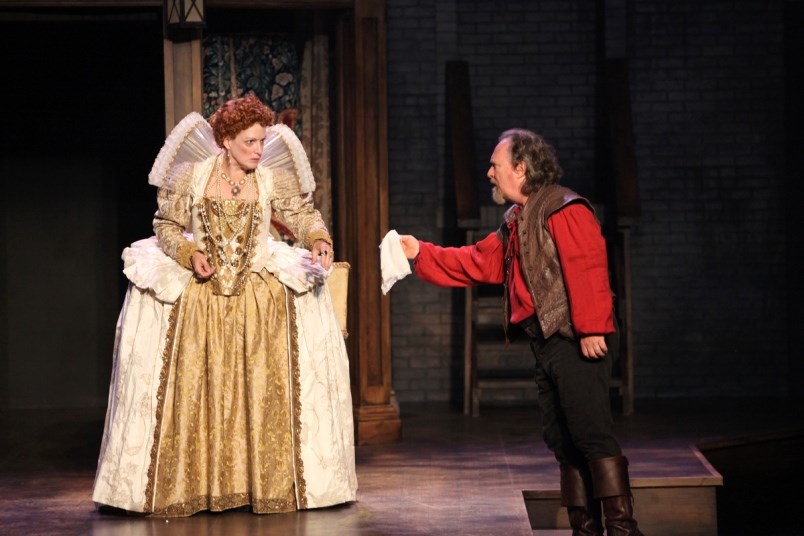 Did you know, for instance, that a pregnant Colleen Wheeler once put icepacks into her heavy Elizabethan costume to help keep her cool?
As much as no one has anything bad to say about Gaze, they are not as reticent when describing their feelings about Vancouver's rain, and its ability to negatively affect the cast and crew as well as the festival's bottom line.
Raccoon poop is a nuisance and the festival does its own laundry, paying to get the grey water removed every three days. Only 3.4 per cent of 2015's budget came from public-sector grants, a huge increase from the previous year's 1.3 per cent. (Seagrave thinks it's a shame the festival doesn't get more government funding.) Two of the 250 festival volunteers met at the Bard and are now married. And when management heard of the young volunteer who has finally found a backstage community where he feels at home, they offered him a seasonal contract.
As Seagrave writes in her epilogue, Bard on the Beach is an adopted family for both everyone involved in pulling it off and everyone who enjoys the fruits of their labours. When each season, each play begins, "the Bard family greets us with open arms, as if we have never been away. We are home."
Previews for the 2017 season of Bard on the Beach begin June 1. Opening night for Much Ado About Nothing and The Winter's Tale is June 22. Go to bardonthebeach.org for details. Jane Seagrave will be at the Book Warehouse, 4118 Main St., May 30, for a public event at 7 p.m.. Doors open at 6:30.
To enter to win a copy of All the World's a Stage: The story of Vancouver's Bard on the Beach and two tickets to The Winter's Tale, go to our contest page here.