Sitting in Boulevard's dramatic dining room, I watch as the server approaches me. He places a rectangular plate on the table — on it, a petite copper pot enclosing a gently quivering chocolate soufflé. The top of it is branded with the Boulevard logo, rendered in chocolate. Beside it sits a tiny pot of crème anglaise, lightly scented with vanilla and orange blossom water. He punctures the soufflé's delicate top and pours in the custard. With a nod, he leaves.
The chocolate soufflé has quickly established itself as the signature dessert at Boulevard Kitchen and Oyster Bar, located in the Sutton Place Hotel. Maybe it's the dramatic presentation, the old-school appeal or the apparent contradiction of a dish so deeply flavourful yet light in texture. Whatever it is, we can thank Jason Pitschke, Boulevard's pastry chef.
Pitschke got his start with Cioppino's Pino Posteraro in the late 1990s. "As a young boy coming from Whistler, it was my first real restaurant. Pino's not a pastry chef, but he knows a lot about pastry."
On his days off, Pitschke helped Thomas Haas — who was still the pastry chef at Senses — with his burgeoning chocolate enterprise. It was Haas who made the phone call that led Pitschke to New York in 2004. He spent three years as pastry sous chef at Daniel Boulud's eponymous restaurant in New York City before heading to Toronto.
Pitschke's next big move was to Beijing, to help open Maison Boulud one month before the 2008 Summer Olympics. He had a team of eight pastry cooks (only two spoke English) whom he had to train in French pastry and North American kitchen practices. "You get very creative when you have a language barrier. It was very challenging, and I learned to be very patient."
Since moving back to Vancouver, Pitschke has worked with the Glowbal Group, the Fairmont Pacific Rim and Cioppino's. Last spring, he was hand-picked to join the opening team at Boulevard in the Sutton Place Hotel, which launched in July.
While Pitschke's menu is rooted in the classics, his desserts are lighter than most and decidedly less sweet. "I try to have a more savoury approach to dessert. [In Beijing], things I thought were super savoury were considered sweet. I had to accent everything with seasoning. It kind of changed me forever."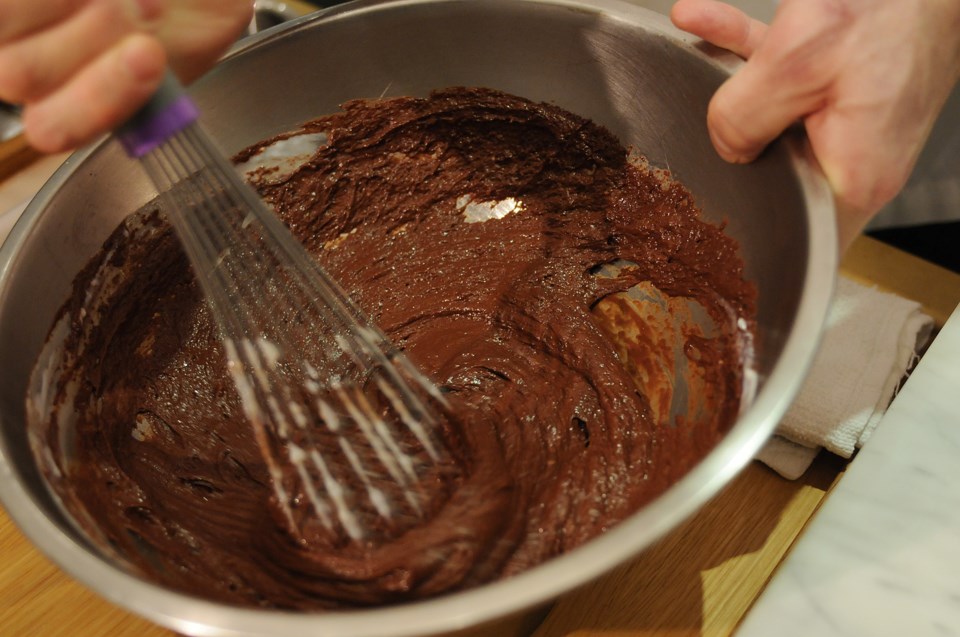 He's learned to consider each ingredient carefully, especially chocolate. "I'll start with the chocolate and taste it," he says, and involves executive chef Alex Chen and chef de cuisine Roger Ma. "We'll start with the flavour profile of the chocolate. It's about what notes we're tasting. Would pears work well, fruit, spices… It sort of builds from there."
And then there's presentation. Pitschke's plates are as beautiful as they are delicious — a logical extension of his background as a graffiti artist. "Daniel [Boulud] caught wind of this and he let me paint his wine cellar. There were a few Sundays in a row I'd be doing my artwork and Daniel would come down in flip flops and shorts, bring me a Red Stripe and hang out on a quiet Sunday with me. That was a neat thing for him to do."
Boulud's wine cellar has since been painted over, as has Pitschke's longest-standing graffiti piece: a 110 x 10 foot long mural just off Granville Street. The latter, a commission from the City of Vancouver, lasted seven years before disappearing shortly before the 2010 Olympics.
Of course, seven years is an eternity compared to the lifespan of his art now: a soufflé in a copper pot that disappears in minutes — every minute a pleasure.