I've been telling you the story of the Vancouver 125 books in bite-sized pieces over the past few months. First ANNOUNCING all 10 titles back in January when the city announced it was launching this initiative to revive some out-of-print titles with cultural relevance to our city in it's 125th year, then bringing you on my adventure as I tried to TRACK DOWN the original versions of all of the books so that I could put them on the shelf next to the new copies as they came out. I SHARED the fairly recent re-release of Opening Doors and was floored when I opened the mail this week to find three new old titles waiting for me.
Pictured below are the brand new copies of The Inverted Pyramid by Bertrand W. Sinclair, Along the No. 20 Line by Rolf Knight and Class Warfare by D.M. Fraser and below them are the original copies that I managed to dig up/hoard. If there's one thing better than the smell of an old book it's the smell of a new book, so instead of reviewing the content of these new releases (they're classics, what can I say about them?) I'm going to give you a whiff of my thoughts on the cover designs.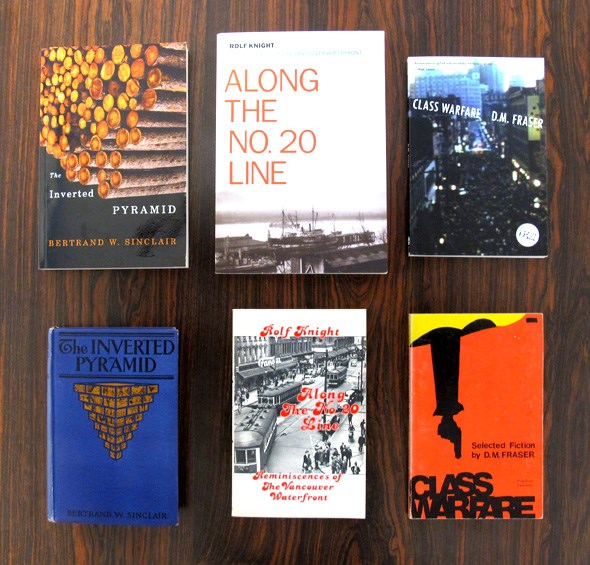 So let's start with The Inverted Pyramid, pictured left. You'll notice that the original copy I got my hands on is quite fancy. In fact it's the first edition hardcover of the book and it was printed in 1924. Like all of my Vancouver 125 originals, I found this one at Macleod's Books on Hastings, and I considered it a steal at $65. To compare it to it's re-released paperback pictured above almost isn't fair, so let's just say that the new cover is nice compared to most other new books out there and is also a steal at $18.95 from Ronsdale Press.
Moving on to Along the No. 20 Line pictured middle. Also a first edition, purchased for $10 at Macleod's, I actually prefer the new edition as it's got a nice stock of cover, lots of photographs not previously featured in the original printing as well as a thoughtful afterword by Rolf Knight looking back on the book now in 2011. Available from New Star Books.
Lastly, Class Warfare by D.M. Fraser. The $6 from Macleod's Books second edition with the weird clipart handgun didn't really do much for me from the beginning so the updated modern cover with soft focus crowd shot and almost a waxy, matte surface to it practically brought me to my knees. The "Vancouver 125 Legacy Book" stamp on it is also a nice touch that I haven't seen on any of the other books in the series. It's $15.95 from Arsenal Pulp Press.
Look for these books at your neighbourhood book store and stay tuned as there are still a few more titles to be released!