Each week we'll uncover some unusual and (hopefully) interesting facts about the city. This week we take on Robson Square.
1. It was intended to be a giant skyscraper
Slated to be completed in 1975, the British Columbia Centre would have been the tallest skyscraper in the city, both of its time and by today's standards. Had plans gone through, the building would have measured in at 208 metres tall, which is 7 metres taller than the Shangri-La building.
2.Preserving Vancouver's skyline was a key consideration
In addition to the city's skyline, fears regarding the giant shadow the potentially humongous building would cast upon downtown Vancouver caused BC premier Dave Barrett to commission a redesign from Arthur Erickson Architects, who then decided to flip "B.C. Centre on its back."
3. The new design added 1,300,000 square feet of space to Vancouver's downtown core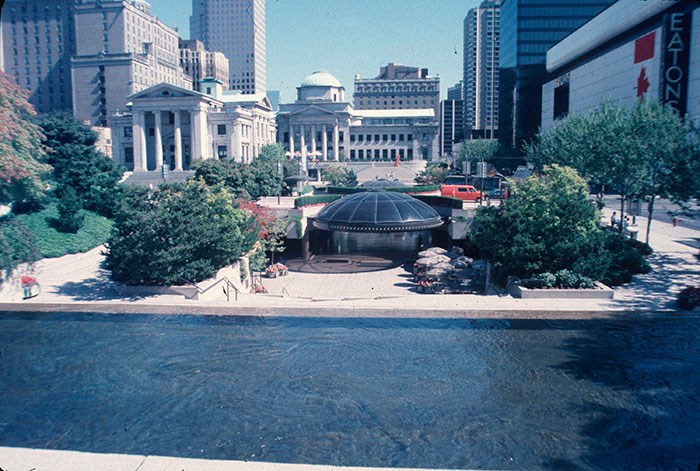 Present day Robson square is home to the Law Courts, provincial government offices, UBC's downtown campus, the Vancouver Art Gallery and the skating rink, which was updated as part of the renovations for the 2010 Winter Olympics. The complex was completed in three stages from 1979 – 1983 and initially cost $139 million.
4. Arthur Erickson's design is full of artistic and conceptual meaning
Nicholas Olsberg describes Ericsson's intentions as follows:
"Arthur came in and said 'This won't be a corporate monument. Let's turn it on its side and let people walk all over it.' And he anchored it in such a way with the courts — the law — at one end and the museum — the arts — at the other. The foundations of society. And underneath it all, the government offices quietly supporting their people. It's almost a spiritual progression."
5. The design features Erickson's signature use of concrete and greenery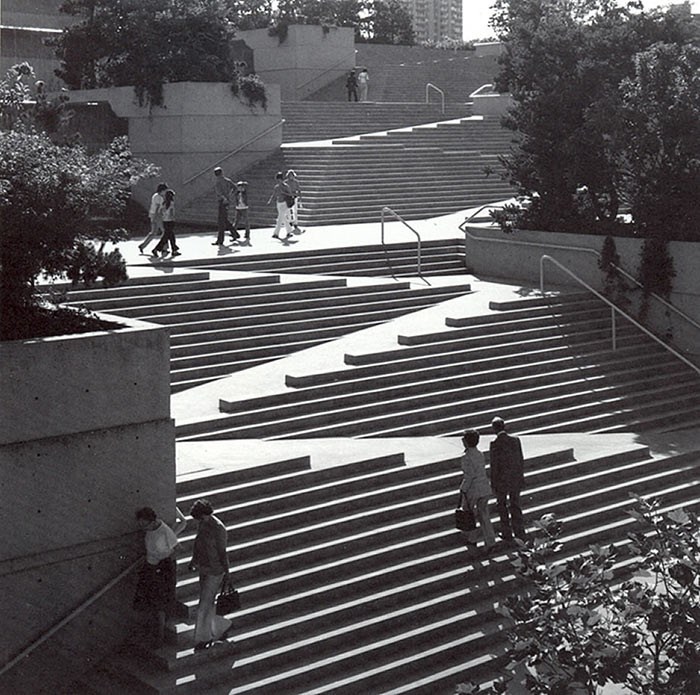 The open air concept favours natural light and fresh air while the waterfalls cover the noise of downtown traffic, providing a natural and serene setting within the downtown core. The purpose of the waterfalls double as the use of water provides natural air conditioning for the underground floors below the plaza. The design won the 'President's Award for Excellence' from the American Society of Landscape Architects for its "extraordinary integration of landscape architecture with architecture".