#ArtistAtHome is a series of portraits and profiles of local artists by Christopher Edmonstone. Read all about it and see the archive HERE.
This #ArtistAtHome could possibly be the tallest musician in town, I don't know for sure, but I do know that he sure can belt out some great tunes.
I first met him in the Summer of 2012, when a mutual friend of ours hired him for a private house concert. That year, his songs 'Haunted by Love' and 'Burn and Start Over' were getting regular airplay, and he went on to win third place in The Peak Performance Project and Shore 104.3's Best of BC award in September of that year. Dominique released his sophomore album 'Sweet Little Fantasy' in 2014 and made a humorous video for the single 'I Miss The 80's'. In the video, he revisits the styles and music of that decade in order to win the affection of a girl, played in the video by Jasmin Parkin of Mother Mother.
These days, Dom has also been busy with two other musical projects. Regal is a dark, electro, post rock outfit with members of the Devin Townsend Project and former Matinee member Mike Young. They just put out their debut EP, and are set to release a series of live videos over the next few weeks. Dominique also has an international songwriter project called the 'Folk Road Show' that played over 100 dates across Canada and Europe in 2014-2015.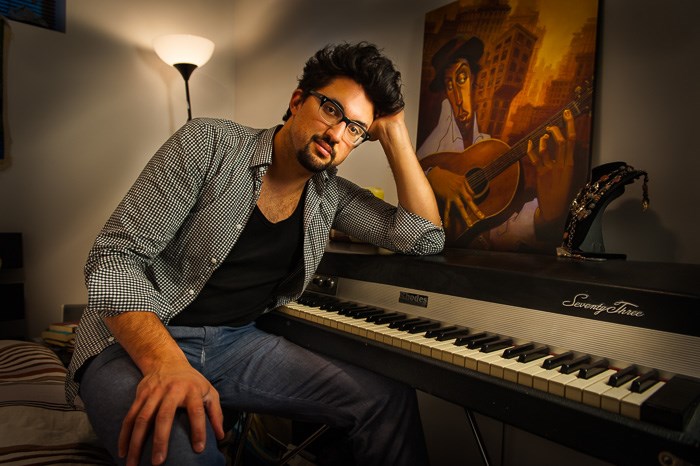 Dominique Fricot at home.
With that many dates on the road you can be sure that there are going to be some hijinks. Late nights on the road can make it really tough to get up in the morning without a militant tour manager. However, while staying at a friends place located on a lake in Zurich, Switzerland, the guys decided they would try to go for a dip before their scheduled 8am departure. The guys managed to get up at 7am and head down to the lake. They had learned that walking around with wet clothes or towels when you are limited to one backpack each wasn't ideal, so this particular swim was going to be a skinny dip. As Dominique recalls, his bandmate Benjamin Caldwell just happened to mention how slippery the stairs were the moment his foot hit some really smooth wet clay. Instantly, Dom's feet flew out underneath him (to head height), and he came crashing down on his shoulder and slid down the remaining three steps. Naked, heaving in pain, barely breathing, he was crumpled at the bottom of the stairs with his unclad bandmates gathered around. It must have been quite the scene! Despite having shoulder pain for the next three months thankfully not a single bone was broken.
The guys are set to being touring again in July after the release of their self titled LP in June on Classic Wax Records. No word on whether more skinny dipping is in the works for the upcoming tour.
You can download the new Regal album here and for Dom's solo stuff check out his website.