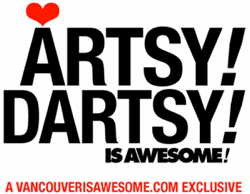 Vancouver has a vibrant art and design scene. It is our mission to make this stimulating world accessible to everyone.Artsy!Dartsy! is Vancouver's online Art & Design event guide. Offering comprehensive event listings since 2008, the site is updated daily to promote current and upcoming exhibits, lectures and shows. It is a resource for casual art-goers, industry professionals and tourists. With a user-friendly format, information is sorted by media, venue, schedule and location as well as handy street maps.For the full listing please head to Artsy-Dartsy.com.
.
Opening Reception: Thursday, Aug 5, 7-11pm
Tangled Wires highlights 10 of Vancouver's up and coming visual artists exploring paths less traveled in their respective mediums and genres. Split up into pairs with an eye for combining contrasting styles, artists will collaborate on multiple gallery installations as well as hanging a selection of new works.
This exhibition is an exploration of creating outside the comfort zone, encouraging artists to work together in finding innovative solutions to fulfill their individual and shared artistic vision.
Artists:
Brent Clowater, Andy Dixon, Adam Dodd, Ensoe, Indigo, Alison Lilly, Robert Mearns, Colin Moore, Scott Sueme, Andrew Young
All artists will be in attendance. Music by BIKES.
Afterparty August 5th, 2011 10 til late
W2 Media Cafe, 111 West Hastings St (Woodwards Building)
Co-presented by W2 Community Media Arts and The Hastings Set, in conjunction with the 2nd Annual Surge Festival of Digital Urban Culture.
Photos above by Julia Kozlov
.
Other Notables: TEDxStrathcona presents Discovering Unity: Technology, Art, & Science
Sunday, Aug 7, 7pm - Midnight. If you are interested in our city's architecture AIBC Architectural Walking Tours are happening all summer for $10! See website for schedule. Check out our Opening Receptions post for more goodness this week.