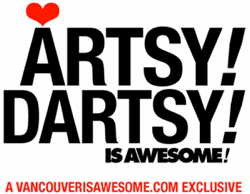 Vancouver has a vibrant art and design scene. It is our mission to make this stimulating world accessible to everyone.Artsy!Dartsy! is Vancouver's online Art & Design event guide. Offering comprehensive event listings since 2008, the site is updated daily to promote current and upcoming exhibits, lectures and shows. It is a resource for casual art-goers, industry professionals and tourists. With a user-friendly format, information is sorted by media, venue, schedule and location as well as handy street maps.For the full listing please head to Artsy-Dartsy.com.
.......
.......
This week Bau-Xi opens Nicole Katsuras, Oct 20 - Nov 3rd, 2011.
.
We first saw Nicole's work at this years Cheaper Show and have fallen in love with all her paintings since.
via the Bau-xi website:
Nicole Katsuras studied at the University of Toronto and received her Honours Bachelor of Arts.  Nicole continued her studies abroad and graduated with a Master of Fine Arts from University of London, Central Saint Martins School of Art and Design in the United Kingdom.  After completing her Masters in the UK, Nicole has returned to Toronto to work as a full-time painter.  She has exhibited in Toronto, London, Seoul, and Paris.  Her work is part of both private and public collections across North America and in Europe.
Nicole Katsuras' approach to painting is both historical and chimerical. Embracing various past traditions in art history but attempting to create a new vocabulary for her individual creative endeavors.  The work is not image based.  Rather, the material and her psyche operate in tandem to inform her work, to create "almost" still life, landscape or portraiture that can collapse into itself and transcend the inherent limits of pictures.
.
Other Notables: Check out our Opening Receptions post for more goodness this week. Also opening this week is another show at Bau-xi - Cori Creed's Coastal Reflections. The opening reception is Thursday, Oct 20th, 6-8pm so you can kill two shows with one stone.