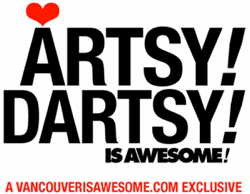 Vancouver has a vibrant art and design scene. It is our mission to make this stimulating world accessible to everyone.Artsy!Dartsy! is Vancouver's online Art & Design event guide. Offering comprehensive event listings since 2008, the site is updated daily to promote current and upcoming exhibits, lectures and shows. It is a resource for casual art-goers, industry professionals and tourists. With a user-friendly format, information is sorted by media, venue, schedule and location as well as handy street maps.For the full listing please head to Artsy-Dartsy.com.
.
Catalog Gallery and WESC present Paul Labonté's (aka Paul 107) Sometimes I Take The Pictures.
Opening Reception: Thursday, Aug 18, 9-Midnight
This will mark Labonté's first show in Vancouver, something we can say is long overdue.
A measured departure from his seminal work as an author and photographer, the show will premier original material spanning from photography to multi-media items. Following Vancouver, Sometimes I Take The Pictures will tour through select Canadian cities and then internationally.
Labonté characterizes the works in this show as the direct product of the writer's block he experienced while working on the great Canadian novel. As he set out to write the new book, Labontéchanneled the energy from the affliction of this process to serve as a bed for most of the work in this show.
"I had started work on a new book project, a work of fiction about three generations of a family trapped in Canada's first industrial slum," explains Labonté. "It wasn't going well. I got all blocked up about six months in, writers block I guess. I needed something to distract myself so I started making things. Taking photographs. Basically smaller less daunting tasks. Things that wouldn't take a year to complete. Most of the stuff in this show was made out of that initial frustration."
While this frustration may have fueled the initial inspiration behind the work, another more fortunate element illuminated his vision for the show's dynamics: the reappropriation of his work by others throughout the web.
"A few years ago, I started getting emails from friends about my work showing up on Tumblr's and mood board blogs. What I tried to do with this show is recreate that web mood board experience in a gallery setting."
Having always reflected on the notion of tradition as a central theme in his work, Labonté toys with the idea of restructuring the digital experience in a traditional setting, whether it be with his published works or today with the very nature of this new show.
See more of Paul's work here: http://paullabonte.com/
.
Other Notables: Check out our Opening Receptions post for more goodness this week.