There are a number of awesome events happening this Halloween in Vancouver, and many of them take place before the big night arrives.
As such, you'll be able to get your fill of monsters, ghosts, and ghouls galore!
Check out our handy list of must-do activities to help you get in the spooktacular spirit.
Muhahaaa!
Halloween Paw-ty 
Bosley's by Pet Valu will host an epic Halloween Paw-ty this Saturday for your four-legged best friend and all the proceeds go to a good cause.
Not only can you have Fido photographed in his or her finest spooky apparel, but you can also enjoy snacking on scrumptious eats. The organizers note that there will be a bake sale, hot dogs, and even a special appearance by Insta-famous co-pilot pooch, Mister Bently.
When: Oct. 26 from 11 a.m. – 3 p.m.
Where: Bosley's by Pet Valu | 114- 1015 Columbia St, New Westminster
Cost: Donations for photos.
Irish Halloween Hooly Cruise – Céilí Oíche Shamna!
Yoho Cruises invites locals to celebrate a traditional Irish Halloween Cruise out on Vancouver's waters. The organizers note how Halloween harks back to the Celtic Festival Samhain, where it was believed the spirit world opened up and our ancestors roamed the earth for one night. There will be Irish Trad Musicians creating the famed Céilí spirit of home, as well as a fully equipped carvery buffet dinner. In addition, guests may enjoy fun Halloween games like bobbing for apples, "your mam's tea braic," an Irish party snack table, a custom baked-potato bar and some Irish themed Karaoke.
When: Saturday, Oct. 26 from 6:30 – 9:30 p.m. Boarding: 6:00 p.m. & Sails: 6:30 p.m.
Where:Yoho Cruises – 1698 Duranleau Street, Vancouver
Price: Tickets $64-$80 plus tax and services.
Halloween goes dark and deep at the Vancouver Aquarium
The Vancouver Aquarium is getting into the spooky spirit this Halloween with an exciting after hours offering featuring all the creepiest creatures.
The Aquarium notes that roughly 60,000 brilliantly costumed inhabitants await the celebrants of All Hallows Eve, and that, "Surely, our tarantula's spidey senses are tingling." They also note that the eels are waiting to put on an electrifying show, and that the Aquarium humans are preparing for the scariest adult party of the year.
When: Thursday, Oct. 31 from 6:30 – 11 p.m.
Where: Vancouver Aquarium – 845 Avison Way, Vancouver
Cost: Members: $30 +GST & Non-Members: $38 + GST
Spooky Halloween Boat Party Vancouver
Set sail on the Spooky Halloween Boat Party for three hours of scenic spooky cruising through the city's waters. The haunted voyage welcomes 300 guests to party on a premium charter yacht, the Magic Spirit. Guests will enjoy three levels on the ship as well as a huge, 3000 square foot outer-deck. What's more, organizers note that DJs will be, "dropping hip hop, throwback, top 40, Reaageton and all your requests."
When: Saturday, Oct. 25 from 8 p.m. – midnight Boarding: 8 p.m. & Sails: 9 p.m.
Where: Magic Yacht Charters – 1601 Bayshore Drive, Vancouver
Price: Tickets $25-$195 plus tax and services.
The Empty Chest Haunted Adventure 
The Empty Chest Haunted Adventure takes place on several nights this October and offers the chance to navigate your way through an interactive fantasy world. Not only are the deep, dark woods creepy on their own, but they are also filled with orcs, demons, monsters, and even a ten foot cave troll. The total experience takes about an hour, but there is also a special VIP experience. The VIP experience includes a bow making class, where you'll get to engrave a bow and keep it.
When: Oct. 18 – 20: 6 – 11 p.m.; Oct. 25 – 27: 6 – 11 p.m.; Oct. 31: 6 – 11 p.m.
Where: 31515 Harris Road, Abbotsford
Cost: $40 regular (advance & door packages available) or $150 VIP ($110 VIP groups of 2 or more)
Halloween Boat Party Vancouver 2019
Described as the, "craziest, scariest Halloween night frenzy ON A BOAT!!," partygoers will be in for a spooktacular oceanic time on this spooky ship. The Halloween Boat Party takes 400 guests on a crazy night featuring amazing views, a fully licensed bar, and talented DJs. The three-hour party takes place on three floors of a luxury yacht and costumes are required.
When: Saturday, Nov. 2 from 8 p.m. – midnight Boarding: 8 p.m. & Sails: 9 p.m.
Where: Magic Yacht Charters – 1601 Bayshore Drive, Vancouver
Price: Tickets $55-$160 plus tax and services.
Haunted Corn Maze and Pitch Black Terror 
For those who love a good scare, the "scariest corn maze in Canada" offers a bone-chilling 45-minute adventure through five acres of pure terror. The maze features nightmare-ish installations, shocking visuals, live actors, chainsaws, and excerpts out of classic horror movies. However, participants will not be touched by the actors. For truly brave festival-goers, Maan Farms offers a new attraction, Pitch Black, which offers a multi-sensory horror experience. Guests will be confronted with a critical decision: should you simply explore your darkest nightmares, or should you mark yourself to truly interact with the demons of the darkness?
When: Runs until Nov. 2 | Most nights 7 - 10 p.m.
Where:Maan Farms | 790 McKenzie Road, Abbotsford
Price: Starts at $27
Vancouver's Halloween Yacht Party
Vancouver's Halloween Yacht Party takes place on Saturday, Oct. 26 and offers a night of spooking dancing, dining, drinks, and incredible views.
The party vessel provides 400 guests with three levels of spooktacular stomping grounds for the three-and-a-half hour sailing. There are DJs and live entertainment all night long, as well as a a fully licensed cash bar.
When: Saturday, Oct. 26 | Check-in at 7:30 p.m. and 8 p.m. board. Docks at 12:30 a.m.
Where: 750 Pacific Blvd, Vancouver, beside Edgewater Casino at DOCK B
Price: $65 – $90
Reapers Haunted Attraction
Reapers Haunted Attraction returns to Chilliwack for another season of bone-chilling terror that will scare you silly. The annual scare-affair takes place throughout October, delivering up screams on almost every night of the month.
Described as the "scariest indoor theatrical horror experience in Western Canada," the house is not recommended for children under 10 years old. "An insane asylum themed haunt bringing the horrors of crazed patients to twisted Doctors and Hospital staff," promises to deliver some nightmares.
When: Friday, Oct. 11 & Saturday, Oct. 12 from 7 – 10 p.m; Oct. 13 – 31 times: Sunday through Thursday from 7 – 9 p.m. & Friday/Saturday 7 – 11 p.m. (Closed Thanksgiving)
Where: 9423 Gibson road, Chilliwack
Cost: Reapers house $11; The Maze of Terror $11; Reapers & The Maze Combo $20
Tsawwassen Mills Halloween experience
The Tsawwassen Mills Halloween Experience offers youngsters the chance to frolic for a full two weeks before the big trick-or-treating finale night.
Now in its second year, the event is geared toward families but is suitable for all ages. The attraction boasts an impressive 1600 square feet of Halloween fun, which includes the pop-up Halloween shop, Mr. Halloween. What's more, the experience will also feature a pumpkin patch with proceeds from the sale of each pumpkin going to the Delta Hospital and Community Health Foundation.
When: Oct. 17 – 31 from 12 p.m. – 7 p.m. daily
Where: Tsawwassen Mills, Promote Court by Entry 3 | 5000 Canoe Pass Way, Tsawwassen
Cost: Free
Potter's House of Horrors
Located in Surrey, Potter's House of Horrors offers two themed haunted houses that they claim will scare the living daylights out of you. What's more, a live-action 'scare-crew' have spent months planning a maze of terror as they, "try to make you scream, whimper, cry, holler, yodel, laugh, gargle, giggle and guffaw." Complete with all the latest animatronics, digital sounds, and high-tech scares, the houses immerse guests in a realm of total horror.
When: Oct. 4 – Nov. 2 at various times
Where: 12530 – 72nd Avenue, Surrey
Cost: $11.50 - $27.50
Haunted Vancouver Trolley Tour
The Haunted Vancouver Trolley Tour is returning to the city this Halloween season with plenty of bone-chilling tales and spooky locations.
As the trolley winds its way through shadowy Gastown streets, a host will tell the gruesome tales of The Castelanni Milkshake Murder, the Fairmont Hotel Vancouver's Lady in Red and more. The tour also travels through Stanley Park, which is especially eerie on a cold, autumn night. Guests will hear about the tale of "The Babes in the Woods," and the trolley will wind its way through the roads and mansions of Shaughnessy.
When: Oct. 11 – Oct. 31 (Varying start times)
Where: 999 Canada Place Way, Welcome Kiosk
Cost: From $59
Fright Nights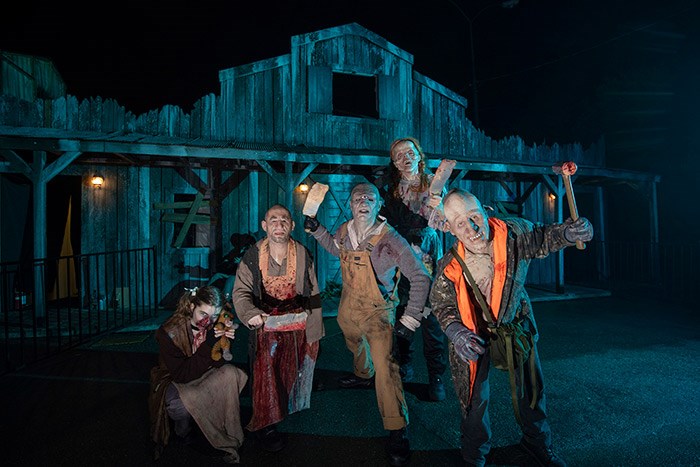 Vancouver's favourite Halloween event, Fright Nights at Playland (PNE grounds) is open on select nights from October 4th until October 31st, starting each night at 7:00p.m. The venerable Halloween outing boasts 20 thrilling rides and 8 horrifying haunted houses, including their latest addition, The Bloodshed.
When: Runs until Oct. 31
Where: Playland | 2901 E Hastings St, Vancouver
Ghostly New Westminster Tour
The Ghostly New Westminster Tour kicks off every Saturday at 8 pm for 90 minutes of spooktacular tales. For those who haven't explored the city, its a fascinating way to get a paranormal perspective of the area. The entire tour is outdoors, however, so guests must be able to walk/stand for approximately 90 minutes.
When: Saturdays from 8-9:30 p.m.
Where: Meet at Hyack Square, 800 Columbia St., New Westminster
Cost: $23
Anmore Manor – Haunted House
According to the Canadian Haunters Association, the Anmore Manor Haunted House was the best Canadian walkthrough haunt in 2018. Complete with "2000 square feet of terror," this spooky abode offers a smorgasbord of creepy surprises. Ran by a volunteer fireman and a registered nurse, the haunt is also a charity.
When: Oct. 25 – 27 from 7 to 10 p.m. | Oct. 31 from 7 to 10 p.m.
Where: 1151 Robin Way, Anmore, B.C.
Cost: All cash and canned food will be donated to the SHARE society.
Glow in the Garden
Enjoy an illuminated fall evening of festive enchantment during the return of the popular Glow in the Garden at VanDusen Botanical Garden in the heart of Vancouver. Each year, VanDusen Glow in the Garden features a themed light show that includes unique features and magical moments, perfect for getting you in the Halloween spirit. This October you'll be off on a your journey to help Anna the hummingbird and her friends lift the "hootenanny" glowing spell cast over the garden by a tricky old owl, collecting treats along your way.
When: Oct. 17 - 27
Where: VanDusen Botanical Garden – 5251 Oak St, Vancouver
Cost: $9.50-13.50; kids 2 and under free
Weapon of Choice: Surviving the Zombie Apocalypse
Weapon of Choice: Surviving the Zombie Apocalypse takes place throughout the month of October and allows guests to test their zombie survival skills as they venture through the museum. The museum has a massive weapons collection, and you'll be able to select one to defend yourself against the zombies (choose wisely). You'll be able to search through the available guns, bats and blow darts and make your choice, but not all weapons are created equal – some of these won't guarantee survival.
When: Runs October long | Tuesday to Saturday 9:00 a.m. – 5:00 p.m.
Where: Vancouver Police Museum | 240 E Cordova St, Vancouver
Cost: $12 Adult; $10 Student/Senior (ID required); $8 Youth (6 – 18 years old); $30 Family (2 youth & 2 adults)