Halloween is just over a week away in the Lower Mainland and many locals are desperately searching for the perfect costume.
If you're fresh out of ideas or you just want to see what we came up with, have a look at our B.C.-inspired list for some of our local favourites.
Happy haunting!
Halloween Costumes for Vancouverites 
Chowder Rat
Last year, Vancouverites were both disgusted and captivated by a story of a rat in a bowl of chowder at a popular Vancouver eatery. The jury is still out as to whether the rat was planted in the soup by the patrons or if it went undetected by kitchen staff, but one thing is certain: it was really gross and this costume will be terrifying.
Angry Drake at Parq
There's regular Drake, and then there is angry Drake at Parq casino. Last year, Drake played a surprise show at Fortune Sound club after playing to thousands at his nearly sold out show at Rogers Arena. Following the Fortune appearance, however, Drizzy went to gamble at Parq Vancouver. Here, Champagne Papi alleged that the casino profiled him and refused to allow him to gamble. Parq Vancouver stated that it was actually following strict regulations imposed by the BC Lotteries Corporation, which would apply to anyone in that circumstance.
Whether you believe Drake or side with Parq, one thing is certain: do not pull a Justin Trudeau if you want to rock this costume.
Two Bears Fighting 
Last month, these two grizzly bears were captured standing on their hind legs and fighting in the middle of the road in Northern B.C. The epic bruin battle took place on Highway 37A between Stewart B.C. and the Meziadin Junction, and it was an instant hit on internet. If you feel like recreating the wild encounter, you'll need a friend or partner to play the second bear.
Jason Momoa Trapped in an Elevator 
Back in August, popular actor Jason Momoa live-streamed a video of himself, his dog and his friends trapped inside of an elevator at L'Hermitage Hotel in Vancouver. The group discusses how they would really enjoy eating some ramen, but that all they have are M&Ms. They also joke about cannibalism, and decide who of them would be eaten first – a coin toss is suggested as one way to choose. You'd have to get creative, but if you rock a beard and trap yourself in a box, you'd be halfway there. You can also snack on M&Ms throughout your evening.
Popular Vancouver Food Crew
Coffee, ramen, and sushi are just a few of the foods and beverages that you will find everywhere in Vancouver. If you are looking for an adorable group costume, you and your friends can go as different kinds of sushi. Vancouver also loves its doughnuts, and there are doughnut costumes a plenty in a variety of colours.
Nardwuar
On Sunday, Sept. 29, close to 700 people showed up to celebrate one of Vancouver's wildest and weirdest. Utilize this Halloween as the perfect opportunity to honour the iconic Canadian journalist/musician/radio by donning a plaid hat and keeping the energy high and eccentric à la Nardwuar the Human Serviette.
Pee and Poo Mascots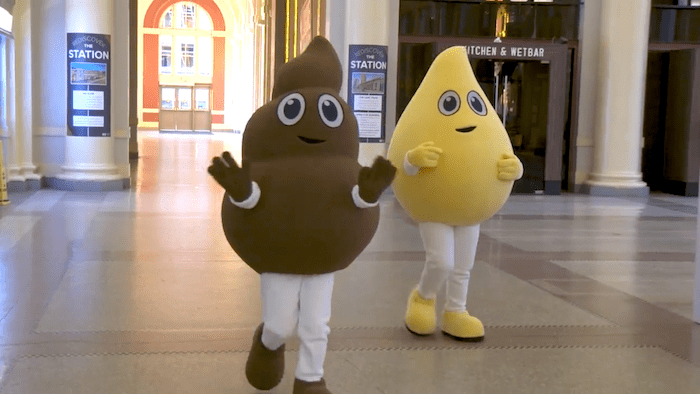 While they might look more like they belong on an episode of South Park, Metro Vancouver proudly chose Pee and Poo as its two mascots. That's right: two people, one dressed as a giant turd, and the other, dressed as a large droplet of pee, paraded around Waterfront SkyTrain Station on Monday, April 29 as part of the region's "Unflushables campaign" launch. Now, you can recreate the magic on All Hallows Eve with this "cheeky" duo - it makes the perfect couples costume.
Cigarette 
Not into poo and pee?
Ashley, a human-sized cigarette, is another mascot that was proudly paraded around Vancouver this year. Of course, the mascot was created to raise awareness about the city's new pocket ashtray pilot program. However, a number of people noticed that Ashley looked a little too much like flaccid penis. Either way, Ashley could be a really funny costume this Halloween.
Surrey Police
Step into the future of Surrey law enforcement by dawning Surrey-inspired police gear. While they have offered an idea of what that will look like on their YouTube channel, you can also let your imagination wander.
Canuck (and Cassiar)
Canuck is Vancouver's most beloved crow, and he's been missing since the end of August. While there are a number of rumours regarding his whereabouts, no one is certain where the bird is, or whether he's even alive. With that being said, this curious creature has stolen the hearts of people far and wide, with some fans in the United States concerned for his well-being. If you're looking for a couples costume, you could go as Canuck and his mate Cassiar.
Grizzlies (Big Country)
If you've got some serious nostalgia for the Vancouver Grizzlies, go as your favourite player for Halloween. If you're truly committed, however, you might have to rock some stilts (some of these guys are extremely tall). Fan favourite 'Big Country' Bryant Reeves, for example, measured in at a whopping seven feet tall.
Science World
Science World was recently voted the most iconic building in Vancouver in a Twitter poll hosted by CBC Municipal Affairs reporter Justin McElroy. It is hard not to see why the shiny structure is known as the "golf ball" – it really looks like one! However, this "golf ball's" stunning appearance makes it the crown jewel of False Creek, as well as a favourite of tourists. Feeling geodesic this Halloween season?
Sasquatch
Last year, a British Columbia court threw out a lawsuit that claimed the provincial government committed a "dereliction of duty" by failing to protect the sasquatch as a threatened or endangered species. With this in mind, many people strongly believe that they've seen these massive, illusive beasts wandering through the woods. Regardless of whether or not they're real, they make an awesome Halloween costume.
Money Launderer 
According to two special reports from the B.C. government, an estimated $5.3 billion of laundered money into B.C. real estate in 2018 hiked housing prices 5 per cent. You can go as a villainous money launderer, sneaking about the shadowy casinos of B.C.
Spooky!