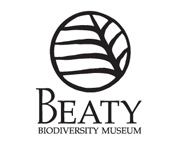 The Beaty Biodiversity Museum is Vancouver's natural history museum. We work to promote a greater understanding of, and collective responsibility for, the biodiversity of BC, Canada, and the World.
Come visit us on UBC campus - we're located at 2212 Main Mall, Vancouver, BC. You can find more info at beatymuseum.ubc.ca. Follow us on Twitter & Instagram @beatymuseum and like us on Facebook.
Vancouver is Awesomest in blueberry season. Who doesn't love these delicious antioxidant filled berries? Karen Yurkovich does and she uses them in her painting Elements on display now in The Herbarium Project exhibition at the Beaty Biodiversity Museum at UBC.
Karen's work was inspired by our Herbarium (a.k.a plants, algae, lichen and fungi) Collection. It houses the largest collection of plants and fungi in Western Canada, with more than 600,000 specimens. Karen's six large-scale oil paintings imitate the way our herbarium specimens are preserved, flat on a herbarium sheet.
Ever wonder why an artist makes the choices they do in their compositions?
Do you see the caterpillar in the blueberry arrangement in Karen's painting? Find out why she painted them that way in her blog post Blueberries and Unconscious Knowledge.
On Friday, July 18th at 1pm meet Karen Yurkovich under the Blue Whale in the atrium of the Beaty Biodiversity Museum for an Artist Talk and Tour. Learn about Karen's artistic process, see her sketches, and the plants from our collection that directly inspired her.
Want to make some art of your own? Join us on Saturday, August 2nd for a Family Sketching Program at 1pm. Karen will walk you through how to sketch the plant specimens. Materials and inspiring specimens are provided.
These events are free with admission to the Museum.