Every Wednesday our friends at The Georgia Straight give us something new to share with you here on the blog: a preview of what you'll see on the front of – and inside – their paper the next day. As you likely already know, they're the source for lifestyle and entertainment stories in Vancouver. Along with their robust online presence they release a printed publication which is distributed all over Vancouver each Thursday.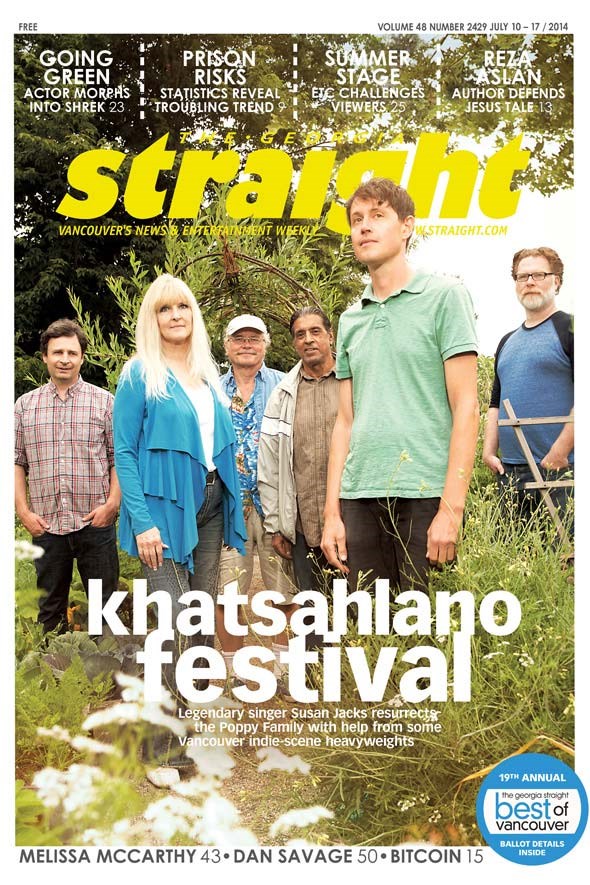 This issue is the 2,429th and on the cover this week is Khatsahlano Festival and headliners the Poppy Family Experience. Legendary singer Susan Jacks resurrects the Poppy Family with help from some Vancouver indie-scene heavyweights.
They're also running the Georgia Straight's 19th annual Best of Vancouver survey. This is the LAST WEEK to cast your ballot online at Straight.com/bov for a chance at winning a trip to Hawaii.
Below are some links to stories featured on the cover, which you can check out before you grab the physical paper:
- The Poppy Family Experience takes root again at the Khatsahlano festival coverstory by Adrian Mack
- Theatre Under the Stars goes green for Shrek: The Musical by Janet Smith
- Statistics reveal Canadian prisons becoming more violent places by Travis Lupick
- Ensemble Theatre Company serves up unfluffy summer repertory fare by Janet Smith
- Rebellious Zealot roams Reza Aslan's ancient Palestine by Brian Lynch
- For Melissa McCarthy, Tammy is a dream by Nathan Caddell
- Bitcoin donations enter Canadian politics by Stephen Hui
Pick up a copy of the Straight wherever you are tomorrow!