All this talk of the Ranch, and Tracker Trucks has got me thinking... (and this is gonna be a long and winding road... so stay with me...)
Kevin Harris is rad because, after years of the Ranch being closed, he opened up RDS, which didn't smell ANYTHING like the Ranch. The first time I walked into the Ranch, it felt like I got smacked with a jock that's been marinating in a hockey bag in the summer time in someone's car trunk.
RDS smelled like Sport Check at the mall... sporty, but not too sporty... a clinical sporty smell... you know, a hint of testoserone, wood fibers, shoes, concrete, Gatorade... that kind of stuff...
I always use to joke with Jeff Choy about how I was hanging on to my RDS passes after they closed up, cause I was convinced that they would re-open one day... I still had tricks to learn... like anything on the mini ramps... Didn't they know that I had stuff to learn before shutting down...
But anyway...
In my wallet, I had about ten RDS passes left... good for at least a month of skating... But the other day, in a moment of despair... I finally did it. I threw out the passes, because there's no hope...
And now... onto Tracker Trucks...
My good friend Colin Ruloff helped start up the ranch with Kevin Harris back in the day (little known fact!). He rode for Powell as an AM in the late 80's, as well as Tracker Trucks (you can see him skating in the Radical Moves DVD that Spencer's got). I found this pic the other day of him rockin a backside air on the RDS ramp that was at least 12 feet too tall (haha... um.... ok... 8 feet too tall... ok seriously... 3 feet too tall...), and check the bottom of the board...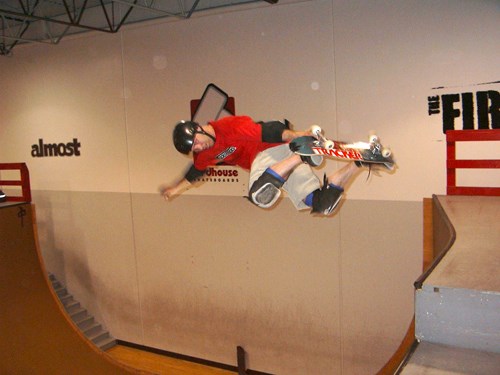 A Tracker Trucks sticker... See, my story does come full circle, in a disjointed kind of way...
I wonder if I was the sole survivor for holding onto the RDS passes, or if there's anyone else out there squirreling them away for a rainy day.