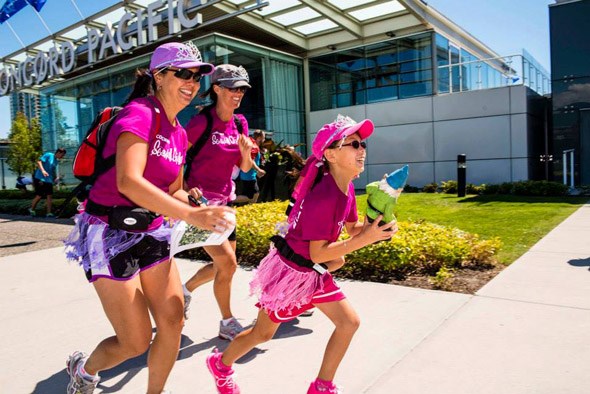 Calling all parents and students! Concord Pacific is teaming up with the Honda Celebration of Light to produce the 2nd annual Seawall Challenge, an urban adventure benefiting after-school programs in the Lower Mainland. Compete on behalf of your school for a chance to win great prizes and enjoy a day of sunshine and fun obstacle courses. Join the Family Challenge if you have 2 or more children 12 or under on your team.  Friend teams of four will compete in a series of tougher physical and mental challenges.
Last year's team winners designated Chief Maquinna Elementary as the benefactor of the $5,000 donation. Principal Peter Evans said, "This is awesome!  Our school community is already benefiting from the donation.  To have Concord Pacific bring to the table a great event like the Seawall Challenge, that compliments the Celebration of Light, is really what community spirit is all about.  We feel fortunate to have been selected by the winning team to receive the donation."
Now this year, TWO schools will benefit from $5,000 donations! The challenges will vary with brainteasers, history questions, creativity, and activity points. BONUS: The team that registers with the best team name and photo by July 1st will win a $200 prepaid cash card. Post your photo and team name by that date onto the Concord Social Facebook page.
Deadline to register is July 7th, so start forming your teams now! More details about the event and registering can be found HERE.