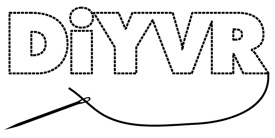 DiYVR is a weekly spotlight on all things handmade, done-by-oneself, crafted and hacked around Vancouver, featuring profiles of makers, event announcements, exhibits and general DIY fun. Know someone or something we should cover? Email me!
I had a thought last night, and my thought was this: Gee, I do an awful lot of writing about stuff people are doing themselves in Vancouver, but I'd much rather be doing stuff with people who like to do stuff in Vancouver.
I mean, right?
So, with Bob's blessing, I'm taking a bit of a step-function leap of evolution with my column.
Every month I'm going to announce a DIY project for everyone. Consider it a challenge, or a quest. Of course, you're free to ignore it. But I encourage you to take it on. Because it'll be fun. And we'll do it together.
A month after I announce the challenge, I'll report back here on everyone's progress. We have a Flickr group, and everything.
In the interim weeks, I'll continue to let you know what's going on around town in the DIY, crafts and maker communities.
And now for the very first Vancouver Is Awesome DIY Challenge! We'll start off with something all of you – yes, even you – can easily accomplish.

Do that home-improvement or home-decor thing you keep putting off.
We all have that thing we keep remembering then forgetting. Fixing the leaky faucet, painting the busted picture frame, oiling the squeaky door hinges. Maybe it's something you want to do yourself but you don't know how yet. Maybe it's just not high-priority enough to warrant the effort.
With a few weeks left of the long days of summer, here's your excuse to open up the Google to figure it out. To turn the TV off and use that hour to JUST DO IT. To ask for help and call in helpers if the job's too big just for you.
You have until September 19th to cross off this nagging to-do item, and to get it done yourself or with the help of others. (Read: Hiring a plumber doesn't count, slacker.)
There's a discussion forum in the Flickr group, so go introduce yourself to your fellow DIYers. Share your tips for how to do stuff, and where in town to find help, materials and other resources. Ask questions if you have them.
Well, what are you waiting for? Time's a'ticking and no one will complain if you do more than one thing.
GO!