It's a new dog once a week! Click here to find out how to get your dog posted if you haven't sent in your photos yet!
Today's dog featured in Dogtown Vancouver is Angel and Nyx, Melissa's pups. Here's what she had to say about them...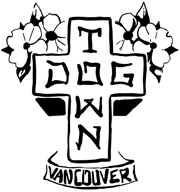 NAME: Angel and Nyx.
BREED: Angel is a Lab Cross and Nyx is a Chihuahua.
HOOD: Port Coquitlam.
FAVOURITE SNACK: The girls favorite food or foods is: pawsh chops ( raw treats- from a Vancouver store front), peanut butter, ice cubes, frozen carrots, deer and elk antlers, dried liver. Really this list goes on and on. Nyx is obsessed with coffee (we don't let her have it, but leave a Starbucks cup around and go to the washroom you won't have coffee left..
OTHER INFO: Angel is a balancing queen, we have not come across anything we have not been able to balance - from 10 dentastix to 25 milk bones , to food, drinks, toys even her sister Nyx. She is truly my Angel, she is loving and would give her life for any one of her pack members paws down. Little Nyx was a rescue we got her just over a year ago now, and she is smart as a button, with a long list of tricks and her number one being "cute" she will put on a show for anyone, anywhere.