It's a new dog once a week! Click here to find out how to get your dog posted if you haven't sent in your photos yet!
Today's dog featured in Dogtown Vancouver is Bailey, Trevor and Emily's pup. Here's what they had to say about him...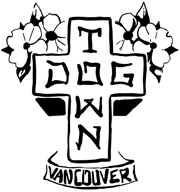 NAME: Bailey George Scheidl.
BREED: Papillon/Chihuahua.
HOOD: We lived downtown Vancouver and recently moved out to Port Moody.
FAVOURITE SNACK: His favorite food to eat is cheese and anything meat related.
OTHER INFO: When this guy is not going on walks or trying to kill the squeakers in his toys, he can be found sitting on the lap of my wife Emily.