It's a new dog every day, click here to find out how to get your dog featured here if you haven't sent in your photos yet!
Today's dog featured in Dogtown Vancouver is Bodhi, Mellisa W's pup. Here's what she had to say about him...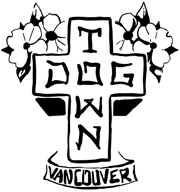 NAME: Bodhi.
BREED: Shit-zu/yorkie.
HOOD: Kits/Point Grey. Soon to be Mt. Pleasant area.
FAVORITE SNACK: Cheese, zippers and garbage.
OTHER INFO: Bodhi is an out-going 2 year old who wants to be everybody's friend. He's named after the late Patrick Swayze's character in the movie Point Break. He enjoys going to the park or the beach but doesn't understand the concept of fetch, so instead he just runs in large circles. If he's really happy, he'lll prance around like a deer. When he want's something he won't stop until he gets it. He'll pick up, drop, even run in his bowls until he gets a refill, and growl and bark until you play tug-of-war with him, with his favorite rope. But when he isn't being a brat, he's a very affectionate and loving little guy.