It's a new dog once a week! Click here to find out how to get your dog posted if you haven't sent in your photos yet!
Today's dog featured in Dogtown Vancouver is Bubba, Matthew G's pup. Here's what he had to say about him...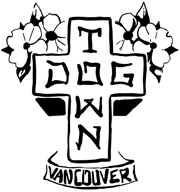 NAME: Bubba.
BREED: Boston Terrier.
HOOD: South Delta.
FAVOURITE SNACK: Duck Jerky & Cheerios.
OTHER INFO: It's simple, Bubba likes to sleep, wake up, stretch, eat, pass gas, run after his younger & faster nemesis "Honey", then pass out and repeat all over again. He just happens to be the more stout, yet still as gentle version of littermate Nitro (as featured on August 10th). Bubba has a huge barrel chest, and we are pretty sure he does push-ups when no one is looking. He also worries a lot. About what we do not know. His funniest antic is crawling commando style across the floor as if missing his legs, with his mouth fully agape and snorting loudly.
If you're interested in adopting a pet, check out our Happy Tails feature. If you adopted your pet from the SPCA and would like to share your awesome story on Happy Tails, send an email to Rory.Blanchard@novusnow.ca.