It's a new dog every day, click here to find out how to get your dog featured here if you haven't sent in your photos yet!
Today's dog featured in Dogtown Vancouver is Freddie, Shannon H's pup. Here's what she had to say about him...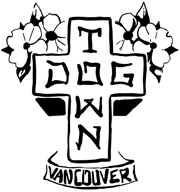 NAME: Freddie.
BREED: Boston Terrier.
HOOD: White Rock.
FAVORITE SNACK: Smashed up banana in his kong toy.
OTHER INFO: Freddie was a rescue dog and before I even met him I feel in LOVE with him; He was the happiest little dog when I went to get him from his foster home. He loves people and jumps up and down non stop when he is excited... he especially goes NUTS for his ball which he could chase forever!! In the morning when he wakes up he is the happiest lil' guy who just wants to cuddle and give kisses til its time to go outside for his morning duties. When you're having a bad day, Freddie will be sure to cheer you up!! I love Freddie so much and those who meet him always tell me they "just want to eat him he's so CUTE!" How could you not!?! Just look at him!!! =)