It's a new dog every day, click here to find out how to get your dog featured here if you haven't sent in your photos yet!
Today's dog featured in Dogtown Vancouver is Pete, Kristy S's pup. Here's what she had to say about him...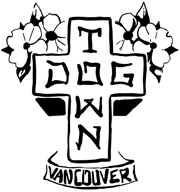 NAME: Pete.
BREED: Black Lab.
HOOD: Out in The Valley (Walnut Grove).
FAVORITE SNACK: Wine corks and grass.
OTHER INFO: Pete's a puppy. He's a wild fella. His current favourite activities include puppy training at Pet Smart, and figuring out what going for a "walk" is!