It's a new dog once a week! Click here to find out how to get your dog posted if you haven't sent in your photos yet!
Today's dog featured in Dogtown Vancouver is Todd, Jodie's pup. Here's what she had to say about him...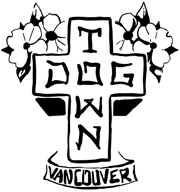 NAME: Todd (named after the name for an adult fox ...  fitting due to his fox like appearance and love of sleeping curled up and burrow under things like a little fox).
BREED: Mexican Mutt!
HOOD: East Van (Commercial Drive).
FAVOURITE SNACK: peanut butter and any kind of meat!
OTHER INFO: Todd was a street dog in the baja region of Mexico (La Paz) for the first 2 years of his life and was lucky enough to be rescued and brought on a plane to Canada and has happily lived with his mom in Vancouver ever since (although the first day he arrived it was snowing and that was a bid adjustment - he had to get a Cowichan
sweater of his own to fit into his new east van neighbourhood!).
His mom is a nurse in the downtown eastside and Todd has loved going to work with her and meeting lots of new people.  He loves cuddling with the nieces in nephews in his family and especially likes to sleep in forts they build for him - he hopes to be a therapy dog in the near future!  He enjoys hiking and swimming with his mom, and in the
evenings like to sleep in a funny position on the hardwood with his legs against the wall - after sleeping on the streets for many years he seems to always prefer the floor to a soft bed! Todd speaks English and Spanish and hopes to be an ambassador for all rescue dogs out there hoping for a better life!.