It's a new dog once a week! Click here to find out how to get your dog posted if you haven't sent in your photos yet!
Today's dog featured in Dogtown Vancouver is Wheeler, Bénédicte S's pup. Here's what he had to say about him...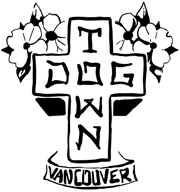 NAME: Wheeler.
BREED: Irish Terrier.
HOOD: Commercial Drive.
FAVOURITE SNACK: Duck Jerky, cardboard and shoes.
OTHER INFO: Has a personal beef with all other dogs in the world; is literally scared of his own shadow, has an infallible pizza-dar.
If you're interested in adopting a pet, check out our Happy Tails feature. If you adopted your pet from the SPCA and would like to share your awesome story on Happy Tails, send an email to Rory.Blanchard@novusnow.ca.