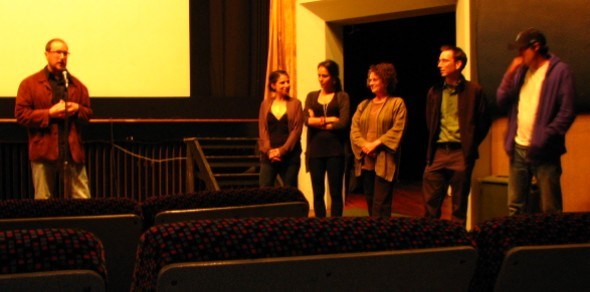 Director Bruce Sweeney and cast Laara Sadiq, Agam Darshi, Gabrielle Rose, Cam Cronin and Paul Skrudland
Leo Award-winning director Bruce Sweeney screened his Best Feature Length Drama winner Excited at The Ridge Theatre this past Monday. Most of the cast was on hand for a very lively Q&A after the show.
Excited is the story of a man whose love life suffers from an inability to control his, uh, excitement and takes a funny, thoughtful (and mildly pervy) look at relationships - workplace, family, friends and lovers. Shot in 18 days in and around Vancouver, the film is also based here.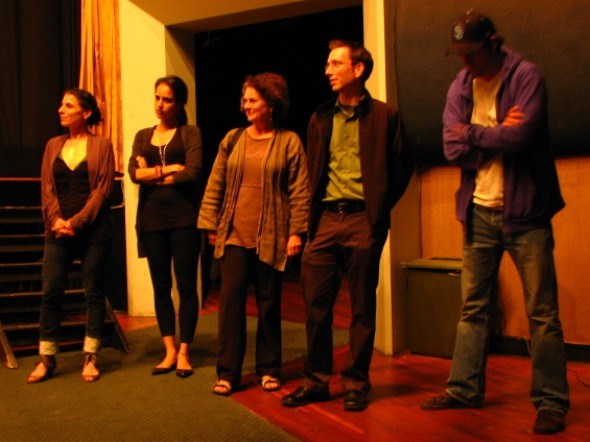 The cast of Excited
At the Q&A following the screening actress Laara Sadiq was quick to point out that the the film is a very real and true representation of the diverse landscape in the city, and that ethnicity wasn't a major focus because it "didn't matter for the story ... it's about relationships and people." Director Sweeney revealed that the character of the somewhat over-bearing and involved mother (played by Leo Award winner for Best Supporting Actress Gabrielle Rose) was actually based on his own. To avoid any confusion Bruce declared, "I love my mother!"
Excited is screening tonight at 7:00 pm at The Fifth Avenue, and Bruce Sweeney will be on hand for a Q&A afterwards.