In 2018, Chloé Nadon-Enriquez was in the audience watching Hamilton for the first time. When the number "Right Hand Man" came on, the Canadian-born and Miami-raised dancer and performer was struck with a powerful feeling that she needed to be in that show one day.
One year later Nadon-Enriquez made her Hamilton debut.
Now the swing performer is part of the Broadway Across Canada touring production of Hamilton that stops in Vancouver May 24 through June 19 - and, perhaps not surprisingly, Nadon-Enriquez says "Right Hand Man" is her favourite number to perform in the show.
"The choreography is so smart and makes me feel like such a bad-ass," says Nadon-Enriquez in an interview with Vancouver Is Awesome.
It definitely takes a "bad-ass" talent to be a swing performer in Hamilton.
'A constant multitasking activity'
What the heck is a swing in musical theatre? Over the past couple of years, if you follow #BroadwayTok on TikTok, you may have gotten to know a longtime Hamilton swing (now appearing in the Funny Girl revival) named Amber Ardolino, whose behind-the-scene insights into life as a swing brought the position to a new level of fame.
Nadon-Enriquez explains that a swing "is an offstage member of the company who covers multiple tracks." In her case, that means the five "ensemble women" in the show. If you think that means always being on your toes, you're absolutely right.
"One of the hardest parts about swinging is having to think quickly on your feet and manage the adrenaline," describes Nadon-Enriquez. "I've discovered through swinging that I'm a kinesthetic learner, so I learn choreography by physicalization, and I maintain it through repetition. Because of this, my biggest challenge has been shedding my habit of relying on muscle memory; if I have to do multiple tracks within a few days, it's really important that my mind stays active and focused on the track I'm doing [at] that moment so I don't accidentally let my body carry me to the wrong spot.
"It's like a constant multitasking activity," she adds, describing a self-talk loop of steps and stage directions running in her head.
While she's had some missteps - like going to the wrong spot - Nadon-Enriquez says she hasn't yet had to "swing" into a role mid-show but welcomes the challenge: "I feel like I'm ready for that excitement and that test of my knowledge."
Hamilton arriving in Vancouver for the first time is also something Nadon-Enriquez says she is excited to experience. Though her parents are Canadian immigrants, she has never visited Vancouver but has relatives here she's looking forward to visiting - and doing some sightseeing, like checking out the iconic Capilano Suspension Bridge.
"I get to know a city through its food, so I often find myself in cool neighbourhoods with great restaurants, breweries, and coffee shops. My favourite way to experience a city is to live like a local, so if I've found a favourite coffee shop to read in (and people watch) in the mornings, I'm satisfied!" says Nadon-Enriquez, who should feel at home in Vancouver, then, based on those must-haves.
"I'm a proud dual citizen and I'm excited for this to be a homecoming of sorts!" she adds.
Hamilton's story is 'uniquely human'
Considering how specifically American the acclaimed Lin-Manuel Miranda modern musical is - in a nutshell, it's a creative retelling of the life and death of founding father Alexander Hamilton through an immigrant lens - Canadians seem equally as swept up in Hamilton-mania as their counterparts south of the 49th parallel.
"Aside from the music and the choreography just being so exciting, I think the story is uniquely human," says Nadon-Enriquez of the show's appeal outside of the U.S.
"Even if you don't care for or know much about American history, Hamilton touches upon themes we can all relate to: love, legacy, ambition, forgiveness. If we forget for a moment that these were real historical figures, I think we can still be transported by how complex these characters' motivations and relationships are. I think we are all fighting to leave a legacy or make an impact in some way, and I think we can all empathize with a tragic hero."
What Hamilton does with race-bending - using a cast of non-white performers to play white historic figures with a score influenced by Black culture - is also part of the play's powerful appeal. "I think it makes history not only accessible to minorities who may otherwise not see themselves in these characters, but also serves as an important reminder that we ARE America's history; it's an opportunity for us to reclaim this history and this country as ours, and quite literally put ourselves back into a narrative that often tried to erase or devalue us," Nadon-Enriquez says.
It also forces the audience to think critically about America's history and foundation, she continues, noting the musical "compels us to divorce 'hero' from 'founding father' and instead view these characters with a nuanced perspective that allows us to learn and grow from our history."
The result is a show with mainstream appeal that also happens to "centralizes people of colour" in American history and remind the viewer what they're seeing is wholly representative of American culture.
'It makes me feel really hopeful.'
Tickets to Hamilton were unsurprisingly snapped up by Vancouver theatre-goers and fans of the show, which had originally been announced in January 2020 for a July 2021 run. (We all, of course, know what happened.) In the interim, the original Broadway cast's filmed version of Hamilton debuted on streaming platform Disney+, offering not only "lockdown" entertainment but also a rare opportunity for people who may not ever find themselves inside a theatre the chance to see the massive popular show.

For Nadon-Enriquez, the show landing on Disney+ was also immensely personal.
"I'm half-Filipina and because of the narratives available to us in pop culture and specifically musical theatre, Hamilton was literally the first time I ever saw myself on stage. Hamilton is the reason I decided there is a place for me in theatre, so to imagine a young, mixed-race child like me getting to see this on Disney+...it makes me feel really hopeful."
Getting back into the swing of being in a show after the "wild journey" of surviving the pandemic as a stage performer has also proven to be a meaningful experience for Nadon-Enriquez.
"I think the pandemic taught me important lessons about how to find value in myself as a performer without the aspect of live performing, and I also think it taught the world how important human connection and live theatre is to our well-being," she explains.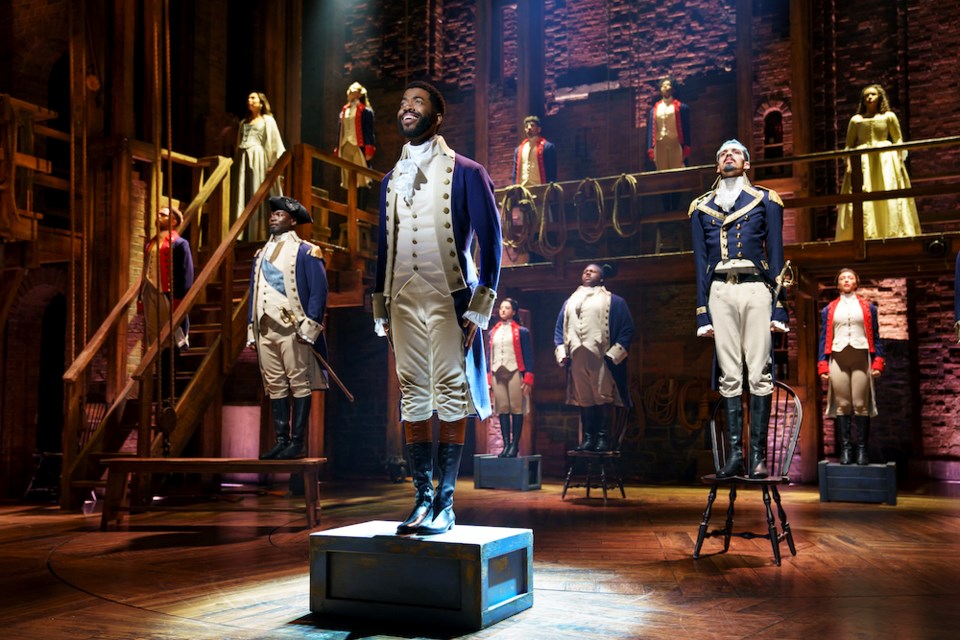 "There are no words to describe how profound it is to share a space and be transported with a group of people, and I will never again take advantage of the communal aspect of live theatre. The shared energy and the opportunity to connect (even in a huge touring house), is really moving, and I definitely cried onstage the first time we returned from the pandemic," continues Nadon-Enriquez.
"Continuing to do the show through waves of new variants and seeing masked audiences out in the house...it reminds me how resilient humans are, and how art is essential to that resilience."
---
Hamilton runs May 24-June 19, 2022 at the Queen Elizabeth Theatre in Vancouver. Tickets are available through Ticketmaster or for $10 apiece via a weekly lottery accessible to those 18+ via the Hamilton app.