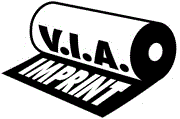 Poets don't get enough attention, but they're awesome, so I'm going to be sure to let you know about upcoming poetry events.
On Friday, 26th March, the Kootenay School of Writing will present Respondency West: A Literary Salon Series, featuring poets Camille Martin (Ryerson University, Toronto) and Ray Hsu (UBC) for an evening of readings, critical discussion, and schmoozing.
The series began last fall and is designed to bring, "poetry and readers together in dangerously close proximity with the goal of revising the relationship between readers, writers and text."
W2 Perel Building, 3rd floor
112 West Hastings
8:00 pm
Admission - 3 to 5$ sliding scale