The Lab Magazine is an arts-focused mag published here in Vancouver. It's new, and I recently had a chance to ask the founders/editorial directors a few questions via email. I'll let Justin Close and Jeremy Regimbal tell you their story.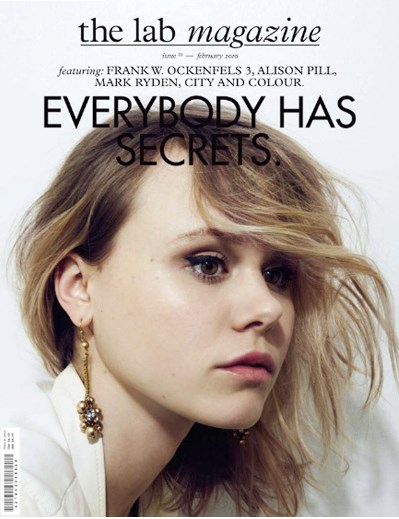 In three sentences, tell me what your mag is all about.
Jeremy: 1. Art, 2. Music, 3. Film... haha is that enough? Let's see... It consists of conceptual photo shoots, art and conversations with artists, musicians, filmmakers, actors, photographers and entrepreneurs. For me its all about people helping people and showcasing people we believe in and creating an inspirational environment for those that don't have one. We use our conversational style layout rather than articles so its raw, unbiased information.
Justin: I will keep this as formatted as possible...(because I could probably write an essay about this question)
The Lab Magazine is about inspiring anyone in the world, from kids to our parents that you can actually create art for a career. Wow! What a beautiful thing!
The Lab Magazine is about sharing stories, pictures, illustrations, words and conversations between people who inspire me. (Sounds selfish, but quite the opposite. Sharing is caring!)
The Lab Magazine is about getting inside the head of some of the most influential creators of our life time.
Bonus - The Lab Magazine is about all of us.
In an era when headlines keep proclaiming the death of print, what inspired you to launch a magazine?
Jeremy: I've wanted to run a magazine since I was a wee lil boy... But I guess it was the fact that we were in the entertainment industry doing films, music videos, commercials with our other company www.thestudiomovement.com and we were constantly seeing talented people that nobody knew about and we wanted them to be seen by the world. We chose to be in print and not just online because it looks WAY BETTER!!! and we like challenges... I think people respect it a lot more because as we found out the hard way, its ain't easy to print a magazine.
Justin: I have always been a magazine whore! I have a huge collection of them. Just like Jeremy, ever since I was little we lad... I started reading Interview magazine really young, watching Andy Warhol videos that we're too mature for a 13 year old, even music and sport magazines such as Rolling Stone and SLAM magazine, loved them all. Growing up I was mega ADD, super hyper kid, so reading novels wasn't really in the cards for me until later in life. I would've much rather look at photos and read little dumb articles about how Michael Jordan only chews Juicy fruit, or how Kurt Cobain takes his coffee? I was always infatuated with Hollywood and famous people. Often I pretended I was famous... walking through an airport with my sunglasses and hood on, worried that someone would recognize me (I'm not kidding). Anyways... Back to the question... reading a magazine online, doesn't feel nearly the same for me, when browsing through a hard copy. Also when your a collector, you like to look at them, hold them, so for as long as The Lab Magazine lives (which will be forever), we will do our part in keeping print alive!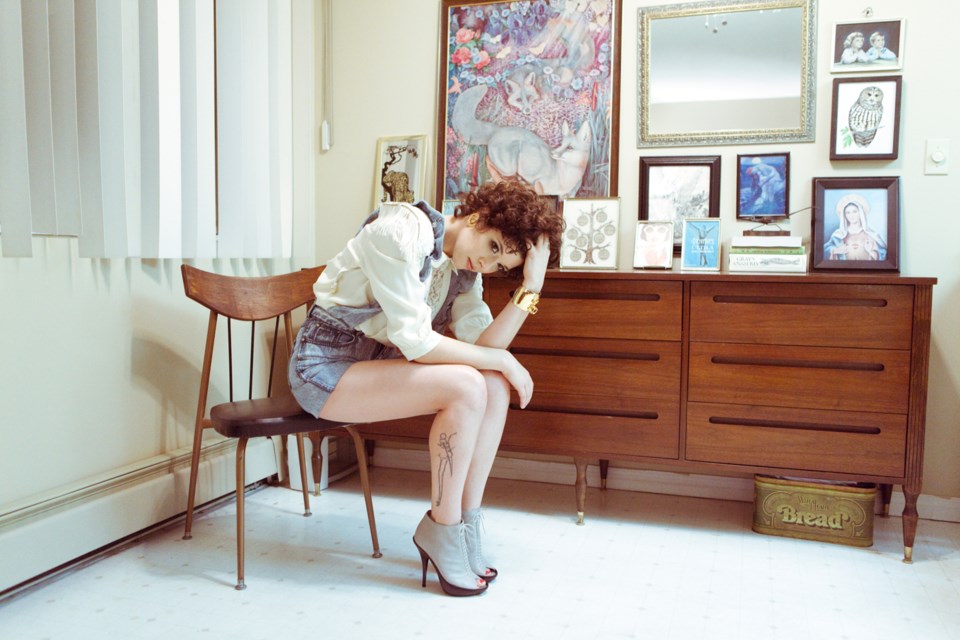 You focus on artists worldwide – how does being located in Vancouver influence your perspective on the art world at large?
Jeremy: hmmm... that's deep... There is definitely an untapped talent pool here so if anything being in Vancouver has introduced me to a lot of great people that have taught me a lot about art and inspired me in all aspects of my life... Not sure how it influences my perspective... oh wait, I guess there is nature and urban mixed together like... ocean, mountains, bears, fish mixed with potheads, crackheads and traffic so when you blend it all together it gets CRAZY!!! too far?
Justin: Yeah good question... Well I think living on the west coast, places us in a good geographical position to reach out to artists in Portland, Seattle, Los Angeles and our surrounding cities. Also Vancouver has a lot of amazing local artists, that people around the world have never heard of, and through the magazine I have met some amazing ones, been invited to some amazing collective art shows and have discovered some amazing talent. I honestly feel so blessed to have a magazine, because it gives me a reason to contact people, meet them, chat with them, learn about what they do, be-friend them. I have lived in Vancouver for about 3 years now, and the growth that I have seen in the past year has been amazing, more shows, more events, and people helping people. I think living here has taught, both Jeremy and myself that Vancouver has some amazing and inspiring people, and to be surrounded by such talent, effects the way we look at the art world. I am pretty excited to see what happens to this city in the next year.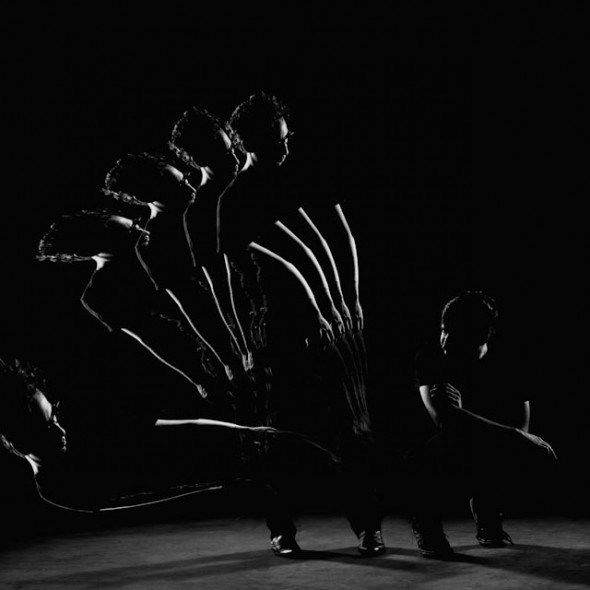 What are you listening to right now?
Jeremy: The Deadweather, Angus & Julia Stone, You Say Party! We Say Die!, Top Less Gay Love Tekno Party, Sounds of Nature VOL.1 when I need to chill and various gangster shit when I need to get crazy or yell at someone.
Justin: hahaha I liked Jeremy's answer. I'm pretty old school with my music... Bob Dylan, Donovan, Sam Cooke, I still listen to a lot of Beatles hahaha... to be more recent, I really love Devendra Banhart, Band of Horses, Grizzly Bear, Timber Timbre, Fandeath, WARPAINT, El Perro Del Mar, Laura Marling, King Charles, my girlfriends band The Blue Violets (She's a babe), Joanna Newsom, Woodhands and just discovered a guy from Sweden called The Tallest Man In The World, who is pretty awesome! I also dapple in the gangster shit, kick it old school with some Biggie or get crazy with Wu Tang, or exercise my rhyming skills with Mos Def.
Finally, where can folks find a copy?
Jeremy: VERY SOON! It will be in Chapters and every independent book & Mag shops & Newsstands around the world. But in the next few weeks in Vancouver - Go to Sophia Books (450 W Hastings).
Justin: www.thelabmagazineonline.com - Jeremy answered this one, so check out our website and blog. You can also buy the magazine at Biz Books in Gastown.
---
All images courtesy of The Lab Magazine.