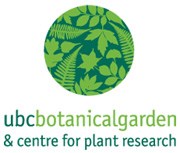 UBC Botanical Garden is Canada's oldest continuously operating university botanical garden. The original mission of the garden was research into the native flora of British Columbia. Over the past nine decades, our mission has broadened to include research, conservation, teaching and public display of temperate plants from around the world, particularly Asian, alpine and native plants. We're also home to the Greenheart Canopy Walkway.
Come visit us - we're located at 6804 SW Marine Drive, Vancouver, BC. You can find more info at botanicalgarden.ubc.ca
Now that summer has (finally) arrived, visitors can take a cooling stroll in the shadier, forested parts of UBC Botanical Garden. One of the standout shrubs in these areas of the Garden is coastal red elderberry (Sambucus racemosa var. arborescens). There are also black and blue-fruited elderberries native to southwestern BC, but only the red elder is a natural component of the local ecosystem on Point Grey.
Black elderberry (Sambucus racemosa var. melanocarpa) is more commonly found the local mountains, and the blue-fruited elderberry (Sambucus caerulea), which is closely related to the European elder (Sambucus nigra), is native to drier, more open environments. Visitors can see European elder in the European Woodland, adjacent to the Roseline Study Amphitheatre, and the blue elderberry in the Garry Oak Meadow and Woodland Garden.
Red elderberry is a common lowland species across the region, and an important early fruit crop for native bird species. Common foragers are the American robin, varied thrush and Swainson's thrush. Visitors are less likely to see Swainson's thrush than the other species; however, its ascending flute-like song is like the red elderberry, immediately recognizable and emblematic of the coastal forest in summer.
If you'd like to know more about native plants our forums are a great resource. You can also sign up for our email newsletters, where we often feature plants and plant families from our collections.
- Written by Douglas Justice: Associate Director & Curator of Collections