If you've been following our blog for a while now then you should be no stranger to Paul Anthony's Talent Time. We've been a longtime media partner and supporter of this monthly variety show that takes place as a live event that's filmed at the Biltmore Cabaret and then aired on Novus TV.
Recently the shows creator and host, Paul Anthony, announced that they're making a jump over to Shaw TV and a larger audience. I asked him to share his thoughts on it and he told me that "Moving to Shaw TV will allow us to reach a much larger audience and should help connect with unique talent through the entire lower mainland that we currently isolated from. Talent Time is a show that belongs on cable access and although broadcasting on the Novus network exposed us to a small unique market, the addition of the Shaw subscribers bump our potential viewers to close to a million. Our hope is that this spike in exposure will help us push the show to the next level."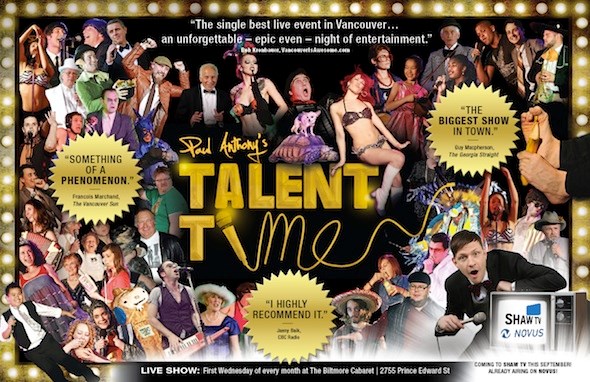 Click to enlarge this poster you should be seeing all over town soon
Knowing that Paul and his crew have been doing this as a labour of love for what seems like an impossible amount of time, I asked him what the Shaw TV move means in terms of keeping the show afloat in the long term. He noted that they're "in serious need of sponsors to keep this community show going. We hope that businesses and individuals with a love for this province and a desire to see it celebrated will choose to join us and help make this happen. I've produced this comedy/variety/talk show for 3 and half years as a passion project simply because I believed that the talent and uniqueness of character in this city was too special to not have it documented. Now I'm hoping people in Vancouver that see a value in this show will step up and align themselves with Talent Time."
The show is incredibly real, hilarious and entertaining, showing off a ton of local talent. Paul sees it as "a video yearbook. Snippets of the fascinating people that make [Vancouver] such a great place to live and I would like to see the sponsors to be an extension of that."
Paul stopped in to see Fiona Forbes and Michael Eckford on Urban Rush yesterday! Watch below as they welcome him to the station and talk a bit more in depth about Talent Time.
http://www.youtube.com/watch?v=JkgDntMzViw
Tune in to Shaw TV on Tuesday October 4th at 8:30PM to watch the Randy Quaid episode and then be sure to check out the live taping of the show the next night at the Biltmore. Event details RIGHT HERE.