Join us for PechaKucha Night Vol. 41 on Feb. 9th for a night of ideas, creativity, inspiration and good times.
This year we will kick off with 11 amazing women on the stage to present a wide range of topics in the 20 slides x 20 seconds format. Tickets are now on sale! Purchase your tickets while they last. picatic.com/pknvan41
In the meantime, RSVP on Facebook and get to know our speakers.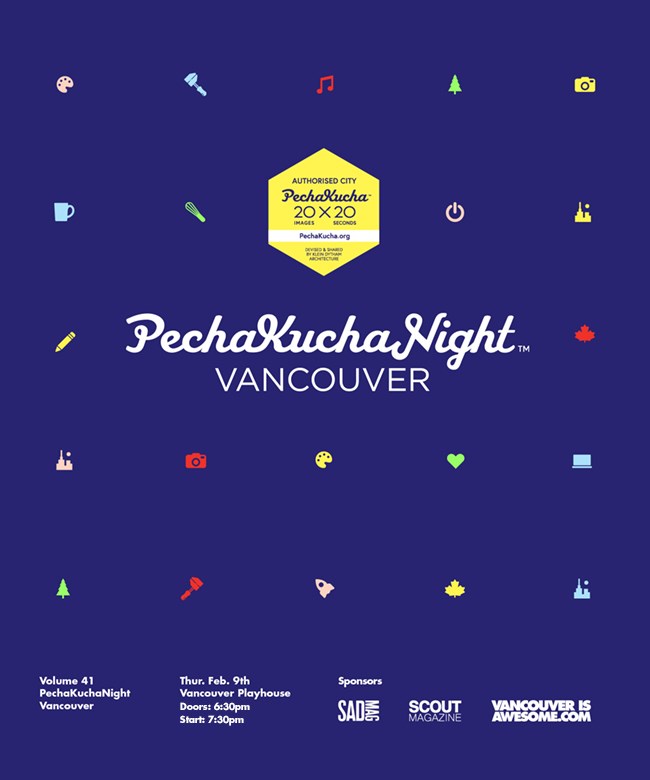 Your host is:
Marianne Amodio - Principal, marianne amodio architecture studio
Your speakers are:
Joanna Buczkowska-McCumber - Managing Director, The Next Big Thing 
Connie Buna - Lead Singer, Queer As Funk / Operating Partner, Keller Williams Realty VanCentral
Karen Duncan - Co-founder, Vancouver Orphan Kitten Rescue Association (VOKRA)
Fatima Dhowre - Stand Up Comedian
Lindsay Elliott - Photographer, Lindsays Diet
Jackie Kai Ellis - Baker & Owner, Beaucoup Bakery / Travel Writer, The Paris Tours / Owner, JKE Media
Tara Galuska - Artist
Lindsey Hampton - Ceramics Artist / Designer
Jessica Hannon - Executive Director, Megaphone
Andrea McLean - Owner & Designer, Andrea McLean Design Office / CoFounder, The Aviary
Danielle Wiley - Urban Planner
We hope to see you there!