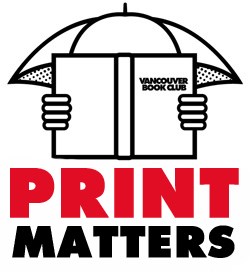 Print Matters is a celebration of the printed form and all the awesome local people who bring it to you: literary journals, publishers, magazines, hand presses, and independent booksellers.
filler space
filler space
This week we look at Megaphone Magazine, Vancouver's biweekly street paper. Street vendors buy copies for 75¢ each and sell them for a suggested donation of $2, keeping all the money they make.
During last year's Heart of the City Festival, I found myself at the InterUrban Gallery for "Writing Our Stories," an event that brought together participants from three Downtown Eastside writing groups: the Megaphone Magazine Writing Group, Intrepid Pens and the DTES Studio Society. While I had previously read a few issues of Megaphone, hearing the writers read their work was a powerful experience, and I was compelled to find out more about the magazine. A little while later I got together with Sean Condon, Megaphone's Executive Director, and we talked about the magazine's beginnings, its writers program, and its importance as a vehicle for empowerment.
How did Megaphone start?
It's actually kind of got a long history, but I'll try not to make it too long. So, the idea of a street paper first actually started in New York City and it was done in the late '80s, early '90s. And from there it just exploded around the world. And now there are probably more than, say, 115 street papers around the world. Different sizes, different styles,  but all the same concept of selling a paper at a cost to a homeless or low-income vendor who then sells it for profit on the street.
Vancouver's first street paper started in 1992 and was know as Spare Change. And it was pretty well known and it did well, but when the founding publisher/editor left, it changed hands a few times, it changed names. It was known as Street Corner and it definitely diminished. Amazingly there was this core of 5 to 6 vendors who kept it going with some support and were still going out and selling it. At that point there was two [papers] and one of them was Street Corner and it was literally a couple of photocopied papers stapled together.
So that's where I got involved and there was a need to jump in and help out. I'd been introduced to it and I'd learned a little bit about it through some journalism work so we started to build it back up. We saw that it was a project that had once been really successful in Vancouver and there was clearly a ton of examples of it being successful around the world. You could definitely see the impact solely by the fact that there were these core vendors. It had been so transformative in their lives that they needed it still and they wanted it to keep going. So we said "We're on to something here, we've got to bring this back up."
So what year was this?
2006. And at that time it was just something part-time I did. I was working at a the Westender and Adbusters, and so we just kind of did it at nights and when we could and I got lots of help from everybody involved. A lot more people got involved. We changed the name to Megaphone in 2008. That's where we've been at. We just keep trying to grow, trying to get more people to learn about it, trying to get more vendors.
The vendors have grown from, when I got involved there were about 5 or 6 and now there are about 30-35.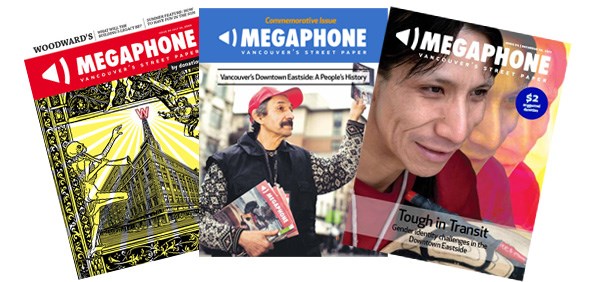 Are the vendors pretty constant or do some change from month-to-month depending life circumstances?
Yeah, we have a core of about 10-15 I'd say who are really pretty constant, and I'd say there is another 20-30 that pop in and out. Usually how it works is on any given issue there are about 30. And that's okay. That's what it's about. It's what we call "low threshold employment." It's meant to always be there for them if they need it and meet them at their level. And if they're not able to work for whatever reason, that's okay. It's here for them when they get back. They're not going to get fired.
For a lot of people with challenges, keeping a steady job is difficult because there is the fear of being fired if they have to take time off.
Yeah, they're afraid that they won't be allowed to come back, and certainly we try to encourage and build up the vendors as much as possible so they are as consistent as possible because that helps improve their sales, but, you know, this is their reality and that's okay. Sometimes we've had vendors who started off really consistently but….They always had this thing they could look to. They knew it would be there and that was encouraging for them. Each time they connect with Megaphone the longer it would be, to the point that they were more stable.
What is your circulation?
We print 2000 copies. We're pretty small to other street papers. I think when we first started the circulation was just about a few hundred, so we've just gone from there.
Do most issues sell out? Are the vendors pretty successful in selling the amounts that they've got?
Yeah, that does them pretty good.
So every month it's putting about $5000 into the vendors' pockets?
Yeah, it's good. And it's definitely and importantly a crucial thing for some people. Vancouver is a really expensive city, getting by….For some of our vendors this is their sole source of income. They may be on disability and they're able to earn a little bit of cash to have a better standard of living. The impact that has on their health, their mental health, not just their standard of living, is huge.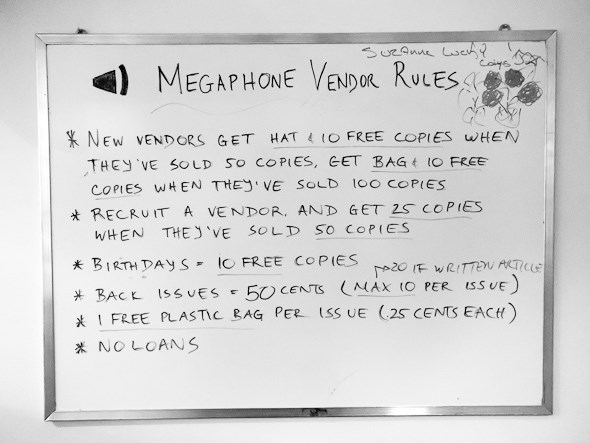 How is the magazine financed?
The 75¢ that we sell to the vendor basically covers our printing costs. The rest of the funding comes through donations and grants. There are some ads. They're not really a revenue generator, yet, partly because our circulation is a bit lower so it's hard to go around to companies and say "Advertise in a publication with a distribution of 2000." And also because people don't yet understand. I've had so many conversations with companies and they think it's only distributed in the DTES because low-income people are selling, only low-income people are buying it. There's a lot of stereotypes that we also have to constantly work on on all sides. So one of them is that, yeah.
But we're getting a little bit more support. We got Save-on-Meats to come on as an advertiser for a year.
You mentioned the stereotype about where Megaphone is sold and who buys it. How wide is the distrubtion?
We have vendors up in Kerrisdale, Kitsilano, Point Grey. We had a vendor up in the UBC area one time. Cambie Village. Commercial Drive, we have a couple of guys who go to Commercial Drive.
Do the vendors themselves decide to go to these areas and see if someone will buy the magazine?
Some of them, definitely, go out there and try to see where they're comfortable and try to find spots that they think is going to have a good mix of traffic. Usually it has to be some place that's not too busy. We have guys downtown, too, still. And that's one of the things we do, we try to help them out with where we think good spots are and  we have maps and ideas and hot spots that we suggest.
What's the production schedule like?
It's 24 pages, so there's a lot to fill, and we have a really incredible team of volunteer editors and writers and designers that put the magazine together. So usually the next issue starts at least a week before. It's a matter of having a news editor who looks at trying to always get some good copy about current events and stuff, so issues focussed around the downtown eastside or issues that affect marginalized people. It's having someone in charge of arts, so we can have some arts stories and arts blurbs. We make sure we always have a strong feature to anchor it up, to anchor the issue.
And then bringing in what is such an important component, what you saw at the Interurban, making sure we have those pieces that come from writers from the Downtown Eastside, marginalised voices, vendors, and ensuring that their stories and voices are represented in each as well. So to do that we have to coordinate with our writing workshop facilitators. Right now we have 8 classes that we do, and it's fluctuated, but right now we have 8. And so they'll work with their writers on a weekly basis and then they submit content from that to the editor, and then the editor works on that, picks and chooses. That is actually probably the toughest job because we have just a mountain of submissions of some beautiful, wonderful pieces and we can't fit them all in. And we want to give everyone a chance and opportunity, so that's always the tricky bit. But it's such an important component.
So on average how much content is contributed through writing programs?
We dedicate on average about 4 pages out of the 24, and a few pages are just the masthead and the cover and some ads, so roughly about a quarter to a third of each issue has content from our vendors and people in the writing programs. And that has been an intersting development becuase when we started, we had maybe a couple of vendors contributing stuff and it was always the piece that we were really missing at first. Once the writing workshop program started it just started to snowball and  from there it just grew.  We really started to be able to tap into this amazing pool of talented people and voices, something that we felt was so essential to be a street paper and what our mission and values were. That's been an incredible aspect of the magazine that has changed over time and that we make sure to entrench in the magazine.
The people who volunteer to do the editorial stuff, what are their backgrounds, where are they coming from?
For the most part, it's journalism backgrounds. My experience when I was doing journalism was that I would do a lot of stories about homelessness and those were important, I felt they were important, and it was great, but I felt that there was something missing. Because you would do a story about the homelessness crisis and put it out there, someone might read it and then you just felt they would turn the page and then what happens? I think a lot of journalists connect with this [volunteering at Megaphone] because this is a way for them to use their craft to directly help a homeless, low-income person. I know my story will now have this other purpose to it as well, on top of also informing people. And it wonderfully connects the two becuase the issues in the paper go back to the seller and the issues they're facing.
So, yeah, generally we've been really lucky to have journalists from Langara and UBC schools of journalism that have come in to volunteer.
I studied journalism at two different schools and while at both we pasted up the newspaper by hand it was only at the second that there was attention paid to making sure things were straight.
(Sean laughs) That was our first priority, too. When we took over the street paper we said "Okay, first order of business is to make everything look straight. Keep the lines straight and let's not steal stories off the Internet anymore." That's one of the things street papers do is just grabbing articles and turning around and printing them.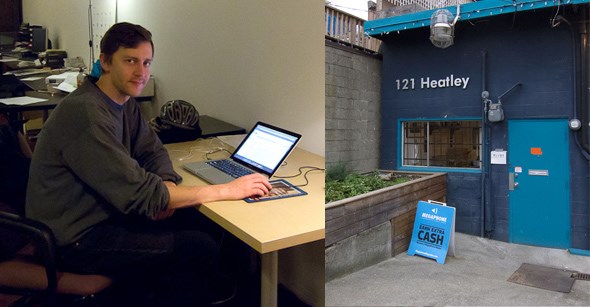 Sean Condon at his bare bones desk inside The Blueberry Building, a space shared by Megaphone Magazine, PIVOT Legal Society, and the Hope in Shadows Project, in East Vancouver.
I was surprised and disappointed that there were so few people in the audience at the InterUrban event. There's still a stigma. And I guess it's the same trying to get people to come to a reading. You say "It's at the Interurban, which is across the street from Pigeon Park. And they say…"
"Yeah, uh, no thanks."
Slowly but surely we'll chip away and start to spread the word and more people will come out. It's good. It's something that takes time. You know.
I think people still have a lot of stereotypes and misconceptions about the neighbourhood. But time and time again I constantly encounter these situations where as soon as they actually sit down and take the time and read, then they're absolutely blown away. "This was really powerful and amazing and not what I expected."
We got this wonderful and kind of funny review in the Vancouver Sun about our Voices of the Street issue and it was unfortunate that [the review] came a few months later but it's kind of telling to think of what a lot of the stereotypes are. So when we launched [Voices in the Street] we sent out our press packages and somehow I guess this issue landed on the desk of the, I think it's the online editor of the Sun and I can't remember his name, [Kevin Griffin] but he wrote this wonderful review  but not until like, and we sent this out in April, not until June. And he admits in the story that it had been sitting on his desk for months and he was really reluctant to read it because he thought it was going to be full of all these really earnest and, probably what he was thinking were crappy, articles and stuff like that that were just going to be sad and predictible.  And so he didn't read it and then finally three months later he picks it up and he was blown away. And he wrote this beautiful review about it and he totally got it. He got where these wrtiers are coming from, their styles and the stories that they're telling, but you can still see it takes a while.
One of your writers that read at the Interurban, Henry, read a piece of his that was published in Geist. How did that come about?
Through workshops. We were really lucky. Our writing workshops coordinator Daniel Zomparelli is the publisher at Poetry is Dead and he volunteereed at Geist. So Henry would come down every Friday and talk to Daniel and Daniel would just help work with him. Henry also participates in our workshop called "Thursday's Collective" at the Carngie, which is different. They have an amazing facilitator there.
And it's just the evolution of these writers, writers who have so much talent. When they start you can see that there is this reservation, there's this lack of confidence in their abilities and just working with them, getting them published first and foremost, you can see the transformation that happens because suddenly it validates everything and it gives them that credibility and it shows them that they are incredible writers, that they have incredible talents and this is a beatutiful and wonderful piece that anyone and everyone should read. Then with the workshops we can just keep working with them and say "Not only can we help you get stuff in Megaphone, which is great, but if you are looking for stuff to go beyond we are here to help out with that as well."
So, that was a great natural evolution and a credit to Henry's talents and just trying to help him access the different media.
Jim Rider who was the second guy [who read at Interurban], when we first met him he was just so frustrated. He gave us a USB stick of something like 300 poems. And he was just "I've been writing for so long and nobody will publish my stuff." And we were "Jim, we'll publish your stuff," but he really didn't believe it at first, but when he finally saw it, wow.
And since then we often get published in other literary issues, like White Rabbit Quarterly. We're trying to hopefully, for some of these guys, be a springboard to getting published, because the more that other people can read their stuff the greater it is for those individual writers, the greater it is, I think, for the message from the community.
For so many people, just getting published is such a barrier. Getting access to who to contact, how to contact them, how to submit your stuff, is such a huge barrier. The language and the means are not very accessible for a  lot of low-income and marginalized people, and so because of that they get dismissed, they get ignored. So hopefully what Megaphone can do, partly, is to be, again, a springboard for those voices and show that "Yeah, we'll publish that for you, we're honoured to publish that, and how can we help you get published elsewhere." How can we help our artist writers get publsihed across the city and across the country.
With the magazine, that's one of the things in terms of stereotypes. We don't just publish anyone and everyone, right? We make sure that we're always maintaining a high level of quality, and there's been NO problem down here. We've never had a problem with the amount of quality, of amazing work, but still we need to enforce that because people are going to judge Megaphone more harshly, they are going to judge these writers more harshly. They're going to assume they're not talented and so we have to work extra hard to validate these voices and to show  that not only are these voices we need to listen to, to give everybody the opportunity to be have a voice, but in fact these are incredible writers that everyone should be listening to and everyone can enjoy and appreciate, and respect.
Megaphone Issue 95 was published on January 13, 2012 and focuses on the vendors, and their resolutions for the new year. It also includes articles by Katie Hyslop, David Suzuki, and Crawford Killian, and poetry by Henry Doyle.