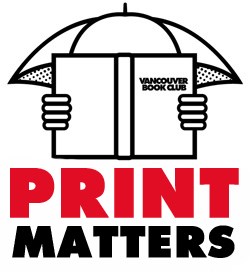 Print Matters is a celebration of the printed form and all the awesome local people who bring it to you: literary journals, publishers, magazines, hand presses, and independent booksellers.
This week Maegan Thomas talks to some of the people behind Talonbooks, once she's able to get past Mocha the doorkeeper.
Mocha, the excitable and heart-melting 6 1/2 year old canine (a redhead), greets visitors to Talonbooks, often before the door can be opened. This welcome, like the friendly welcome of the human staff, belies the seriousness of their endeavour. This is hard core literary publishing.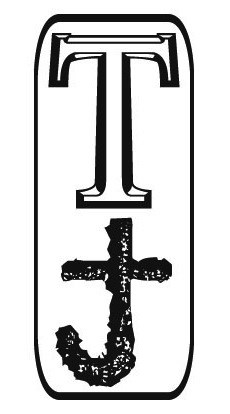 Begun as a high school poetry magazine, Talonbooks has become a Vancouver publishing institution known for Canadian drama, poetry, translation and literary rigor. With almost half of their authors from BC and more than a quarter from Vancouver, it also stands for West Coast literary excellence. Its list of almost 500 titles have earned over 300 literary awards. Their mandate is "to publish work of the highest literary merit by world class authors from the mainstream and the margins of Canada's three founding nations, as well as from both visible and invisible minorities within Canada's cultural mosaic, and to work with all of our authors to build their national and international literary careers throughout their active writing lives." In other words, to bring to light what may otherwise be overlooked – and to pass over what might otherwise easily be seen.
Kevin Williams, President and CEO since 2008 and Publisher/President since 2011, notes that he is carrying on a legacy left by Karl Siegler, who was with Talonbooks for almost 40 years. During his time with Talon Siegler was the heart of the press, and was deeply focused on publishing works that would leave their mark on Canadian literature. This legacy was what brought Williams to Talonbooks, as it did Vicki Williams, Kevin's wife and head of acquisitions, editor Anne-Marie Metten, poetry editor Gary Thomas Morse and Managing Editor Greg Gibson.
Kevin was already working with the press when his opportunity came to acquire it. "I was familiar with [Talonbooks] because I was a partner in a distribution company before and we distributed their titles, they still do in fact, so I knew about Talonbooks from there. But also I was a bookseller from 1978 to 1988, so I knew about Talonbooks from selling their books and being familiar with Canadian publishers in general. I'd always liked the literary nature of the Talon list and liked a lot of their back list and in fact, at my previous company, Raincoast Books, I'd even considered the idea of buying a press. So after I left Raincoast Books I started looking around and realized that if you wanted to have a job in publishing in Vancouver the chances are pretty good you'll have to buy yourself a job. So I bought myself a job by buying a press!"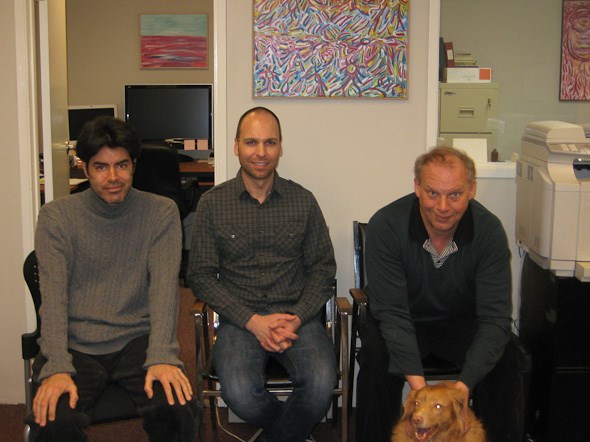 Some of the faces behind Talonbooks: (l to r) poetry editor, Garry Thomas Morse, Managing Editor Greg Gibson, President & CEO Kevin Williams, and official greeter and mascot Mocha.
Part of continuing the Talon legacy was to look for the titles that might not sell at first – or perhaps, in a widespread sense, at all – but were unique and would retain their relevance as works of art. Needless to say, this means leaving more "accessible" titles – which have their own value and requirements - to other houses.
"I just got back from the translation fair given by the Canadian Council in Montreal," continues Williams, "where French and English Canadian publishers go to see if they can't sell to each other. I was talking to a publisher there about our list and he was horrified to hear the book he was trying to sell...was probably a bit too accessible for Talon. A translator nearby said 'How can a book be too accessible? Why would you want to do inaccessible books?' and I said, 'Well, there's a whole literary continuum from genre fiction and bestsellers through to works that are perhaps more difficult, more specialized, or due to stylistic reasons or density are a bit more difficult. We look for works of literary merit that will stand the test of time, that have an intellectual place in the canon to date which means they reference and have a sense of literature and have depth.'
"Karl also liked to find books that were unique, did something new or really good at describing a certain situation, at bearing witness. So those are the types of things we try to do with the books that we do. If I'm dealing with an author and he thinks he has a bestselling commercial book I will tell them that that's not a Talon book. We're different from trade publishers who are doing those sorts of things. We do relatively short runs but we keep the books a long time and in print a long time, and sometimes for us a book will do better for us in the second or a third year where that's the opposite of a trade publisher which will sell 80% off what they are going to sell of that title in the first 6 months."
This is not to say that the titles aren't enjoyable or deliberately esoteric – I recently enjoyed Michel Tremblay's Crossing the Continent (Nov 2011) and Martine Desjardins' Maleficium (April 2012), both in translation. They weren't hard or unappealing books; they were highly intelligent, richly layered and definitely provocative. They are even, dare I say, entertaining. They are also not meant for the mass market (though the mass market would not be injured by reading them).
Both these titles are Quebecois, but local literature is high in the mind of the company. For example, Williams sees their current list as a continuation of the rich and fascinating history of poetry in Vancouver.
"The Tish poetry movement, or Tish school, was thought to spring out of the Vancouver conference in '64 and Fred Wah and Daphne Marlatt, that was the school of poetry we published from. Now Stephen Collis is one [as is] Garry Thomas Morse – the Kootenay School of Writing, the Western School."
Morse, a Talonbooks author who also works with the house, notes the current strength of poetry in Vancouver.
"I think there's a vibrancy in Vancouver. I think there's been a renaissance since the Tish poets [including] people like Daniel Zomparelli and Nikki Reimer. There's so many publications [supporting it], like [Vancouver Book Club] and Poetry is Dead...and so many others. I think there's a renaissance right now in Vancouver in terms of the scene. We hope to see more wonderful Vancouver authors on the way."
In terms of recent material that reflects this, Williams notes "Garry Thomas Morse's Discovery Passages is a wonderful, wonderful book, shortlisted for the Governor General's Award, so that's a great thing. Stephen Collis' last book, On the Material, won the BC Book Award, and Ken Belford's Decompositions, and then this fall Sachiko Murakami followed up on her first title with Rebuild … and she has her Project Rebuild online and that's a lot of fun. This spring Daniel Zomparelli has Davie Street Translations, we're excited to have the first book by him. Lots of hot stuff going on there."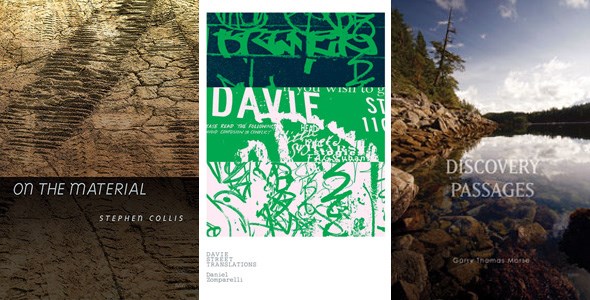 Stephen Collis recently won the 2011 Dorothy Livesay Poetry Prize for On the Material; Talonbooks will soon be releasing Daniel Zomparelli's first book Davie Street Translations; Garry Thomas Morse's Discovery Passages was a 2011 Governor General's Award finalist
Karl and Christy Siegler celebrated their retirement in September 2011, with a local publishing start studded event.  Siegler details how Talonbooks became what it is now.
"The poetry magazine Talon was started at Magee High School by a group of grade 10 students in the fall of 1963. (I am, coincidentally, the same age as those high-school students [are now], though at the time I had no idea that Magee even existed - I was a North Van boy, interested in physics). Talon magazine moved to UBC in the fall of 1965, when the students in the initially constantly shifting high-school collective graduated and began attending that university.
"In 1967, Talon published its first books as a brief, intermittent, informal one-season joint venture with bill bissett's blewointment press and Jim Brown's Very Stone House. bissett & Brown left the venture shortly thereafter.
"I joined Talonbooks (which is what it was called by then, having abandoned its magazine about the time it started publishing books - in late 1967) as its business manager in January 1974. At that time, while it still effectively functioned as a "collective"... it had actually become a legal partnership/proprietorship between David Robinson and Gordon Fidler."
Siegler became President & CEO when Talon Books Ltd. incorporated in 1975, though still operating as Talonbooks. He also started acquiring and editing titles. By 1984, through buyouts, hires and not a small bit of drama, Siegler was president and publisher of Talonbooks, with Mary Schendlinger as the only full-time employee.
"In 1992, Christy and I bought out David Robinson [who had become a silent partner in 1984], and she and I became equal shareholders in Talonbooks. Mary Schendlinger left the company shortly thereafter. Since then, Christy and I ran the publishing company with the assistance of a steady stream of full and/or part time employees until the end of 2007."
In 2007, Kevin and Vicki Williams bought the majority of Talon Books Ltd., and the remaining in 2011. In his almost 40 years with Talonbooks, Siegler saw several "major financial crises...pretty much one a decade," which they survived through financial support from their cultural community, family and friends, and by painfully cutting costs through employee and list cutbacks. They went years without salaries.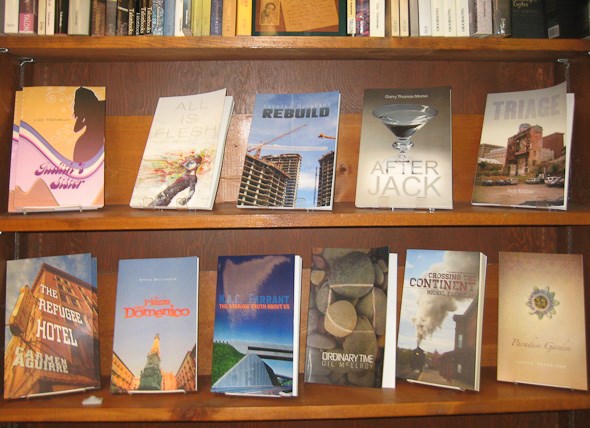 One could argue that the cause for both the precariousness and success of Talonbooks has has been its literary uniqueness. But though each book may be unique, Karl Siegler says they were similarly loved.  This love was exemplified in his famous descriptions, always measuring 300 words. Not one word more, not one word less.
"I always approached each book 'democratically'--hence the exactly 300 word descriptions for each title; an equal amount of catalogue space devoted to each title; and presenting each book at sales conferences with an equal amount of time. Like most publishers, I never knew which titles would 'take off' and which ones wouldn't. My percentage of 'wrong' guesses was about the same as Brian Kaufman's at Anvil [Press]: I was wrong about 75% of the time. There just isn't any accounting for public taste (fashion). If there were a reliable way of predicting what the public would like (even most of the time), every publisher would be rich. However, I never published a book that I wasn't 100% committed to, so I always treated them, at least at the level of introducing them to the public, as 'equal.'"
Though Talonbooks is looking to the future, and is well prepared to meet it (they have more than half their backlist in digital form), for now it is Siegler, thus far the definitive voice of the press, that deserves the last word:
"A cultural institution like Talonbooks is built as a 'Gestalt,' with no one person or event or epiphany ("Aha moment") playing a more determinative or characterizing role in that development than any other. This 'list-building' (and its attendant corporate and cultural evolution) is an intensely complex, subtle, and ongoing process. If it weren't, 'anybody could do it'. But 'anybody' didn't, did they?"