Are you signed up for the Rain City Chronicles newsletter? They just released their first one today and by signing up you'll be the first to know about their upcoming shows and ticket specials, and kept up-to date on news and exciting projects! Here's what you missed...
"Today we are delighted to announce the release of Rain City Chronicles The Podcast. Our pal and producer Chris Kelly has been collecting audio from almost all our storytelling nights and you'll be the first to hear it.
Click HERE to listen to Episode One featuring stories about "lessons" from Ian Rowe, Bob MacDonald and Cory Ashworth. In the next few days keep your eyes out for this podcast in iTunes so please download and share.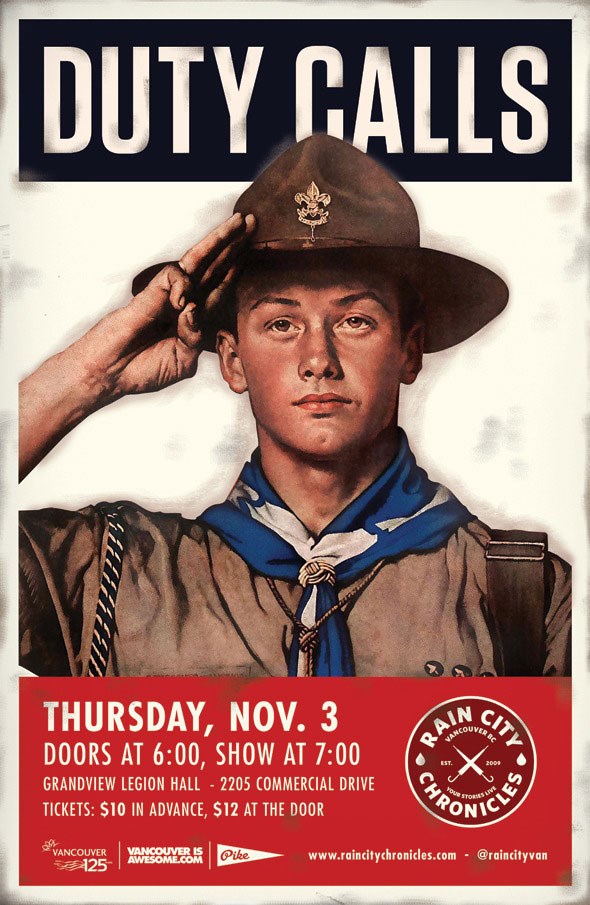 Mark your calendars for our next show November 3, 2011 and join us for stories and songs inspired by the theme "Duty Calls".
We are very excited to announce our performer for the night will be the lovely and talented Jill Barber. Our storyteller line-up will be announced in just a few days.
Grandview Legion Hall
2205 Commercial Drive
Vancouver, British Columbia
Doors at 6pm, show at 7:00pm
Tickets available HERE.
Thanks to our friends at Pike for another great poster.