What are you currently reading? Your thoughts on it?
I am currently reading J.J. Lee's The Measure of a Man. It is the story of a son who inherits his father's last remaining suit and how this suit comes to symbolize the son's desire to literally measure up to his father. The suit becomes a metaphor for his relationship with his father: how the suit being large reflects how his father was a bigger man not only in size but also in stature; and how in changing and altering the suit to suit his needs, the son is literally tailoring his father's suit to measure to himself as he is now, not just his father's son but a man to measure of his own.
How do you like your books served up best - audio books, graphic novels, used paperbacks, library loaner, e-reader?
I like buying used paperbacks. I spend an inordinate amount of time and money in second-hand bookstores. I am a bit of a hoarder when it comes to books. Acquiring books is my weakness or addiction. But then there are worse things I could be addicted to. I occasionally listen to audio books, but mainly for self-help material such as audio books on spirituality, meditation or self-improvement. I enjoy using the library but being a slow reader, I prefer buying and owning my own copy of books so I can read at my own speed and leisure. I haven't adapted yet to e-readers. Call me old-fashioned but I like to read books in hard copy. I don't think e-readers are the end of books as has been predicted. I believe that books will have longevity as long as people love reading.
What books have changed your life?
Henry Miller's Rosy Crucifixion Trilogy: Sexus, Plexus and Nexus, as well as Tropic of Cancer and Tropic of Capricorn are books that have changed my life. Henry Miller liberated literature from the canon of the literati; freeing literature from its stuffy old-fashioned antiquated conventions by infusing it with absurdist Dadaist-like ramblings of philosophy as well as passionate pornographic passages of eroticism. Furthermore, he reinvented the memoir mixing and blending lived experience with surrealist dream - like delirium of fantasy that transcended everyday facts to get beneath the skin of universal truths.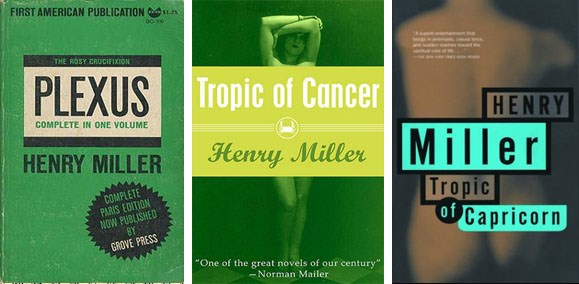 The one book you always recommend is?
I always recommend Jack Kerouac's On the Road: The Original Scroll. Kerouac described how the writing "went fast because the road is fast." He had written the whole novel on a strip of paper 120 feet long. He just rolled it through the typewriter and wrote without paragraphs. It just rolled out on the floor and looked just like the road. He wrote it fast and furious as if he was traveling on a long mania-induced sleep deprived road trip. Influenced by Zen Buddhist teachings, he followed the practice of "first thought, best thought" – writing without halting to revise or edit his work. Instead, he wrote from gut instinct which gave his work a fresh, raw, unpolished, accelerating and spontaneous energy and excitement. I recommend the original scroll – the legendary first draft which is rougher, wilder, and racier than the 1957 edition. Real names are used as opposed to pseudonyms giving the manuscript an air of documentary authenticity and subjective realism.  Kerouac is arguably the most famous experimental writer of his time.  Like Henry Miller before him, he helped liberate literature from the traditional literary canon; in the similar way Jackson Pollock liberated painting with his experimental accidental "mistakes" that brought about new startling possibilities in abstract experimental painting. In my opinion, the original scroll is far superior to the edited, sanitized and censored 1957 edition. Reading the original scroll is like reading a totally different book – one truer to Kerouac's original vision. The publication of the original scroll is a cause for celebration for fans of Kerouac's writing – rediscovering On the Road as it was originally conceived and envisioned.
Which writer excites you right now?
Tim O'Brien is the writer that excites me right now. He is well known for writing about the Vietnam War and the impact it had on the American soldiers who fought there. I read his Vietnam novels Going After Cacciato and the critically-acclaimed The Things They Carried, a collection of semi-autobiographical, inter-related short-stories inspired by O'Brien's wartime experiences in Vietnam. For my money, he is the most exciting writer to emerge in this generation. He is our modern-day Hemingway.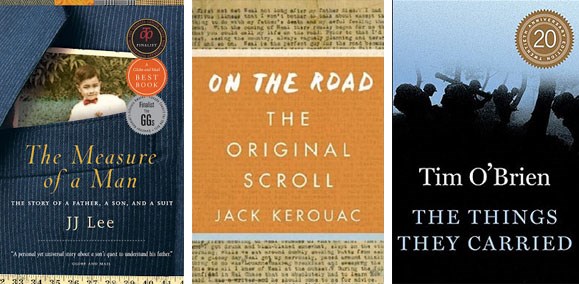 If you had to choose, which writer would you consider a mentor?
It would be a toss-up between two writers: my father, Goh Poh Seng who was a Singaporean literary pioneer and novelist, poet and playwright; and Raymond Carver, the short story writer and poet who was called the modern-day Chekhov. My father was a major influence in my life. From him I inherited my love for literature and specifically poetry. He was my mentor, teacher and best friend. As for Raymond Carver, I consider him a major influence in the sense I started writing narrative poems that eventually became prose pieces or short stories. From Carver, I learned how to write economically, sparsely and concisely and to condense my narrative.  When I write prose now, I write my prose in the same way I write poetry, with line breaks and short sentences, thus ensuring the writing is tight and economical; that there is no excess fat in the language; that the prose sings in its musicality and lyricism; that its rhyme and meter flow and hum with a human heartbeat.
Your life story is published tomorrow. What's the title?
Prodigal Songs of the Open Road. A memoir I am writing about growing up in Singapore and my outer journey of having traveled extensively throughout Southeast Asia and Canada, mirrored by my inward journey of recovering from manic depression, seen not so much as a mental illness but more so as a spiritual emergence.  Sort of a hybrid cross between Michael Ondaatje's Running in the Family and Jack Kerouac's The Dharma Bums.
Kagan Goh's upcoming spoken word performance SURVIVING SAMSARA takes place on December 14th at 8 pm at the Prophouse Cafe (1636 Venables Street). The work recounts his struggles with manic depression as he tries to survive the highs of mania and the lows of depression, tossed up and down upon the restless seas of Samsara. Kagan's deeply personal stories illustrate his transformation from victim to survivor to activist.