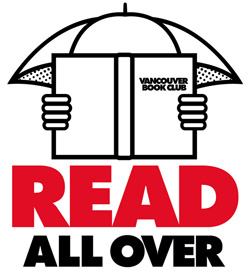 Read All Over celebrates the bookworm in all of us, showcasing readers in Vancouver and the books they love most.
Meredith Quartermain is a poet, essayist and fiction writer whose most recent book, Recipes from the Red Planet (BookThug), was a finalist for a BC Book Award for fiction. Previous books include Nightmarker (NeWest Press) which was a finalist for the 2009 Vancouver Book Award and Vancouver Walking (NeWest Press) which won the 2006 BC Book Award for Poetry. She and husband Peter Quartermain enjoy publishing chapbooks through their micropress Nomados Literary Publishers.[I got the opportunity to visit the Quartermains in their beautiful 100-yr-old Vancouver two-story, the innards of which are a bibliophile's wet dream. They have a built-in library in their basement, complete with an entire shelf for cassette tapes. Analogic swoon!]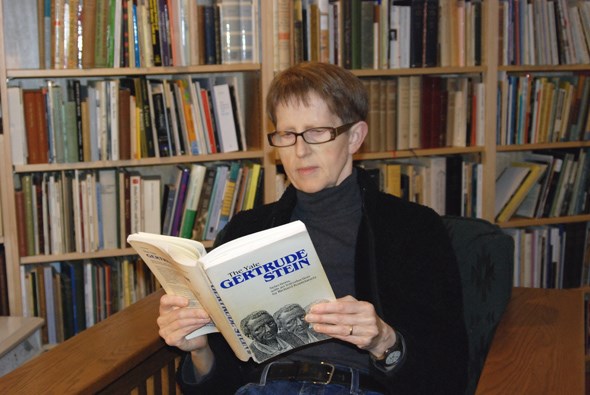 Meredith reads Gertrude Stein at home. All photos by Nikki Reimer.
Who is your favourite Vancouver/Lower Mainland writer?
Naming just one could get me into serious trouble so I'm going to mention a few that I'm very fond of with the distinct understanding that there are too many to list here: Lisa Robertson for her thoughtfulness; Aaron Peck for his Proust and Sebald inspired prose; Larissa Lai for her inventiveness in fiction and poetic form; George Bowering for similar reasons; and Daphne Marlatt for writing about Vancouver from the female perspective.
Do you have a favourite story with Vancouver connections?
One of my favorites is a section of Malcolm Lowry's October Ferry to Gabriola where he describes the west end in the 50s as it was being overrun with "wretched stalking blockheads" i.e. developers' tower blocks.
Where is your favourite place to crack open a book in Vancouver?
This question made me think about where reading is on the cultural map of life, how it's been relegated to airports and waiting rooms, how "good reads" are produced by the mass-market pornographers. It makes me want to defiantly read Gertrude Stein in the mall or Georges Perec in the supermarket or Lisa Robertson in the bank.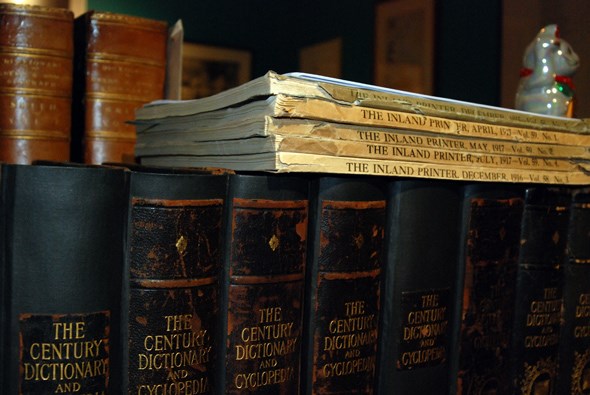 Vintage dictionaries in the Quartermains' study.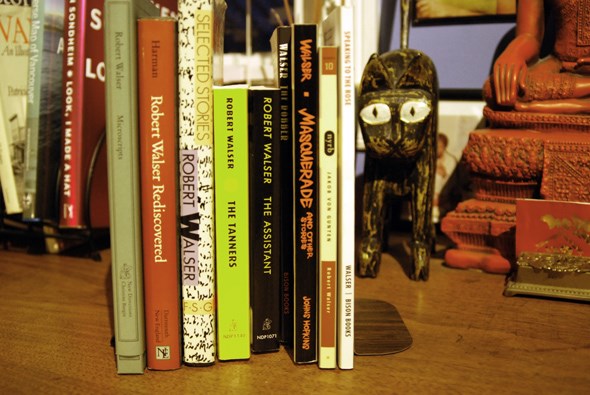 A collection of books by Robert Walser.
The one book you always recommend is?
Anything by the Swiss writer Robert Walser.
What writer would you love to see read their work?
I would love to have heard Gertrude Stein or Samuel Beckett.
Which writer excites you right now? What's next on you reading list?
I just finished W.G. Sebald's The Emigrants. Next on the list is Vertigo also by Sebald—fascinating for his particular blurring of fiction and documentary.
What magazines/journals can you not live without?
West Coast Line from SFU and The Capilano Review from Capilano University. West Coast Line was founded by one of our most outstanding poets, Roy Miki.
If you had to choose, which writer would you consider a mentor?
Daphne Marlatt and Fred Wah have been and are stellar.
Your life story is published tomorrow. The title is?
The Not of What She Didn't Know But Which She Was Compelled to Unseekingly Diswoo. (A line from Meredith's Recipes from the Red Planet).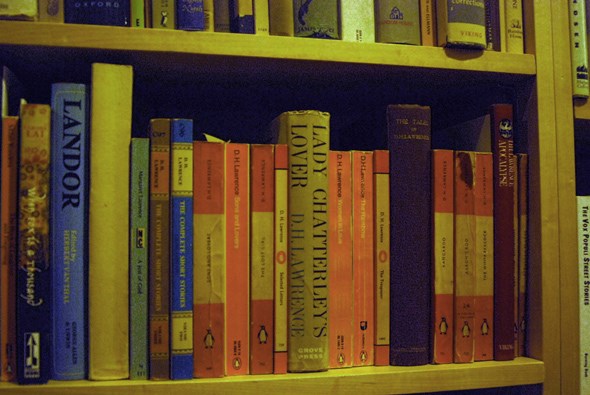 Penguin titles.