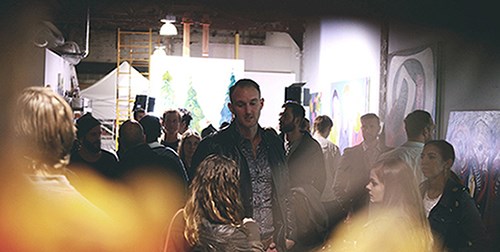 It is time to get ready to ROVE Vancouver! You might be thinking what is ROVE? ROVE is what you get when you combine art, community and adventure! It's a free self guided art walk in Mount Pleasant.
ROVE features a hand picked selection of galleries, artist studios and curated spaces for participants to explore. You can cover the whole route in one night and stop for drinks and food along the way. Support local artists and find art to hang in your home created by a talented local Vancouver-ite!
All you need to do to ROVE is….
STEP 1:     Come to Mount Pleasant on Friday, September 30th from 6pm to 10pm.
STEP 2:     Get your free map
STEP 3:     Follow the route to check out galleries, studios and creative spaces.
STEP 4:     Enjoy the incredible artwork and people that the Vancouver art scene has to share.
STEP 5:     Party! Head to the Projection Room above the Fox Cabaret at 2321 Main St at 10pm for the official ROVE After Party!
LOCATION 1 - Jay Senetchko open studio, Studio #224 /  336 East 1st Avenue, Vancouver
LOCATION 2 - Hot Art Wet City, 2206 Main Street, Vancouver
LOCATION 3 - Gene Studios, 2414 Main Street, Vancouver
LOCATION 4 - Kafka's Coffee, 2525 Main Street, Vancouver
LOCATION 5 - BAF Gallery, 108 E Broadway, Vancouver
LOCATION 6 - The James Black Gallery, 144 East 6th Avenue, Vancouver
Select Murals from Mural fest dotted throughout the walk
We can't wait to see you there!
---
Stay connected to ROVE by finding us on Instagram, Facebook and Twitter.
ROVE with us on Friday, September 30th from 6pm to 10pm and then party with us at the ROVE after party at the The Projection Room starting at 10pm until late! RSVP here