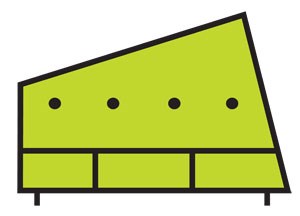 SCENE AND HEARD showcases the independent music scene here in Vancouver.
Green Couch Sessions is a live music video series - experiments in which GCS attempt to marry the artist with the environment.
The music fills the space and the various locations, inevitably producing a sound unique to the session, never to be reproduced, only to be enjoyed by you, the viewers.
VIAindie is excited to partner up with Green Couch to show YOU their latest and greatest videos of musicians and locations from all over the city!
Stay tuned! 
Artist: Chris Ho
Song: 'Story of The Flood'
We met up with Chris and Sejal under the giant sparrows in Olympic Village on an overcast afternoon. The pair are probably close to setting a new record for longest couch carry, taking our infamous green sofa all the way from the Olympic Village square to the most western tip of Habitat Island. They were lucky our GC audio team is tough as nails and helped them lift it when the camera wasn't rolling.
Habitat Island was constructed in 2010 as part of the Olympic Village development. It is an urban oasis and home to plants, small animals, insects, crabs, starfish, barnacles and other creatures. Surrounded by water at high tide, the island is also a sanctuary for birds.
It is one of our favorite locations in the city and we were so excited to finally film there.
Chris was joined by Sejal Narsey, of local band 41st & Home, on violin. They performed the song "Story of the Flood" off Chris' latest album City of Dust.
Hosted By: Habitat aka. Beer Island
Directed and Edited by: Jonathan Krauth
Produced by: Green Couch Productions
Audio Recorded and Mixed by: Adam Johnson of Nimbus Recording Studio